LANCASTER, Pa. — It can be hot — very hot — during July and August in Lancaster County farm country, but that heat doesn't stop many in the community from a summer tradition of "putting up" fruits and vegetables.
Preserving food by processing containers in boiling water dates back more than 200 years. Canning today provides a link to the past, a savings on the grocery bill and a special pride when consuming a jar of homegrown vegetables during the winter months.
Canning, or what probably should be called "jarring," was invented in the early 1800s when French chef Nicholas Apperta — who suspected that air caused food to deteriorate — experimented by packing jars with produce, sealing them with corks and wax, and boiling them in water. His suspicion was wrong, but his process worked for 80 years before another Frenchman, Louis Pasteur, discovered that it was the pathogens that grew in food that caused spoilage and were destroyed with heat. It was the science behind food preservation and the process still carries his name.
Today, food preservation is usually done by freezing, cold (now called raw) pack, hot pack, pressure canning, and dehydrating or drying.
Here, four Lancaster County families talk about their canning traditions.
Families Can Together
Children, especially in Plain Sect families, help their mothers from an early age, explained Rose Stoltzfus, an Amish mother of six in New Holland. She learned by watching and helping her mother from age 5.
On a recent late-July day, Stoltzfus — between the normal chores of caring for six children from ages 2 to 11 — prepared corn (from her mom's garden) to freeze and cucumbers (from her garden) to pickle and can.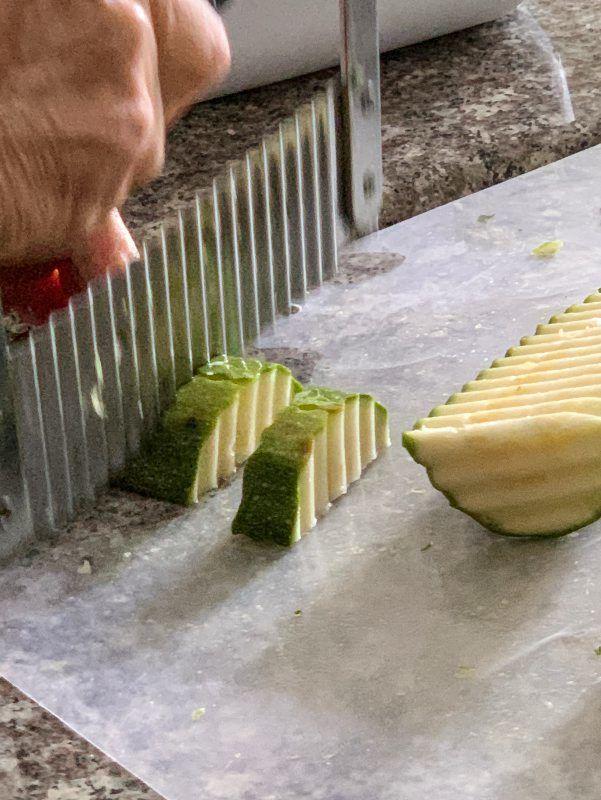 With a gentle breeze blowing through the kitchen windows, and as she watched her youngsters in a splash pool in the backyard, Stoltzfus described how she cans in modest batches, sometimes two or three times a week. Since her canning is only for her family's consumption, the small amounts can be handled fairly quickly. She has access to refrigeration (as many in the Plain Sect community do, even if in rented freezers), and freezes vegetables in quart bags for soups, stews, casseroles and dinner vegetables.
The Stoltzfus children help their mom by stripping corn, and hulling beans and peas.
"They are a little too young to be using knives yet," she said, "Not that they don't want to!"
Jan Ford, a retiree at Garden Spot Village in New Holland, had an Italian mom, Dolly (Rosati), and dad, Joseph (Flamini), and she's not forgotten her heritage or the tomatoes her mom canned every year to use for sauce (Italians call it "gravy.") She carries on the canning tradition, but just not in the same quantities.
"My mother's recipe was a simple one," Ford said. "She bought tomatoes by the bushel when the price was right at the end of the season, cut the tomatoes in quarters, blanched them and ran them through a vegetable strainer to remove the skins and seeds before hot packing."
Ford does her final processing now with a pressure canner.
Ruth Lapp cans, but not just for her family. Lapp, who has a business hosting visitors for meals (Amish Meals at Home) in her farmhouse in Paradise, uses a lot of her canned vegetables and applesauce as part of those meals in the colder months.
"It also is traditional for Amish mothers to can for a daughter who marries," she said, "to help her get through the first winter before her own vegetable garden is ready to produce."
The David Hoover family occupies three adjacent farms in New Holland. Mrs. Hoover and her adult daughters preserve fruits and vegetables during the growing season as well as meat after late-winter butchering.
The family can store 400 quart jars in their basement and almost all are used during the year because the large family eats at least one meal together daily, usually on the farm closest to the field where family members are working.
Hoover has a large, stainless steel, hot-water-bath processor that will hold 35 quarts as well as two 7-quart pressure canners. She will use the large bath container during the summer when she is canning cherries (from their own orchard), peaches or pears. She pressure cans vegetables in smaller quantities throughout the growing season.
Laura Martin grew up in Indiana in a Mennonite community and learned to can from her mom — an accomplished cook and author of a book of Mennonite family recipes. She is a mega-canner who has been known to process in excess of 24 baskets of apples and more than 130 dozen ears of corn. Martin does it as a labor of love, and her family, which includes five children, help. She has a basement kitchen in her Denver home that she uses when canning large quantities from her gardens or farm stands
Canning Safely
Regardless of what you preserve, how it is done is critical and the food preservation terminology used today and the canning methods can be confusing to first-timers.
"Most canning mistakes center around how the food is processed," said Martha Zepp, a Penn State food preservation consultant.
The most common methods of home canning now are pressure canning and boiling-water canning.
Depending on the food, it can be raw packed (which starts with raw food) or hot packed (which starts with cooked food).
Raw-pack canning is done with low-acid vegetables. The raw food is packed into jars and covered with juice or syrup that has been brought to a boil. Then the canning jars are processed per USDA guidelines — usually in a pressure canner or boiled in a water bath (after the addition of white vinegar or citric acid to change the pH, per scientifically tested recipes).
In hot-pack canning, the jars are filled with precooked or partially cooked hot food and liquid prior to processing. Pre-cooking drives some of the air out of the food and allows tighter packing of the jars.
In the past, some canners used what was called the open-kettle method where hot food was put into a jar and sealed without processing. However, food preservation scientists no longer recommend this method, even for pickles and jellies.
Even if you are not clear on the science of food preservation and home canning, following USDA guidelines, instructions from universities like Penn State Extension, the most recent edition of the "Ball Blue Book of Preserving," or online food websites allows you to be safe and successful in your efforts.
The USDA National Center for Home Food Preservation website is found online at https://nchfp.uga.edu/publications/publications_usda.html. The USDA's New Complete Guide to Home Canning can be ordered through that website as well.
Says Zepp, "Canners should be knowledgeable about using the proper technique for low- and high-acid food. Taking shortcuts can compromise the preservation process and allow bacteria to grow in your jars, spoiling the food and causing sickness if consumed."
She points out that the Penn State Extension "Let's Preserve: Basics of Canning Guide" has a list of low- and high-acid foods on page 2, and can be found online at https://extension.psu.edu/lets-preserve-basics-of-home-canning.
Zepp also stresses that whenever possible, low-acid food should be processed in a pressure canner so the water temperature will reach 240 degrees, killing any of the botulism spores that can cause extreme sickness. If processed in a boiling water bath, low-acid vegetables need to have white vinegar, apple cider vinegar or citric acid added to the bath per the recipe instructions.
High-acid foods may be processed in a boiling water bath, Zepp said, with the water level 1 inch over the jar lids for the prescribed recipe time you are using. Tomatoes are at the mid-point of the acidity scale, and if you are following tested recipes, can be processed in either a pressure canner or hot water bath.
Some home canners have expanded their work to small and large retail businesses. The first commercial canners in the U.S. were in the early 1800s in Boston for produce and ketchup, and in Baltimore for seafood. The first pressure cooker was developed in 1874 to help assure food safety, and, around the same time, mechanized methods were developed to prepare the raw vegetables and fruits for processing.
In Lancaster County, Home Grown Cannery, run by Ben and Fannie Fisher of Peters Road in New Holland, is a business that started in 2008. Fannie Fisher had learned to can from her mom and also worked in the canning operation at Blue Gate Farm in Ronks.
The Fishers added to their barn and installed a commercial kitchen. They began canning fruits and vegetables for retail sale. The Fishers opened a stand at Green Dragon Market in Ephrata and added a small retail location at their home.
The Fishers use produce from their own garden or surplus from neighbors. They rarely buy at produce auctions. In-season canning is done on three days each week with the help of a group of women.
One of the larger, year-round, family owned commercial canning businesses in Lancaster County is Annie's Kitchen. It opened in 1985, when Eli Stoltzfus purchased Sarah's Kitchen from the Beiler family. He moved the operation to Ronks and began to expand.
Hi son, Steven, took over the operation in 2016, and it continues to grow, selling pint and quart jars of fruits and vegetables on the wholesale market, up and on the East Coast under the name Annie's Kitchen or a private label name. The Annie's Kitchen production facility is a compact space built on the ground level of one of the farm's large barn buildings on Stumptown Road behind his dad's farm market. It is run by a small, efficient crew of Plain Sect women who handle everything from preparation and processing to canning and labeling.
Similar to Home Grown Cannery, Annie's Kitchen does not use pressure canning in its processing, but adjusts the chemistry of the vegetable using white vinegar or apple cider vinegar to assure the integrity and safety of the final product.
In the second decade of the 21st century, commercial canning in the U.S. has become a multi-billion dollar industry with plants in nearly every state and tens of thousands of employees.
The number of Americans who home-can produce, however, varies and is affected by the state of the U.S. economy. During the recession a decade ago, there was an increase of 11% in the number of home-canners as families looked for ways to save by growing and preserving their own produce.
But regardless of the economy, and the growth of canneries across the county, the canning tradition does not seem in danger of disappearing as families pass the technique down from generation to generation.