NEWMANSTOWN, Pa. — Debbie Hartman, cooking instructor for Thyme with Debbie, calls the casserole "an iconic American dish."
While early cookbooks didn't include casserole recipes, austere times during World War I called for simple, economical fare. A baked one-dish meal filled the bill. Usually incorporating meat, a starch and a vegetable, the casserole soon became a mainstay on American dinner tables and remained so for over 50 years.
Hartman said that the ever-popular casserole began losing its appeal during the 1970s, when working women looked for cooking shortcuts. At the same time, processed foods became favorites and the casserole trended toward becoming an outdated relic.
During a recent cooking class in Newmanstown, Lebanon County, Hartman presented creative ways for revamping casseroles to meet 21st century needs. Using various modern ingredients to add culinary interest, she demonstrated how casseroles can still appeal to the taste buds and time constraints of busy families.
Hartman explained that the typical casserole consists of three parts: a base, usually a protein and/or cheese that provides the main texture and flavor; an "extender," such as beans, potatoes, pasta or grains to help thicken the dish; and a binder like liquids, eggs or thickened sauces to hold the ingredients together. These ingredients are then mixed or layered into an ovenproof container and baked. Certain "brightening flavors" like lemon juice, cheese or freshly chopped parsley should be added after the casserole's removal from the oven so their flavor accents remain distinct from the baked portion of the casserole.
Chili is an American favorite, but adding a topping and baking it makes a memorable casserole. Hartman offered a recipe for a chili spice blend to enliven any chili recipe, as well as a refried bean topping.
The following two recipes are adapted from Diane Phillips' "Pot Pies: Comfort Food Under Cover."
Chili Spice Blend
3 tablespoons chili powder
2 tablespoons ground cumin
2 teaspoons powdered cocoa
1 teaspoon cayenne pepper (optional)
1 teaspoon espresso coffee powder
1/2 teaspoon ground Mexican cinnamon
1 teaspoon smoked paprika
1 teaspoon Mexican oregano, crushed
Mix all ingredients together and store in a tightly sealed container. This makes enough spice blend to season 1-1/2 pounds of meat for chili. (Note: regular cinnamon, paprika and oregano may be substituted.)
Refried Bean Topping for Chili
3 (15 ounce) cans of refried beans
1 teaspoon to 1 tablespoon of chili spice blend, to taste (see preceding recipe)
1 cup sour cream
2 cups Cheddar Jack cheese, divided
Place beans in a food processor or blender, along with the spice blend, sour cream and 1 cup of the shredded cheese. Process to smooth consistency. Refrigerate mixture until ready to top the chili of your choice. Place chili into an oven-proof 9x13-inch baking dish and top with the refried bean mixture. Sprinkle the remaining cheese over the top of the beans. Bake for 20 minutes in an oven pre-heated to 425 F.
You can also use this chili casserole for an appetizer, as Hartman demonstrated by placing a spoonful of the baked chili on a tostada base and garnishing it with Mexican crema or sour cream.
Hartman next introduced a hearty casserole that's perfect for supper on a chilly autumn evening.
Sausage Potato Casserole with Roasted Red Peppers
1 tablespoon butter
2 large onions, thinly sliced
4 to 5 sausage links with casing removed, or 1 pound bulk sausage
6 medium Russet potatoes, peeled and thinly sliced
1 (12-ounce) jar of sliced roasted peppers
2 tablespoons olive oil
1 cup grated cheese
Salt and pepper
Preheat oven to 375 F. Spray a 9x13-inch baking dish with non-stick seasoning.
Melt butter in a cast iron skillet over medium heat. Add sausage and cook until lightly browned, about 5-10 minutes. Remove sausage from skillet and drain oil, leaving 1 tablespoon of oil in pan. Add onions. Cook, stirring occasionally, until onions are golden-brown, about 20 minutes. Remove from heat.
Layer the potato slices evenly over the bottom of the baking dish, overlapping them; reserve enough of the potato slices to cover the top. Sprinkle the sausage meat over the potatoes. Arrange the sautéed onions evenly over the sausage, then layer roasted peppers on top. Arrange the remaining potatoes over the peppers, drizzle with olive oil, sprinkle with the cheese, and season with salt and pepper. Bake until the potatoes and cheese are slightly brown and you can easily insert a knife through the center, about 35-40 minutes.
This recipe yields 8-10 servings, and is courtesy of http://www.lodgemfg.com.
Casseroles can also make appealing desserts, Hartman said. She introduced a recipe for noodle kugel, which she likened to a bread pudding. Jewish in origin, the noodle kugel can be made and seasoned either as a savory side dish or as a sweet dessert served slightly warm.
Hartman served the following sweet treat with a side helping of stewed apples accented by maple syrup and spices.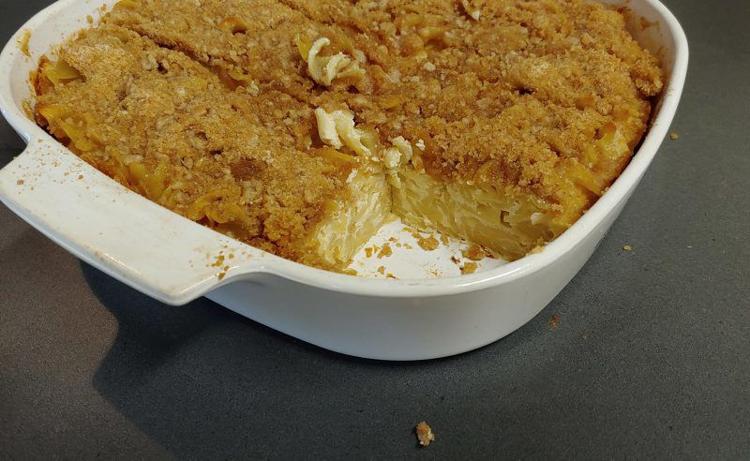 Noodle Kugel
12-ounce bag medium egg noodles
4 large eggs
8 ounces sour cream
8 ounces cream cheese, softened
2 cups half-and-half
1/2 cup sugar
1-1/4 teaspoons salt
2 teaspoons vanilla extract
1/2 teaspoon ground cinnamon
Streusel topping:
1 cup brown sugar
1-1/4 cups flour
1 teaspoon cinnamon
1/2 teaspoon salt
1 stick butter, cold and cut into 1/2-inch chunks
Combine the brown sugar, flour, cinnamon and salt in a medium bowl using your fingers; mix until no lumps of brown sugar remain. Rub in the butter with your fingertips until the mixture has a crumbly texture. Refrigerate until ready to use.
Preheat oven to 325 F and set an oven rack to middle position. Butter a 9x13-inch baking dish.
Bring a large pot of salted water to boil. Cook noodles for 6-8 minutes, or according to package instructions, until tender. Drain well.
In a large bowl, whisk the eggs. Add the sour cream and softened cream cheese and whisk to combine. Add the half-and-half, sugar, salt, vanilla and cinnamon, and whisk until completely smooth. Spread the cooked noodles evenly in the prepared baking dish. Pour the custard mixture evenly over top.
Cover the dish tightly with aluminum foil and bake it for 35 minutes. Remove from oven and discard foil. The custard should be just set.
Sprinkle the streusel topping evenly over the top, covering all the noodles. Bake for 35-40 minutes longer until the streusel topping is crisp. Let it cool about 20 minutes, then cut into squares and serve.
The kugel and topping can be made a day ahead and stored in the refrigerator separately until ready to bake.
This recipe yields about 12 servings.
The kugel recipe is courtesy of https://www.onceuponachef.com.
As an added advantage, most casseroles can be prepared ahead and frozen. Using shallow containers will speed both the freezing and the thawing of casseroles. Frozen casseroles should never be thawed at room temperature on the counter. To thaw before baking, allow the casserole to stand in the refrigerator overnight, then cook as directed in the recipe, but add 15 to 20 minutes to the baking time. To assure the casserole reaches the safe internal temperature of 165 F, verify temperature using a food thermometer.