Many holiday memories are made around the sweet treats the season brings, and none are sweeter or fresher than those that come straight from the farm, or in this instance, the farm bakery.
Miller Farms
Miller Farms, in southern Prince George's County, Maryland, has been family farmed since 1879. Over the years, the farm has diversified and added a produce market, greenhouses and agritourism. In 2007 they added a bakery.
"The bakery opened in May 2007," said owner Shelly Miller. "A local farm market and bakery 4 miles down the road from us had just retired and sold their farm the previous year. After they closed down, we saw a void in the community and an opportunity to expand our current operation, so we purchased their bakery and ice cream equipment, and a few family recipes as well. As with anything new, there was quite a learning curve in the beginning, but it has been a blessing to our farm."
Residents in the surrounding community know that Miller Farms is the "place to go" for farm-made treats year-round. The on-farm bakery's popularity has led the Millers to employ 15 employees for 12 months of the year; four are full time and the others are part-time. They also hire an additional five seasonal employees for the busy months of October and November.
Shelly Miller said that it's the week before Thanksgiving that has always been their busiest week of the year.
"Thanksgiving is a holiday centered around an actual meal. We are not as busy at Christmas," she said. "Christmas parties usually just have food tables where people pick or graze."
Miller said their fastest-selling item for Thanksgiving and Christmas by far is their butterflake rolls. Other popular items include pies in flavors like sweet potato, pumpkin, apple and pecan. Apple cobbler and apple pull-apart cakes are big sellers, too, she said. Alongside those holiday favorites are gingerbread, banana and banana nut loaf cakes. Their special, seasonal soft-serve ice creams feature pumpkin, gingerbread and eggnog flavors.
When asked about the impact of the COVID-19 pandemic, Miller said, "we were not sure what to expect with the ongoing pandemic and the request to not have extended family together for Thanksgiving dinner. On top of that, we began having supply issues with our pies at the beginning of October. By mid-October, we were forced to seek other suppliers and prayed our customers would like them. Our first year in business, I quickly learned that customers want everything just right for their Thanksgiving meal. My fear with changing pie manufacturers was that customers' meals would not be 'perfect.' ... On the side of safety precautions, we have always encouraged our customers to place orders in advance, and this year we transitioned all of our bakery's (holiday) orders to the Miller Farms online store, which our computer-savvy, next generation developed at the start of the pandemic. ... it has worked very well for us."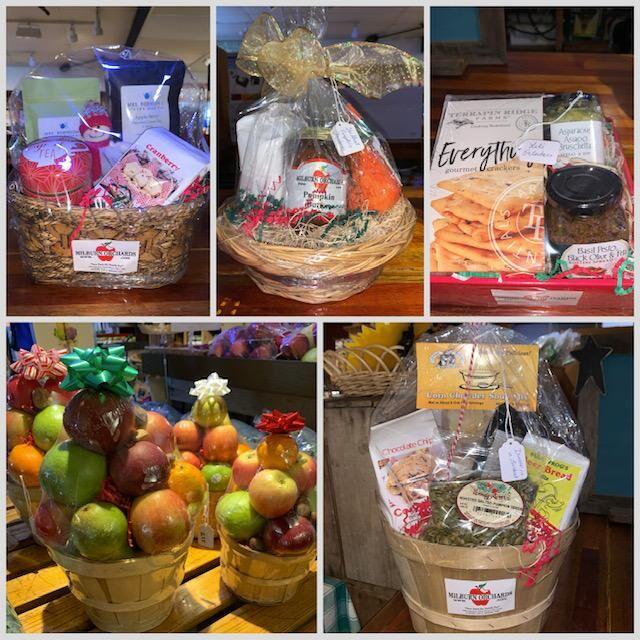 Milburn Orchards
In Cecil County, Maryland, the Milburn family has also been farming for over 100 years. An awardee of the Governor's Hall of Fame Farm in 2017, they have a robust agritourism and U-pick operation, and an on-farm bakery that opened in 1998.
"The bakery was started in 1998 with one of the (current) owners, Melinda Milburn Palmeri and her late mother, Catharine," said family member Olivia Palmeri. "At the time, they were the only two baking, and they were using Melinda's oven at home. After running the oven so hard it died, they decided it was time to buy a commercial oven and build a bakery behind the market."
Milburn Orchards is known for its extensive apple orchard, where the family grows more than a dozen different varieties of apples. Their on-farm bakery sells apple cider, caramel apples, apple butter, and dozens of other seasonal treats. Currently, the bakery employs five people full time, and it is known for its apple cider doughnuts that are popular throughout the fall and winter season.
In an interesting intersection of the bakery and the agritourism business, the farm has an "orchard view deck," where customers can sit and relax to eat while enjoying the view.
Open seven days a week, the bakery sells both retail and wholesale, and also carries some specialty items like no-sugar-added pies, and 6-inch small pies.
"Our most popular items during Thanksgiving and Christmas would definitely be our Awesome Apple pie and our Peter Pumpkin pie," Palmeri said.
With the COVID-19 pandemic requirements, Milburn Orchards now offers online ordering and curbside pickup, to help keep customers safe.
Like Miller Farms, the Milburn Orchards on-farm bakery has also faced supply chain issues due to COVID-19, and said that some pie flavors will not be available for Christmas this year. "But don't worry, Milburn apple cider doughnuts are still available to order, no supply chain issues there," Palmeri said.
Shelby Watson-Hampton is a freelance writer covering southern Maryland.