Amber waves of grain aren't just for farmers anymore. Now, homeowners can use grains to provide attractive and edible additions to their landscaping.
Brie Arthur, a horticulturist and author who hails from Fuquay-Varina, North Carolina, introduced this gardening innovation in her 2019 book, "Gardening with Grains." While she gave herself the hashtag #crazygrainwoman, Arthur doesn't think that being enthusiastic about using grains in non-traditional ways is a crazy thing at all. In fact, in a society that has suddenly become concerned about its access to foodstuffs, Arthur thinks that the coronavirus pandemic may become the stimulus for a whole new generation of home gardeners.
With a degree in landscape design and horticulture from Purdue University, Arthur worked as an ornamental plant propagator and grower at leading nurseries until 2014, when her career path took her in an untraditional direction. Arthur had come to realize that "we're not getting a lot from our residential landscape," she said. That untapped potential led her to become a devotee of "foodscaping" — the practice of using landscaping areas to grow food.
Instead of confining vegetables and other edible plants to the straight rows or raised beds of traditional rectangular gardens, Arthur literally branched out, inter-planting consumable plants among non-edible ornamentals. As a home gardener living in suburbia, she has learned that it is possible to "grow a ton of food without your neighbors being mad at you" by employing foodscaping.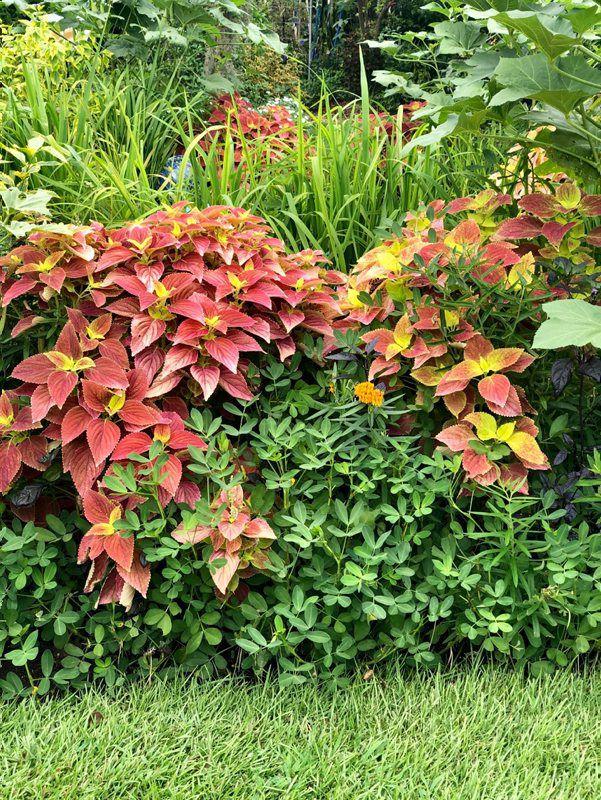 While previously living in a neighborhood with strict homeowners association requirements, including no vegetable gardens in the front yard, Arthur conducted a stealthy experiment. In 2008, she challenged herself to grow produce for herself and four neighbors using her 1/4-acre lawn. By creatively tucking vegetable plants among her knock-out roses and other ornamental plantings, she not only provided 50% of the vegetables she and those neighbors used, but also won "Yard of the Year" in her housing development.
Arthur said this experiment in foodscaping and its subsequent success became "a life-changing moment" for her. It made her realize the need for practical advice about the underrated resource of landscaped areas, on which she now grows 70% of her household's food. It also spurred her to write a book on the subject.
"The Foodscape Revolution: Finding a Better Way to Make Space for Food and Beauty in your Garden" was published in 2017 by St. Lynn's Press of Pittsburgh. The book caught the attention of the American Horticultural Society for being a positive influence on a new generation of potential growers. As a result, the AHA awarded Arthur its first "Emerging Professional" distinction that same year.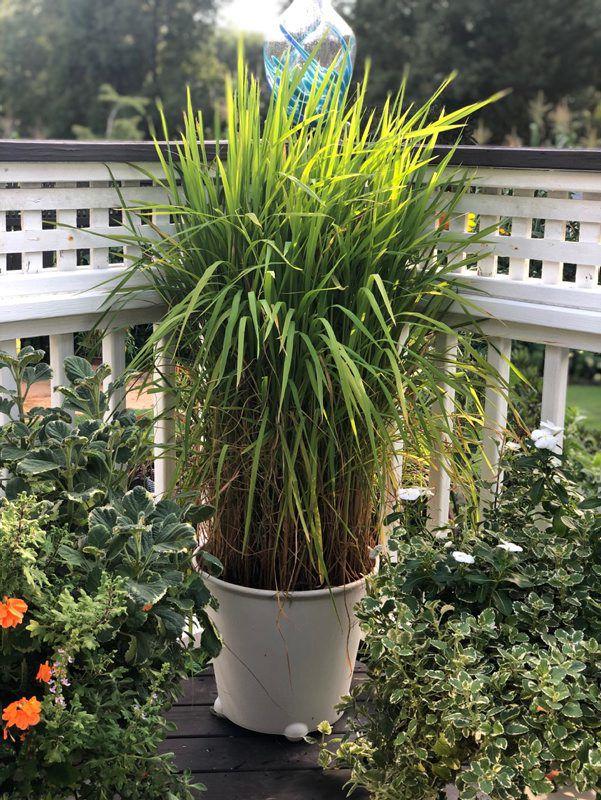 Even before her initial book was published, Arthur was already taking foodscaping to a bold new level by using grains as landscape accents able to yield edible products. When she and her husband, David, moved to their current 1-acre suburban property, they added some freestanding trees, aligned to follow the same contours as their foundation plantings. Maintaining the spaces between the trees soon became problematic, so the couple connected the tree wells with a low-maintenance bed of native ornamental grasses. Unfortunately, the new plantings turned out to be incompatible with the wet, sandy soil.
The Arthurs were at a loss for replacement plantings, when Rosalind "Ros" Creasy, whom she calls "my role model and gardening guru," suggested they consider planting seasonal grains. While mulling over that option, their friend Chip Hope, a senior lecturer at Appalachian State University and director of ASU's Sustainable Development Farm, gifted Brie Arthur with a bag of wheat seeds and encouraged her to grow them.
The rest is history. Soon, Brie Arthur had mixed the wheat seeds with larkspur, to add color, but also to deter browsing mammals. Although she had grown up among Midwest wheat fields, she had never realized how attractive wheat could be. It was also inexpensive, easy to grow, and low maintenance.
The wheat's winning ways continued through the season as the crop turned from green to gold in the serpentine, 8-foot-wide by 100-foot-long planting bed connecting the Arthurs' trees. Inspired by the design of famed Chanticleer Garden outside of Philadelphia, the gently winding stand of wheat at the Arthurs' home created a stately boundary between their street-facing front lawn and the private garden area close to the house.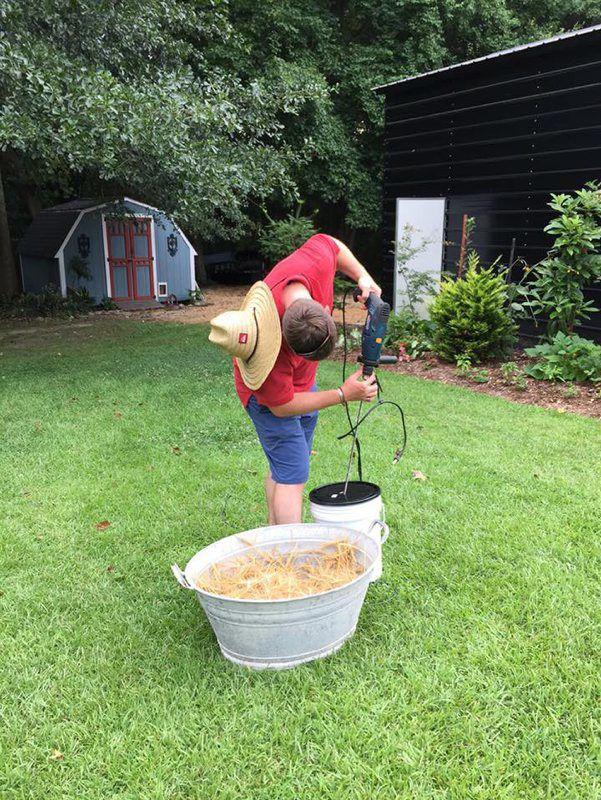 Harvesting Wheat
Brie Arthur found this first wheat crop so beautiful that she didn't look beyond its ornamental purposes, and shared her hand-harvested wheat stalks with a friend who makes wreaths, garlands and bouquets. However, her foodscaping roots run deep, and Arthur began contemplating how future grain heads could be turned into flour. Using a large combine was unworkable, so she researched how to do tiny-scale harvesting, threshing, winnowing and grinding.
To harvest, she simply snaps off the dried grain heads manually and collects them in a tarp or wheelbarrow. A push mower chops the stalks, with those remnants and the roots left to rot in place and improve the soil.
Threshing beats the seed loose from its outside coating and whisker-like awns. David Arthur rigged together a 5-gallon plastic bucket with a lid, an electric drill and a long rod with a short section of chain attached to its end. With the rod fitted through a hole in the lid and inserted into a half bucket of grain heads, the chain on the end of the drill threshes the contents quickly.
Winnowing requires using a fan while the contents of the threshing bucket are slowly emptied into a container, such as a plastic bin. Multiple repetitions of this are needed to blow away all the chaff. The cleaned seeds are then ready to be ground into flour using either a mortar and pestle, hand-cranked grain grinder or an electric grinder; Arthur's 800-square-foot grain bed initially yielded 25 pounds of flour. She said unmilled grain should be stored in the refrigerator or freezer.
Saved seeds may be sown the following year. (Small packets of various grain seeds are also available from sherckseeds.com or hancockseed.com).
Arthur, who grows organically, plants two crops per year in her front planting bed. The first is grain-centered — not always wheat, but sometimes other options like barley, oats, millet or rice. After June's grain harvest, she reseeds with sorghum, sesame and/or sunflowers, along with soil nitrogen fixers like peanuts or soybeans.
Arthur said that a good introduction to grain gardening is planting clumps of grain in place of ornamental grasses. She not only utilizes grains this way throughout her landscaping, but also plants barley, oats, wheat or rice in container gardens.
She is an enthusiastic disciple for gardening with grains, giving 150 presentations per year, which have taken her to 46 states. Her audiences, which often include master gardeners, frequently arrive as skeptics, but leave as grain aficionados.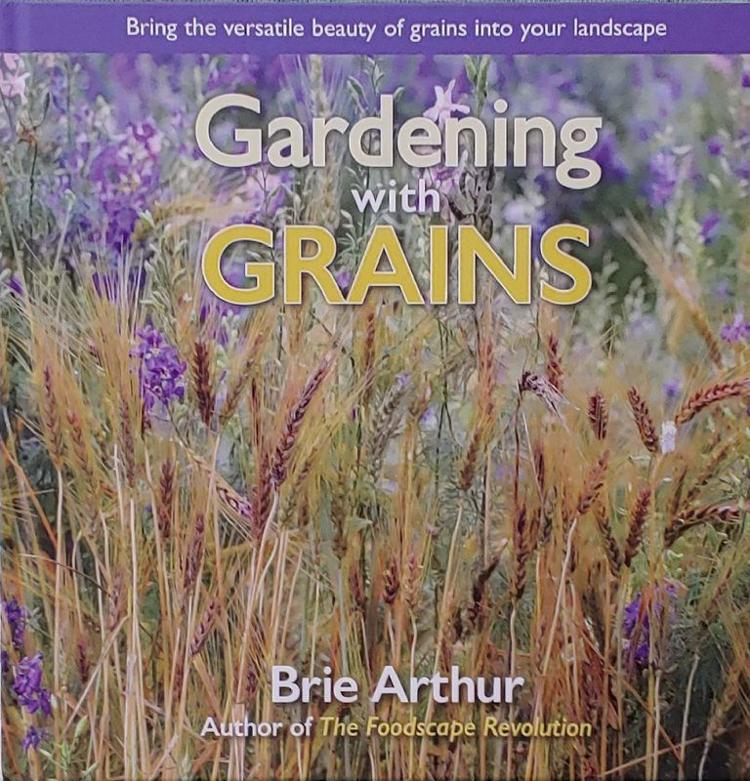 Arthur's newest book, "Gardening with Grains," delves into its subject matter broadly, ranging from a history of grains to designing grain-inclusive landscapes to providing recipes for grain dishes.
"I've grown millions of plants, but grains are something we all take for granted," Arthur said. "Being exposed to them and learning from them has been the most meaningful experience of my life."
For more information, go to briegrows.com or the YouTube channel, brietheplantlady.