It's not uncommon for Mary Jo Gibson to receive a text message displaying a photo of a bird, bug or plant with a simple question: "What is this?"
Around Gibson's hometown of Hobbie, Pennsylvania, she's known as the go-to source for identifying anything that crawls, flies or grows. It's a status that she's proud of, and Gibson's vast knowledge of the natural world represents a lifetime of curiosity and learning.
Gibson's love of nature first surfaced when she put together her first leaf collection at 8 years old. Today, the retired science teacher has expanded her passion for nature in her role as a master gardener with Penn State Extension in Columbia County.
For someone with a wide variety of interests in all things flora and fauna, Gibson has found a perfect fit with the master gardener program.
"I have a background in science and biology, so taking that and teaching others the right way to garden was very natural for me," she said. "The program trains you in so many areas — botany, fertilizers, herbaceous plants, pruning, bugs — every aspect of gardening is covered and that's what I enjoy."
Gibson completed her training to become a master gardener in 2003, and writes a gardening column for a local newspaper as well as giving presentations on everything from pollinators to worms. Even though she retired from teaching at the Berwick Area School District in 2010, the master gardener program has allowed her to keep learning while she is educating others.
Her interest in the natural world is an attribute that was encouraged years ago by Gibson's high school biology teacher, Esther Forbes.
"She encouraged me to do everything," Gibson said. "I'm a perennial student. If there's a workshop being offered, I'll take it. Every single time I learn something new. That's part of the fun of it."
Gibson's home property is adorned with vegetable container gardens and flower beds. She opts to grow vegetables in containers, she said, to avoid problems with pests and weeds. In addition to vegetables and flowers, some of the things growing around Gibson's home reflect her penchant for experimentation.
She recently began dabbling with companion plantings, pairing aromatic herbs with things like kohlrabi, kale and cabbage. Gibson wanted to see if the herbs would keep pests at bay.
"By golly, I didn't get any flea beetles or cabbage worms," she said. "I think the aromatics confuse the pests, and I'm keeping track of what I put together and how it works.
"Some of the pairings I do just for appearance, however. I'll put purple basil around the tomato plants just because it's pretty."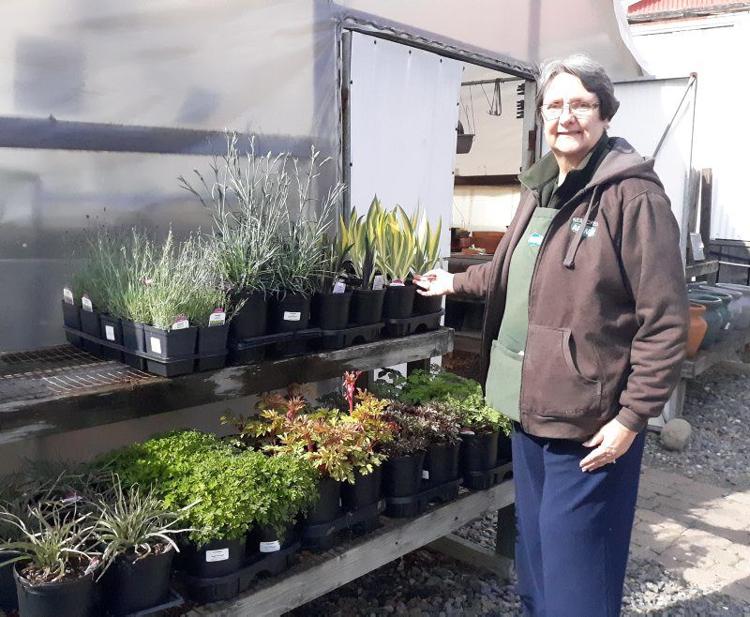 When Gibson isn't busy working around her home or volunteering, she can often be found at the nearby Nescopeck Agway where she has a seasonal job in the greenhouse. Like her volunteer work with the master gardeners, Gibson's job at Agway also suits her perfectly.
"All of us that work there focus on our strengths. I'm the plant, bug and bird lady," Gibson said.
Her involvement in gardening has led to an interest in invasive insects and raising awareness about what's to come.
When the spotted lanternfly recently turned up in Luzerne County, Gibson took notice and said it should concern everyone. She said the lanternfly is a beautiful insect that is devastating in many ways, not only to orchard growers, but to residents who will have to deal with the sticky secretions the bugs leave behind.
"I'm telling people that it's possible to manage it by placing sticky bands around the trunks of trees, and that will catch the nymphs," Gibson said. "We're not going to eradicate it, but we all need to be aware that there are things we can do."
Even though her schedule is busy, Gibson still takes time to appreciate the little details of the natural world. Sometimes, she said, the subtle things in nature are the ones that she appreciates the most.
"My personal harbinger of spring is the Eastern phoebe (bird), and I saw one the other day," Gibson said. "That meant spring to me and it's my favorite time of year with the colors, new sounds and changes, both big and small."
It's also a time of year when Gibson's cellphone tends to receive an influx of messages from neighbors who found an insect, bird or plant that they can't identify. Gibson answers them all and has fun doing so. She enjoys sharing her knowledge of the natural world.
"It's OK if I forget the names of people, but if I forget a plant name, just dig a hole and throw me in," she said. "When it comes to figuring things out and helping others, that's what I enjoy."
Tom Venesky is a freelance writer in northeast Pennsylvania.