Seven years ago, one of the country's most popular and colorful shade bedding plants, Impatiens walleriana, with sales in the millions, nearly disappeared from the East Coast market.
The plant, a staple of the commercial and home gardening industry, was devastated by a disease called impatiens downy mildew (IDM). Besides the loss of the reliable bedding plant, the commercial market saw a major revenue loss.
Many seed breeders, growers, greenhouses and garden center owners, landscapers and home gardeners faced uncertainty as they had to find alternative plants to fill the void.
"Before the IDM attack, literally billions of Impatiens walleriana seeds were sold to growers and it was one of the top three annual bedding plants on the market for consumers and landscapers — a go-to plant every year for color in the shade," said Claire Josephson, product marketing manager for Beacon, a new generation of Impatiens wallerina from PanAmerican Seed.
"Within the first two years after the downy mildew attack, the number of impatiens seeds that were sold dropped by about 40 percent. Everyone in the industry took a major hit," said Jeanne Svob, business manager for seeds at Griffin Greenhouse Supplies, one of the country's largest stocking seed distributors headquartered in Tewksbury, Massachusetts.
When you consider that garden and bedding plants are 30 percent of a huge U.S. flower market, and Impatiens walleriana had been one of gardeners' favorites for 60 years, you can understand why it was a big financial loss to the seed producers, growers, wholesalers and retailers.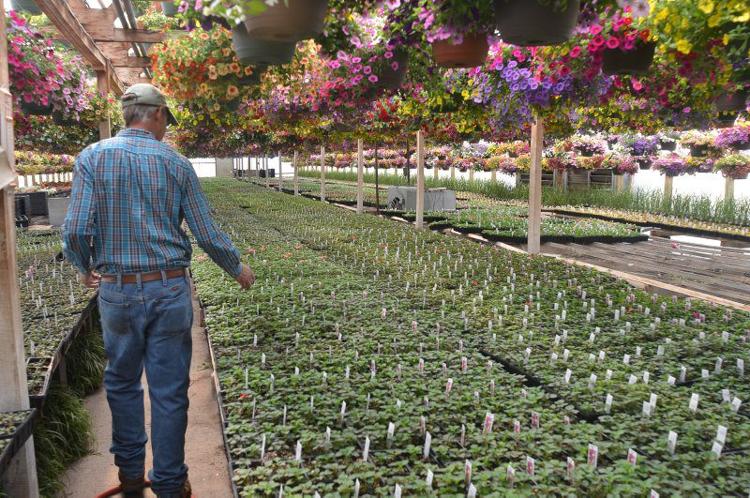 And for landscapers — from local to mega-commercial ventures — who put thousands of impatiens plants into the ground in commercial locations and residences, it was a major blow.
It's a story, however, with a happy ending.
Within the past two years, a new generation of impatiens — resistant to the downy mildew — from breeders Syngenta and PanAmerican Seed have been introduced to the market and are available to gardeners or in large field trials. This year is the first that Syngenta's Imara XDR is being sold commercially, and PanAmerican Seed's Beacon impatiens is in trials with a global introduction planned for January 2020.
"The unanswered question," said Tony Fry of Frysville Farms in Ephrata, Pennsylvania, "is how will the plants perform and will the customer embrace a current, smaller palette of colors available for the first few years when they were used to 20-plus shades in traditional Impatiens walleriana."
The new generation of seeds and plants have been in development for several years and other breeders are expected to introduce disease-resistant varieties too.
With Imara XDR flats available at greenhouses now at prices competitive with the traditional impatiens, greenhouse employees are educating customers about the plant, its 10-shade color palette, and its disease-resistance qualities, and will do the same for the Beacon plants and seeds in 2020.
Large growers like Rob Swanekamp Sr. at Kube-Pak in Allentown, New Jersey, tested Imara XDR in 2018 and is testing the Beacon seed this year. He's been providing plants to local landscapers, who will give him feedback on performance.
Sinclair Adam, a Penn State Extension educator in Lebanon, Pennsylvania, is trialing the new generation of plants this season. He is anxious to see how they compare to the traditional Impatiens walleriana in quality, color, ease of growth and disease resistance.
An informal survey of many affected in the East in mid-April revealed different strategies used to adjust to a changing bedding plant market for the past five years. All were impacted in one way or another. Commercially, there was a scramble to replace the sales of the popular impatiens plant in the retail-wholesale market and end users — especially commercial landscapers and home gardeners — had to look for alternatives.
Native to Africa, from Kenya to Mozambique, Impatiens walleriana was a reliable source of sales income for seed breeders, growers and greenhouse operations. Many say they were caught off guard when IDM hit the United States East Coast with a vengeance in 2012, carried by the wind from Florida.
"Remember, this is a unique plant and everyone loved it," Frysville's Fry explains. "There were alternative bedding plants, including New Guinea impatiens, begonias, torenia, SunPatiens and coleus, but they were somewhat more expensive, had less color and were nowhere near as popular as Impatiens walleriana."
For some growers and greenhouses — who sold thousands of flats — it was an immediate and dramatic revenue loss, and one they continue to recover from. For local and mega-landscapers like Brightview, the largest commercial landscaper in the U.S. with 140 years of experience, it was a disaster.
"We went from using nearly a million flats of Impatiens walleriana on the East Coast in 2012 to none in 2013," said Bruce Hellerick, the company's director of technical services. "We talked to our customers and explained the situation and recommended planting begonias and coleus as alternatives, at a similar cost and maintenance, and we have done so for several years."
Hellerick believes today's commercial market is hungry for more color in shade bedding plants and customers will embrace the new generation Imara XDR and Beacon, and the impatiens market will quickly recover.
The loss of impatiens affected even smaller users, down to individual gardeners. Scott Weaver, director of campus services at Garden Spot Village, a retirement community in New Holland, Pennsylvania, oversees the facility's landscaping. He advised residents a few years back that if they planted impatiens walleriana in their own garden, they might be disappointed and lose the plants to the disease. Weaver, himself, stopped using the Impatiens in their corporate landscaping plans, too.
Although Angie Fasnacht, an avid gardener and member of the Ephrata Garden Club, continued to use double impatiens in her garden without a problem, she is now eager to try the new Imara XDR disease-resistant variety.
Frysville Farms grew nearly 4,000 flats of Impatiens walleriana pre-downy mildew. Nearly 50 percent of that business disappeared in 2013, and had to be replaced with alternatives. Frysville has plenty of Impatiens walleriana flats available this year, with 60 percent being the Imara XDR variety and 40 percent the traditional variety.
Other greenhouses like Esbenshade Garden Center and Greenhouses in Lititz, Pennsylvania, one of the area's largest, have their own stories of loss and recovery.
Fred Esbenshade indicates they had always pre-treated their plants, but still saw a loss of about 30 percent of their Impatiens walleriana business after the IDM attack. This year, they are trialing Imara XDR and have limited quantities available.
Steve Layser of Layser's Flowers in Myerstown, Pennsylvania, lost business, too, and his customers did not readily accept the disease-resistant alternative, New Guinea impatiens, in 2013. So, he had to suggest other bedding plant varieties. He, too, is trialing Imara XDR this year.
Elizabethtown's Paul Warburton of Warburton Nursery and Greenhouses started testing Imara XDR last year and is pleased with the plant's performance. He is currently selling four-packs. Pre-downy mildew, Warburton typically grew 500 flats of the traditional impatiens. Two years later, he was down to growing fewer than 50 with a corresponding loss in revenue. This season, he grew (from seed) 100 flats of the Imara XDR impatiens.
"It takes two to four years for the gardeners to have full confidence in plants, and we are only in our second year selling this new generation impatiens," Warburton said.
Many greenhouses like Esbenshade have always pre-treated their plants with a fungicide to kill parasitic fungi and their spores, making them disease resistant when leaving their facility. But greenhouses have no control over remnants of downy mildew or other diseases still in the soil where new plants could be bedded.
Impatiens downy mildew was first detected in a few states in 2004 before the major outbreak in 2012. Initially, it found its way from South Africa, in the late 1990s, through Europe to the U.S. and had ravaged the Impatiens walleriana plants in England in 2011. Seed producers had realized it was only a matter of time before IDM might do serious damage to the U.S. impatiens market. They began to breed and develop new strains of the plant that were resistant to the IDM water mold spore as early as the start of the 2000s.
"It takes time to breed and test plants, and the new impatiens varieties were still in the breeding and testing pipeline when the impatiens downy mildew struck here," said Katie Rotella, a spokesperson for Ball Horticultural Company, whose PanAmerican Seed company will market Beacon. "This is a process you can't rush. New plants are tested in the greenhouse and in the field for several years before being introduced commercially."
Many growers are trialing Beacon and its initial six colors right now, and PanAmerican Seed will add additional hues and mixes going forward.
Syngenta began breeding its Imara XDR early in the 2000s when their research recognized small differences in susceptibility to the disease in some breeding materials. They did cross-breeding and self-pollinations until the plants became stronger and survived longer in the field.
Syngenta began to see real progress in 2011 and then started creating and testing hybrids in different colors before large trials of Imara XDR in 2017 and commercial rollout this season.
Greenhouse owners hope the new generation of Impatiens walleriana will catch on quickly and allow them to reach sales numbers for flats that equal pre-2012 years, but all say it may take a few years to do so.
One of the people who will know early-on how popular the new strains of the plant are will be Kube-Pak's Swanekamp.
"We were really affected in 2012 as the disease hit just after we shipped the last of our 75,000 impatiens flats," he said. "It was a real shame."
Today, Swanekamp is growing 11,000 flats of impatiens, 60 percent being Imara XDR and 40 percent the traditional variety. He also is growing 32,000 flats of SunPatiens, plus New Guinea impatiens. From his perspective, Swanekamp believes the shade, ground bedding plant market is now fractured, with customers using a variety of plants after relying heavily on impatiens for so long.
With IDM hitting the East Coast the hardest, growers large and small — including Metrolina in North Carolina, the largest single-site greenhouse in the country with 162 acres under roof, and Battleground Farms in Virginia, with 45 acres of covered production — all had to work with their customers to make adjustments in what they grew and supplied in bedding plants, just like Kube-Pak.
Most of the growers and greenhouse owners today recognize that it is a transition period with the traditional and new generation of Impatiens walleriana, but are optimistic the market will fully recover.
Only time will tell.