The Penn State Flower Trials, held at the Southeast Agricultural Research and Extension Center, or SEAREC, have long been a helpful tool to both commercial growers and nurseries — and home gardeners get the benefit.
Each year, under the direction of Penn State Extension educator in horticulture, Sinclair Adam, and with the assistance of SEAREC director Alyssa Collins and local master gardeners, staff at the research farm grow more than 700 annuals and 200 perennials for the purpose of evaluating the plants several times during the growing season. They then provide feedback to the companies that submit plants. It gives commercial growers an opportunity to see how new cultivars are performing under standard conditions.
Submitting companies specify if they want their plants grown in the ground, in pots or hanging baskets, and in the sun or shade. Sometimes, said Adam, companies will send the same cultivars three or four years in a row, while other companies rarely send repeats.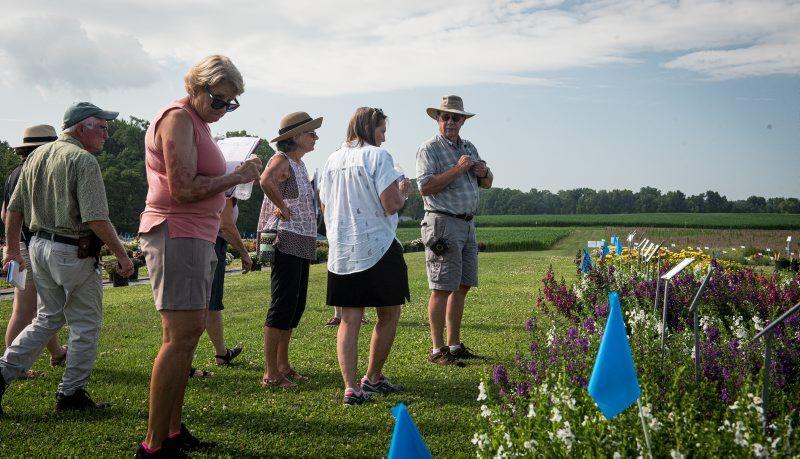 At the garden trials, each week interns get data on pH and electrical conductivity (EC) from the soil of selected plants to help Adam and other trial garden staff make decisions for crop-specific changes on pH or food. Early morning and afternoon waterings, 20 minutes each time, help to keep the plants growing at their best.
To keep possible diseases contained, one company's geranium submission, for example, is planted with a "spacer crop" of another plant variety between it and the next company's geranium submissions, said Adam. That way, for instance, if xanthomonas, a bacterial blight, rears its ugly head in the geranium bed, the other geraniums are secure and should not be contaminated, he said.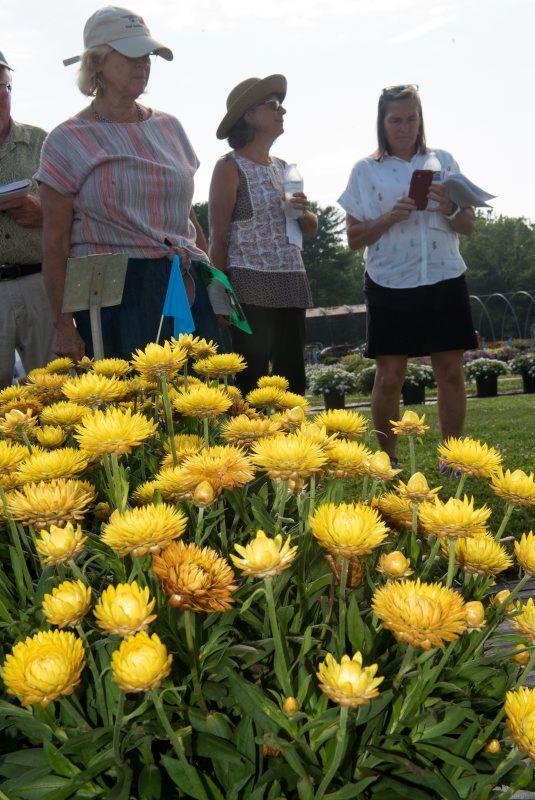 Blue flags staked in the plants represent varieties that earned a good rating so far this growing season. Adam inspects and rates each plant for the first time around the first week of July. The blue flag, then, signifies a variety that has rated 4.88 out of 5 stars or better. The process takes him many hours, as each plant takes about two minutes to rate. He puts the rating in directly on an iPad computer which downloads directly to the webpage at agsci.psu.edu/flower-trials for anyone to peruse. Overall, Adam will do four evaluations comparing plants during the course of the summer, ending around the first week of September to arrive at a final, overall rating for each plant submission.
This year, Adam guided several in-person tours through the flower trials that brought growers, gardeners and green thumbs to hear him talk about this year's horticultural crop.
Participating in one tour was greenhouse grower Mark Adams, of Poughkeepsie, New York. He and his wife, Sue, own and operate Adams Greenhouse. Their business includes 5 acres under cover. The couple traveled to the SEAREC trial gardens, an annual trek for them, looking for new varieties to grow for next year, Adams said.
"You've got to see them (in person)," he said. "If you want to look for a red (flower), you can't tell from the catalogue, you've got to see it. To actually see the real, true color, you can't see it in a picture — it just isn't the same."
Spectacular Blooms Worth Seeing
This year, the strawflower bracteantha 'Granvia Gold' from Suntory Flowers piqued Adams' interest, he said, noting that the couple is looking for plants they can sell in the summer in their garden center. Spring offerings are plentiful, so the pair were looking for something that would still be showy further into the summer.
With 119 petunia submissions this year, the gardens are a "petunia center," educator Adam said.
Ball Floraplant has a new CannonBall series with more of a mounded habit, he noted, and the non-fading, long-blooming "Bee's Knees," a favorite last year, is a great yellow petunia from Ball.
The reigning queen of Lancaster County petunias, topping the bestseller list yet again this year, is the Supertunia Vista Bubblegum by Proven Winners.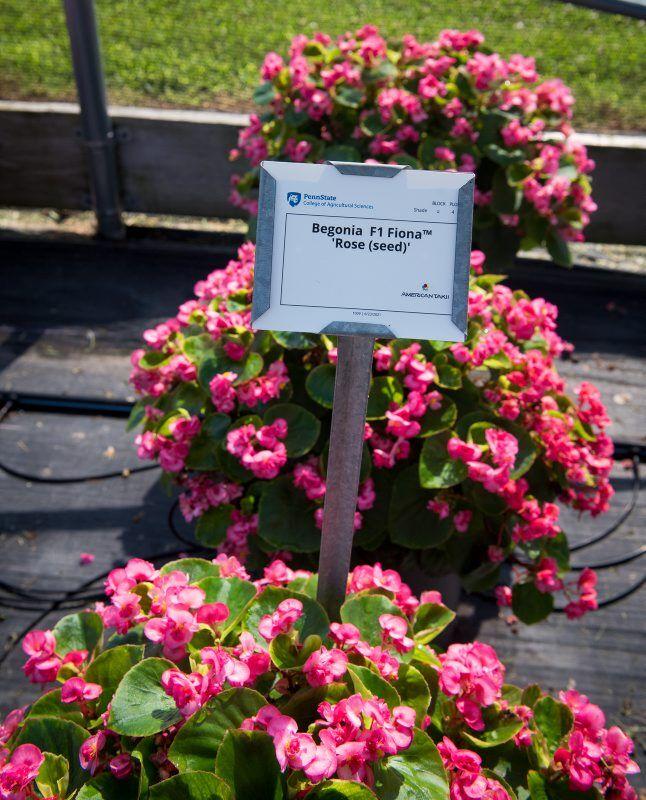 New this year, he noted, is the EasyWave "Pink Cosmo" from PanAmerican Seed, which is similar to Bubblegum.
American Takii submitted the "Evening Scentasation" variety that Adam has enjoyed for years, he said.
The new calibrachoa "Pocket" series from Kientzler North America has been very floriferous this year, said Adam.
The Suberbissima series from Cerny Seed, with its ruffled flower edges, is "intriguing" and bears watching, said Adam.
Also, the Tea series of petunias submitted by Beekenkamp, he said, is "well-behaved in habit, won't take over your yard, and has a good color range."
The Sky series from Selecta has garnered attention from gardeners, with its splashy patterns on colorful petals, but gardeners should know that the white "stars" in the petals fade as the summer progresses and gets warmer.
For late-season color, celosia rises to the top, not only with its strong, true hues, but also its ability as a tremendous pollinator attractant.
In the begonia category, the Viking Explorer "Red on Green" from Sakata Seed America has been a good performer, said Adam. He also continues to like the BIG series of begonias submitted by Benary. And, the Tophat begonias from Syngenta is an excellent series, he added.
Begonia F1 Fiona from American Takii has been another strong performer with strong colors, Adam said. Additionally, Ball's Rivulet series, which produces a stream of medium-size flowers, is a nice series for baskets, he said.
In the coleus area, Adam said: "I've always liked the FlameThrower series," pointing out the "Cajun Spice" and "Sriracha'' varieties at the trial gardens sent by Ball Floraplant.
New coleuses this year at the trail gardens are the "Copperhead' coleus, also from Ball, and ColorBlaze "El Brighto" from Proven Winners. Both are strong performers with good color, he said.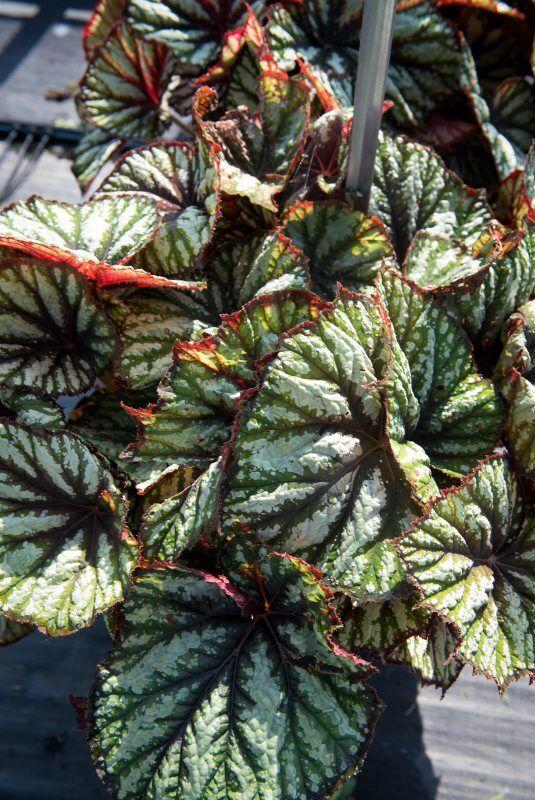 These varieties will be trimmed back around the end of July to prevent them from growing too tall and becoming susceptible to breakage from wind, said Adam.
A dwarf coleus, "Spitfire," from Ball FloraPlant is also a new addition that does not need pinching, on the other hand.
For the geraniums, Adam liked the strong color on the Zonal Moonlight "Orange" offering from Selecta One. A hybrid between calibrachoa and petunia, the SuperCal series from Sakata Seed is also intriguing, Adam said.
And, he said that a great addition to the perennial department has been the Sombrero series, a shorter variety of echinacea, from Proven Winners.
The Kismet series from Terra Nova Nurseries is also a good bloomer, he said. Echinacea "Moab Sunset" from Terra Nova Nurseries "feels like 115 degrees just looking at it," said Adam.
Interesting ornamental grasses in the perennial area include a cultivar from Intrinsic Perennial Gardens, called Pennisetum alopecuroides "Love and Rockets," "which is an absolute star," said Adam