Crystal Bomgardner Champions Refueling with Dairy
ONO, Pa. — Take a big heap of enthusiasm, mix it with a healthy dose of confidence and throw in some solid dairy know-how. Whisk it all together and you'll have Pennsylvania's 2021-2022 Alternate Dairy Princess Crystal Bomgardner of Lebanon County.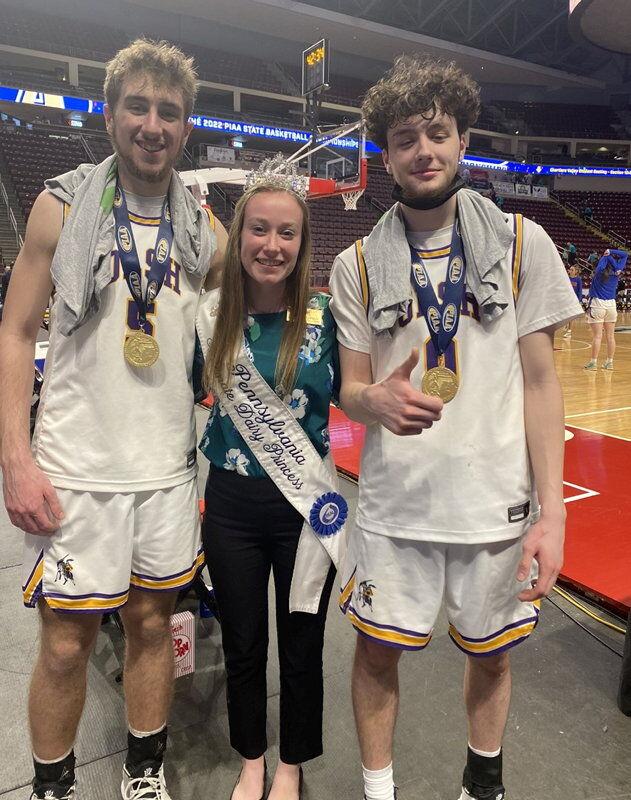 Bomgardner, the 18-year-old daughter of Corwin and Tara Bomgardner, lives on the family's 17-acre East Hanover Township farm along with her three brothers and five sisters, ages 3 through 19. The Bomgardner farm currently has a small non-milking herd of Holstein heifers, including Crystal's spring yearling, Loving Meadows sir c Sibyl, as well as the show heifers of most of her siblings.
The family also owns other dairy animals, which are currently housed off premises, but Crystal Bomgardner explains that should soon be changing. A barn construction project is in the works for the Bomgardner farm. It will facilitate increasing their herd, as well as consolidate their existing heifers, plus a few beef cattle, under one roof. This includes Crystal's Holstein calf, Etc diamondback Sindy, which, for now, is bunking at the farm of her grandparents, John and Margaret Bomgardner, who live within sight of Bomgardner's home.
Dairy has always been an important part of Crystal Bomgardner's life. Not only have her relatives been longtime dairy farmers in northern Lebanon County, but getting her first calf was a milestone moment. She said she'll never forget Christmas morning when she was 7. She received a card from her grandparents and a note inside reading, "Your calf is in the barn." It sparked her own passion for the dairy industry.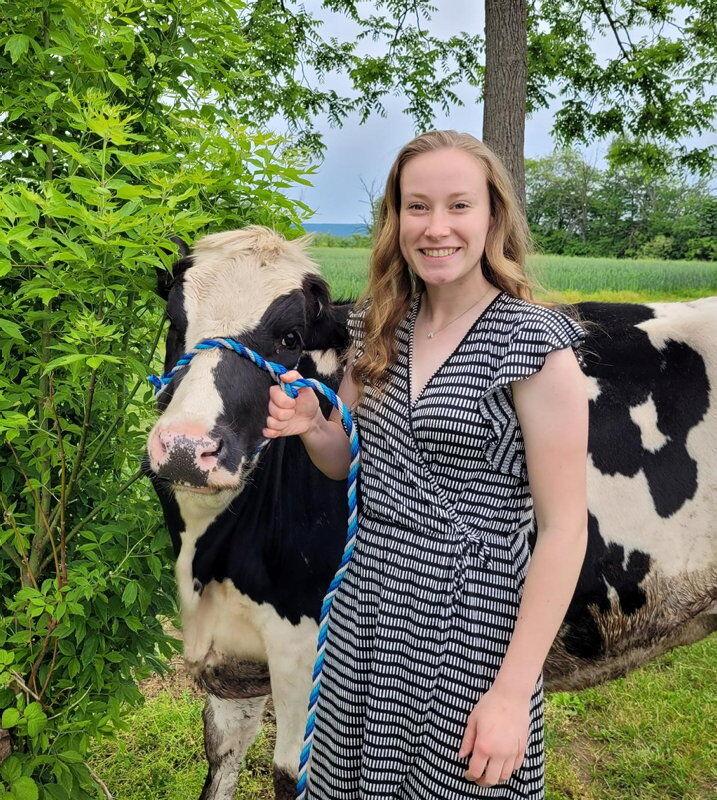 Shortly thereafter, Bomgardner began her ascent through Lebanon County's dairy royalty. She started out as a li'l dairy miss, then progressed to dairy miss and dairy maid until she was selected as Lebanon County's dairy princess in May 2021.
In the skit and speech she presented as part of the dairy princess competition, she used "refueling with dairy" as her platform to encourage drinking milk as part of a healthy lifestyle. In the skit, she assumed the role of a sportscaster calling a game between the "Cheesers versus the Doughnuts," happily declaring the string cheese team as the winners because of milk's 13 essential nutrients.
After hearing a former Pennsylvania state dairy princess from Huntingdon County speak about confidence, Bomgardner was inspired to find her own voice and was undaunted by the speech portion of the dairy princess competition. She chose "Refueling with Chocolate Milk" as her speech topic at the Lebanon County dairy princess pageant, and when she later gave that speech at the state pageant, it won the top honors. Meanwhile, her dairy promotion radio spot placed in the runner-up position of the statewide competition.
Bomgardner was crowned as Pennsylvania's alternate dairy princess during the September 2021 state pageant, which brought with it a whole new set of duties to go along with her responsibilities at the county level. Among them were appearances at dairy meetings in both Pennsylvania and New York, being on site every day at the 2022 Pennsylvania Farm Show, attending the Pennsylvania Farm Bureau's convention and visiting dairy princess pageants in Berks and Huntingdon counties recently. She has also presented at "a ton of career days" at schools in the Northern Lebanon, Eastern Lebanon County and Lebanon City school districts.
Bomgardner shows no hesitation when asked about the most memorable appearance she had during her state reign. A basketball player herself for Northern Lebanon High School, she was thrilled to attend the PIAA 2A Boys Basketball Championships game at the Giant Center in Hershey earlier this year. She got to hand out the game ball, as well as present her dairy commercial for the crowd in attendance.
Bomgardner was a five-year member of the Norlebco 4-H Dairy Club, as well as a member and, most recently, the president of the Northern Lebanon High School FFA chapter. She recalls going to the state FFA creative speaking contest when she was in ninth grade. She loved it so much that she has competed every year since then. Bomgardner found herself inspired by the variety of topics covered. She attributes her success in the dairy princess speaking competition largely to her FFA experiences.
A home-schooled student who just received her high school diploma in early May, Bomgardner is looking ahead to a summer of working as a lifeguard at nearby Hershey Park as well as representing the dairy industry at events like Ag Progress Days in August. She'll also be preparing her heifer, Sibyl, for showing at the Schuylkill County Fair and the Lebanon Area Fair.
Bomgardner is especially excited about the Lebanon Area Fair for another reason, as well. She counts singing and songwriting — mainly worship songs and vocal pieces — among her hobbies, and has been asked to perform on July 23 during the fair's opening night.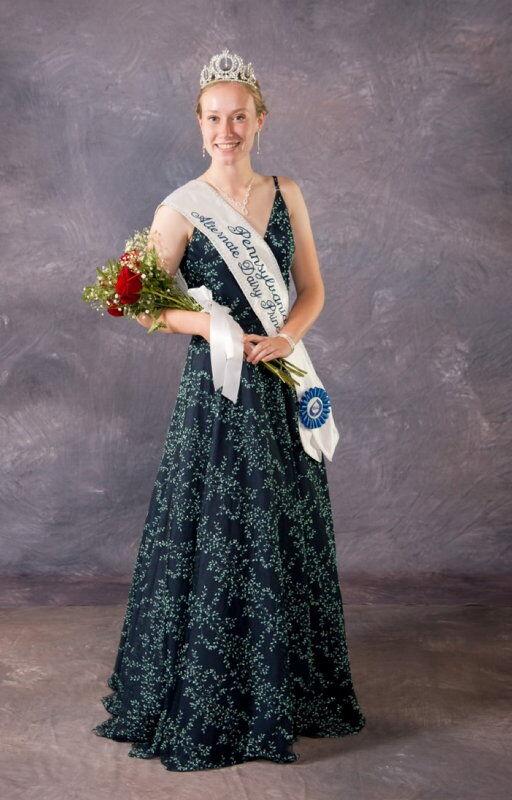 As she looks back on her princess experiences, Bomgardner is able to recall one frustrating series of events with humor now. On a shopping trip for clothing to wear during the state princess pageant, the electricity went off just as she reached the store's checkout counter with numerous outfits. Unable to have the items rung up and paid for without the electric cash register and only allowed to put two items on hold, she was forced to return later and start over again. The bad luck related to her outfits continued when, later on, several items were temporarily lost by the dry cleaner, which caused some additional tense moments.
Looking ahead, Bomgardner is bound for the University of Valley Forge in Phoenixville this fall to major in worship leading and will be playing collegiate volleyball and basketball there. She has also considered possibly seeking to become a state FFA officer in the future.
Even though for now she will be trading country life for a more suburban college setting, dairy farming remains close to her heart.
Bomgardner believes strongly that, "We must hold on to our small, local dairy farms. They're so important to our economy," she said.
She describes the industry's far-reaching effects on everyone from feed suppliers and milk-truck drivers to lab workers and grocery-chain employees. She believes that the dairy facilities already in place should be put to good use by helping a new generation of family dairy farmers "find that spark" for the dairy industry. She also advocates for returning whole milk to school lunches to provide students with an additional dairy option.
Bomgardner's dairy advocacy extends to her own love for dairy products. Her favorites are gooey macaroni and cheese, and chocolate chip cookie dough ice cream with a little peanut butter added.
She does her part by sharing the following recipe for cream cheese cookies from her grandmother, Margaret Bomgardner, but cautioned, "You can't just have one."
Cream Cheese Cookies
1 (8-ounce) package cream cheese, softened
1/4 cup butter
1 egg
1/4 teaspoon vanilla
1 box yellow cake mix
Cream together the cream cheese and butter. Add egg and vanilla. Then add the yellow boxed cake mix. Mix until well-combined. Drop by teaspoonfuls onto lightly greased cookie sheet. Bake at 350 F for 8 to 12 minutes or until set in the middle.
Sue Bowman is a freelance writer in southeastern Pennsylvania.