REHRERSBURG, Pa. — Are you looking to boost your Christmas spirit? You just may find what you're seeking in a small Berks County hamlet, where you can literally surround yourself with Christmas.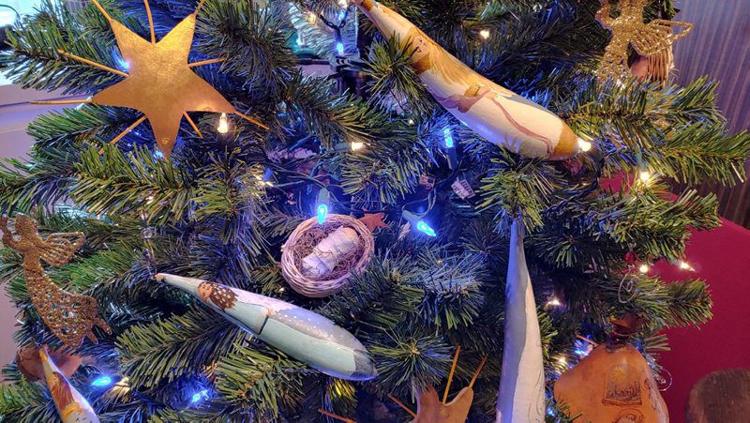 During weekends between Thanksgiving and Christmas, Rehrersburg's Andulhea Heritage Society is again welcoming the public to its annual holiday open house at the Andulhea Heritage Center, 4 Church Street. Visitors will be treated to over 30 Christmas trees of all sizes decorated to depict this year's "Star of Wonder" nativity theme.
Formed in 2003 as an outgrowth of Rehrersburg's bicentennial celebration, the 120-member Andulhea Heritage Society is dedicated to preserving local history and fostering genealogical research in an area primarily settled by persons of Pennsylvania German extraction. As such, it might seem odd that the society adopted the Lenape's Native American word "andulhea" (pronounced UN-dull-hay) for its name and headquarters building.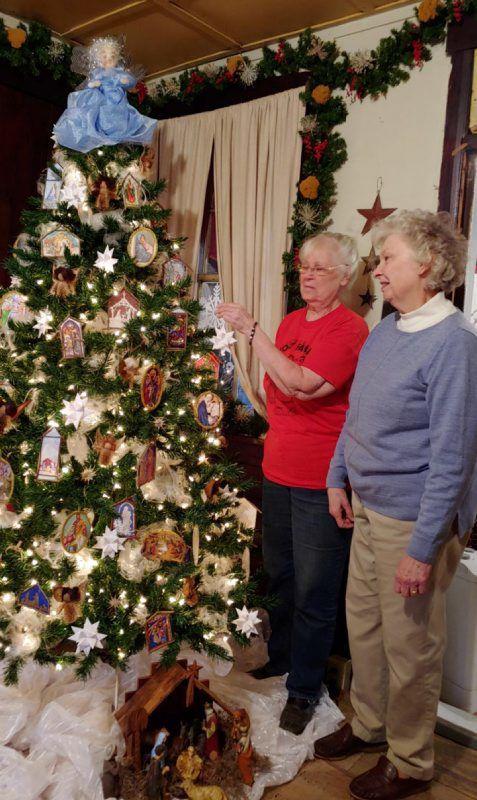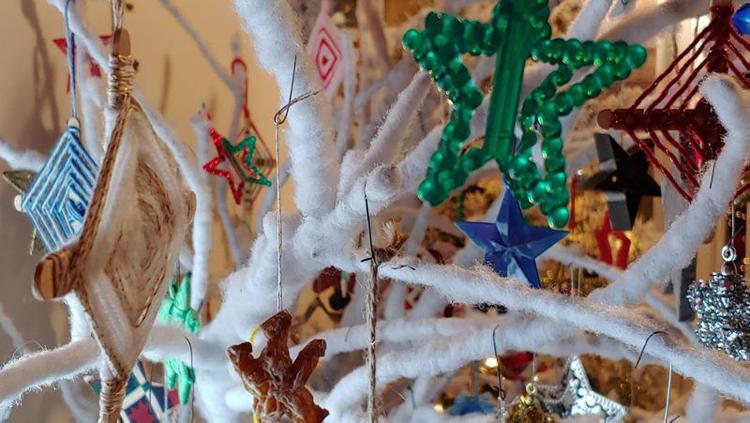 The society actually owes the andulhea reference to William Penn's son, Richard, who was given land in this geographic area several centuries ago. A 1741 map of Richard Penn's undeveloped tract shows the present-day location of Rehrersburg at the center of a 5,000-acre parcel identified as Andulhea Manor. It spanned an area between the Tulpehocken and Swatara creeks and, not coincidentally, "andulhea" means "between two streams."
The Andulhea Heritage Society has often sponsored a variety of activities and events highlighting local history through the years since its founding, but none is better known than its annual Christmas open house. A favorite of locals, the event typically attracts 250 to 300 people each year. Admission is free, but donations are appreciated. Ironically, the holiday open house idea originated as a way to let the surrounding community know that the Andulhea Heritage Center existed and to acquaint the public with its resources. However, the open house's reputation has expanded to attract visitors from an even wider region.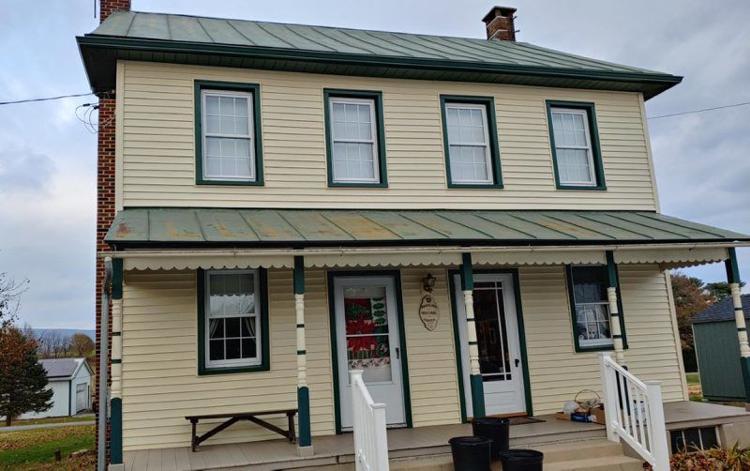 A new theme is selected annually for the Andulhea Christmas display. The creative décor on the Heritage Center's first floor depicts that theme, especially on its multiple adorned Christmas trees tall and short, skinny and fat, that are tucked in the building from "floor to ceiling."
Perhaps this year's most unusual tree is one made from graduated lengths of old wooden plaster lath salvaged from a demolished building. There's even a traditional Pennsylvania German cotton-wrapped tree branch that looks like a snow-covered tree. It showcases brightly colored ornaments.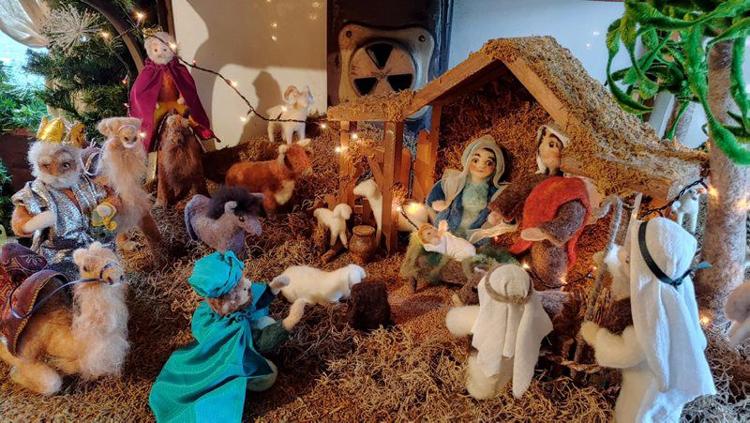 Numerous other Christmas decorations displayed throughout, such as nativity scenes made from a variety of materials, make the heritage center a treasure to behold. Last year's theme was "A Natural Christmas," while previous years' topics included "Christmas Around the World," "Fire and Ice," and "Red, White and Blue" as well as themes about recycling, all paper décor and ornaments made from cloth or fiber.
This year, two first-floor rooms, including the gift shop, will be reserved for the sale of the society's newly released book on Rehrersburg' as history, which, according to Andulhea Heritage Society president Dolores Hill, makes a good Christmas present.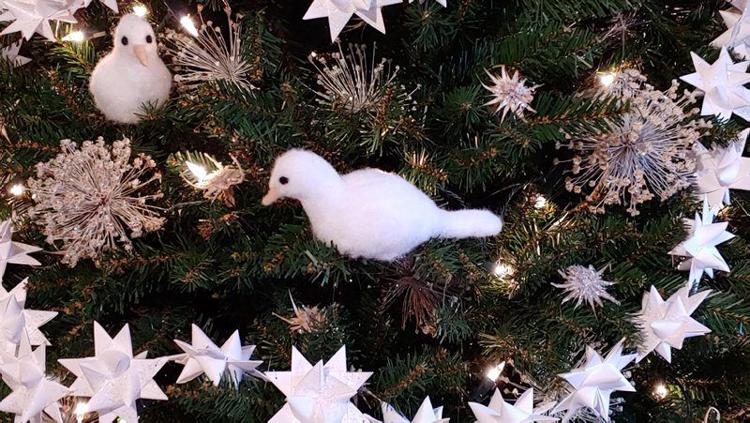 Artist and society board member Judie Ziegler, a moving force behind the annual open house, loves Christmas and takes charge of decorating the summer kitchen area. For this year's Star of Wonder theme, Ziegler has needle-felted an entire Nativity scene, right down to the sheep at the manger and the trees surrounding it. She also needle-felted stunning white doves for one of the room's trees and will be demonstrating the art of needle-felting during the open house.
Ziegler's talents on display include her many Moravian stars, made origami-style from paper. One tree boasts an entire garland made from the folded paper stars.
James and Charlene Anspach are also regular participants in the Christmas open house. Their specialty involves decorated gourds. For 2019, they transformed long, slender gourds into angels; wove a gourd into a basket manger for the Christ Child and made detailed designs on bell-shaped gourds.
For the last six years, a local group of Brownies and Junior Girl Scouts have decorated a Christmas tree for the open house. This year will be no exception.
Some Andulhea Heritage Society members also create themed trees, while 12 to 15 other members serve as greeters stationed throughout the exhibit. They answer visitors' questions during the self-guided tour, which allows individuals to wander through the holiday scenery at their own pace.
For younger visitors, Dolores Hill, who was an elementary teacher in the Tulpehocken School District for 40 years prior to her retirement, offers scavenger hunts. Children who locate the listed items are rewarded with a small prize at the end of their visit. This year, they may be asked to count the number of manger scenes displayed in every corner of the Heritage Center. There is also a Heritage Center gift shop with one-of-a-kind, handcrafted items.
The Andulhea Heritage Center itself has an interesting history. This frame house was built during the late 1800s along Rehrersburg's unnamed main street. In 1939, the home's site on the town's major thoroughfare — by then known as Godfrey Street — was deemed more suitable for another purpose. Thus, the structure was rolled back from the street on logs to its present Church Street location adjacent to the cemetery of the nearby Altalaha Evangelical Lutheran Church. This made its original site available for the construction of Charles Shucker's funeral home — Berks County's first funeral home built specifically to serve that function. The Andulhea Heritage Center is located immediately behind this business, now known as the Hill Funeral Home.
The relocated house served as a rental unit until 2003, when the heritage society gave the property a new identity and a new purpose as its headquarters. The 10-room, cream-colored building with green trim still has a residential look and feel, but now houses a library, the collections of four individuals who donated their assortments of genealogical records and local historical documents, and other resources. It attracts local visitors as well as folks who come from afar seeking genealogical information at the Altalaha church cemetery and end up finding further details at the Andulhea Heritage Center.
The heritage center also includes a children's library assembled by Hill, featuring numerous books on Pennsylvania history written for young people.
The heritage center is open year-round on the last Saturday of the month from 9 a.m. to 1 p.m. or by appointment, made by calling 717-933-5925.
Special weekend hours for the Star of Wonder Christmas open house begin Nov. 30 and run through Dec. 21. On Saturdays the exhibit is open from 9 a.m. to 1 p.m. and Sundays' hours are 1 to 4 p.m.
For more information, call or go online to https://www.facebook.com/Andulhea-Heritage-Center.