SCHAEFFERSTOWN, Pa. — Imagine the year is 1760 and you're a hungry traveler making your way from Harrisburg to Philadelphia. If you happened upon the little tavern at a crossroads in Schaefferstown, a warm welcome and a hearty meal awaited you.
Fortunately, there's no need to use your imagination. Nearly 260 years later, it's still possible to enjoy the comfort foods of an 18th-century lunch in that same setting. Located at the present-day intersection of Pennsylvania routes 897 and 419, the Gemberling-Rex House was converted from a tavern to a private home in 1802. However, once each holiday season, its owner, Historic Schaefferstown Inc., brings Colonial times to life by serving up a typical 18th-century tavern lunch at this property, designated a National Historic Landmark in 1980.
This year, Saturday, Dec. 14, is the date when hungry 21st-century visitors get to experience a culinary step back in time while learning more about this unique structure dating to pre-Revolutionary War times. The menu features ingredients which would've been eaten in late autumn during the latter 1700s, some of which — potatoes, parsnips and onions — come from the Gemberling-Rex garden.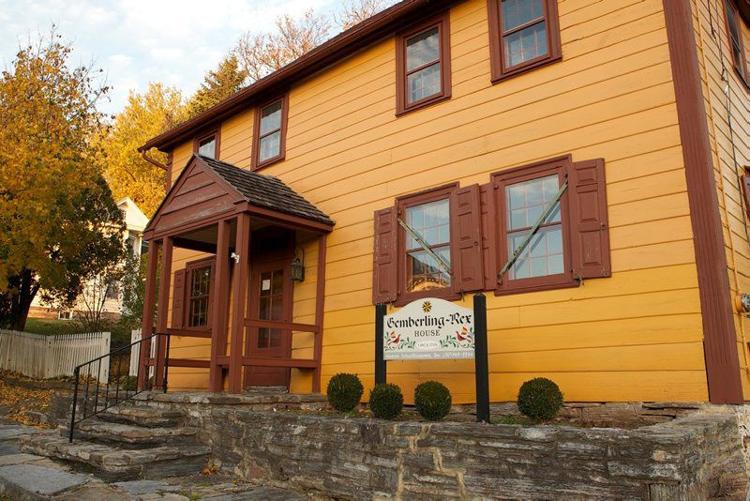 All the dishes are homemade by Historic Schaefferstown's tavern committee. Each member has a culinary specialty, ranging from the main course of winter stew with double-smoked sausage and root vegetables to pumpkin soup or chicken soup with wild rice to apple pie, shoofly pie or raspberry buckle served for dessert. The menu is rounded out with home-baked bread, apple butter, apple snitz, Lebanon bologna and cheeses. Meadow tea and mulled cider quench the thirst of participants.
During the meal, period-costumed teenagers who have participated in Historic Schaefferstown's Young Villagers Colonial Workshop act as knowledgeable servers. During the event, tavern mistress Jan Taylor tells lunch guests about the history of Schaefferstown and tavern keeper David Carlson discusses Colonial tavern customs.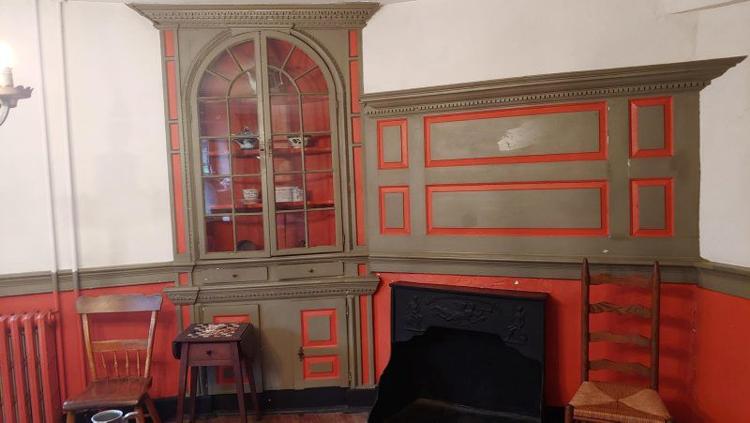 The Gemberling-Rex property likely pre-dates Schaefferstown's founder, Alexander Schaeffer, laying out lots in 1758. When German immigrant Paul Gemberling immediately purchased Lot No. 14 on the square, it is probable that he already had a structure on that site. A tavernkeeper by trade, Gemberling used his homeland's "fachwerk" building style in the construction of his place of business. Instead of a more-typical log structure, Gemberling's tavern featured Germanic half-timbered supports with wattle and daub making up the walls of the original four-room structure.
Wattle and daub is made using a latticework of wooden strips covered with a sticky mixture of soil, clay, straw and manure that is daubed onto the lattice. Since brick structures were a sign of wealth in Colonial times, Gemberling disguised his building's humbler construction by scoring the wall surfaces to look like bricks and painting them in a red and black checkered pattern. Although clapboards installed in the first half of the 19th century now hide the original exterior, this faux look is still visible in an attic area of the property.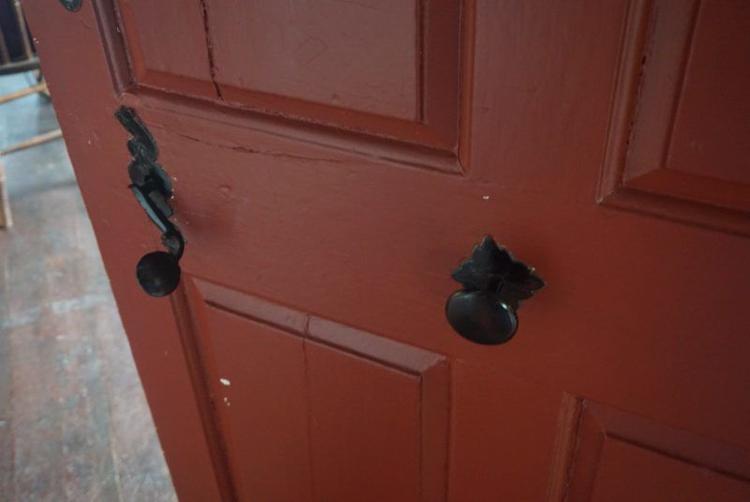 Gemberling sold his tavern in 1784. It then went through a series of owners until 1799, when it was purchased by Samuel Rex, who owned a general store across the square. Rex leased the property to other tavernkeepers until 1802, when he and his wife made it their residence. The property remained in the hands of the Rex family until 1974.
The Gemberling-Rex House is a gem with numerous unique features, which is why Historic Schaefferstown felt it was so important to purchase the building in 1986 and preserve it as a museum. The building's original interior and exterior colors have been duplicated in its present appearance thanks to the work of researchers from Delaware's Winterthur Museum.
Two corner fireplaces grace the Gemberling-Rex House. However, neither fireplace is original to the structure, which would initially have been heated using a five-plate jamb stove installed directly into a chimney. These corner fireplaces, surrounded by elegant woodwork, were added during a renovation sometime prior to 1798 and reflect an English touch in Gemberling's otherwise Germanic-style building.
The front parlor's fireplace is constructed in the Rumford-style, named for its British inventor. Count Rumford studied the transmission of heat and subsequently designed a fireplace with a restricted chimney opening to improve the updraft and avoid smoky rooms.
The rear parlor was heated with a Franklin fireplace, originated by Benjamin Franklin, who used a three-sided iron device to hold a wood-burning fire and disseminate more of the resulting heat into the room instead of sending most of it up the chimney. This fireplace is attached to a corner cupboard with arched glass-paned double doors at the top and storage below. The fireplace mantel, corner cupboard, chair rail and wainscotting in this room are painted in their striking original hues of green and vermilion (brilliant red).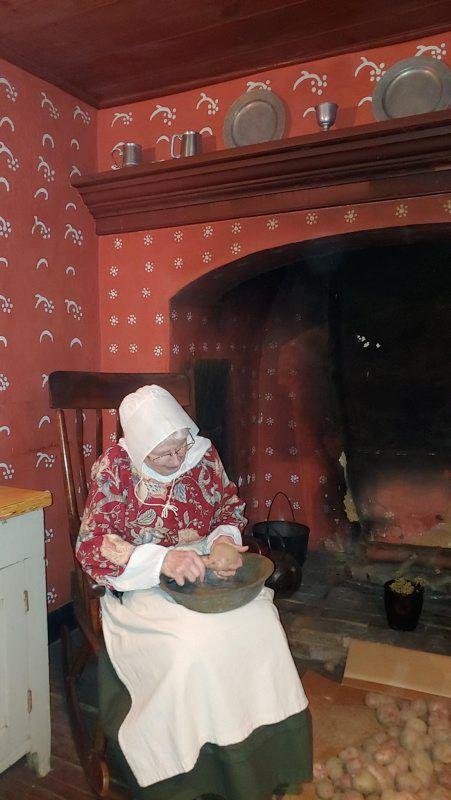 The kitchen houses a walk-in fireplace used for cooking, as well as a beehive oven once located in a side wall. This fireplace and surrounding kitchen walls are unique for their original red color, covered with white stenciled designs that echo this room's original appearance.
Other interesting features of the property include a bar cage and an ornate stairway. Located in a corner of the rear parlor, the bar cage dates to the building's early days as a tavern, when strong spirits were kept behind iron bars under lock and key. The stairway, which faces the rear entrance in a hallway outside the kitchen, has an ornate scalloped design on its handrail, as well as detailed carvings on the exposed side of each stair riser. While very similar at first glance, each step's carving is different.
Although the Gemberling-Rex house has been extensively studied, several architectural mysteries remain. Some involve the structure's doors. The front door's exterior keyway is surrounded by the silhouette of a Hessian soldier, apparently referencing the Hessian prisoners of war who worked at the nearby Elizabeth and Cornwall furnaces during the Revolutionary War. One interior door bears a stationary metal knob located at mid-width; its purpose remains unknown.
Attendees at the Dec. 14 tavern lunch will eat in shifts of 20 diners each at 10 a.m., 11 a.m., 12 noon, 1 p.m. and 2 p.m. They will dine in the front parlor seated at two tables constructed from silver maple, sawn and milled at Historic Schaefferstown's Alexander Schaeffer Farm, located just south of town. The tavern lunch, which costs $16 per person, is so popular that advance reservations are required. All seats for the 2019 tavern lunch are already taken.
Also on Saturday, Dec. 14, a Christkindlmarkt featuring 19 vendors of handmade traditional early American crafts will be held across the street from the Gemberling-Rex House in the lower level of Historic Schaefferstown's Thomas R. Brendle Museum, 111 N. Market St. This circa-1909, three-story limestone structure originally served as headquarters for the local chapter of Patriotic Order Sons of America's fraternal organization. In addition to its 9 a.m. to 3 p.m. hours on Dec. 14, the Christkindlmarkt will also be open on Friday, Dec. 13, from 4 to 8 p.m.
Gemberling-Rex House and Brendle Museum also are open from April 1 through Oct. 1 for guided tours from 1 to 4 p.m. every Tuesday and on the first Saturday of each month. Appointments and group tours are available year-round by calling 717-949-2244. Further information is also available at hsimuseum.org.