ELYSBURG, Pa. — Mention Knoebels Amusement Resort in Elysburg and the average amusement-park enthusiast will recognize it as home to the Phoenix, the 2018 winner of the Golden Ticket Award for the world's best wooden roller coaster.
Ride experiences like that roller coaster draw folks to an amusement park, but at Knoebels, it's things like free admission and free parking, affordable refreshments, and the shady, park-like setting that keep visitors coming back.
Originally known as "Knoebels Grove" when it opened back in 1926 on the farm of Henry Knoebel, this amusement park has continued to change and grow through the years until it now boasts more than 60 rides.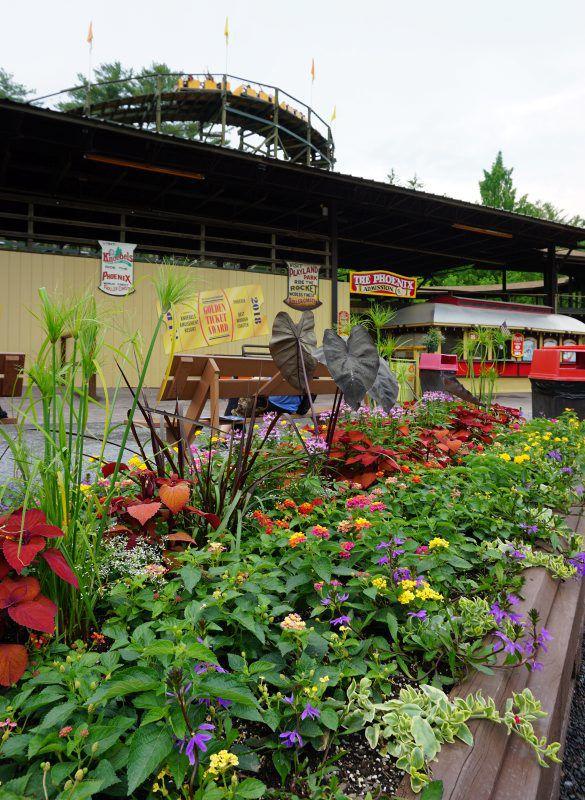 Something that hasn't changed, however, is this family-run park's commitment to retaining the old-fashioned look of a picnic grounds in the woods. And, one person playing a key role in keeping the park looking green and attractive is Sharon Hoffman. While her official job title is "flower and landscaping manager," she's better known around Knoebels as "the flower lady."
The amusement park is open daily from Memorial Day through Labor Day, plus some weekends in April, May, September and October, but Hoffman is a full-time, year-round employee who finds plenty to fill her days whether or not the park is open. Her duties include planning horticultural layouts, ordering flowers and plants for the park, and making sure weather-sensitive potted plants get moved in and out of Knoebels' two greenhouses at appropriate times. She is also in charge of overseeing the planting, watering and maintenance of all plants in the park and supervises a seasonal staff of seven employees. In addition, Hoffman is responsible for the plantings around the clubhouse of Knoebels' nearby Three Ponds golf course.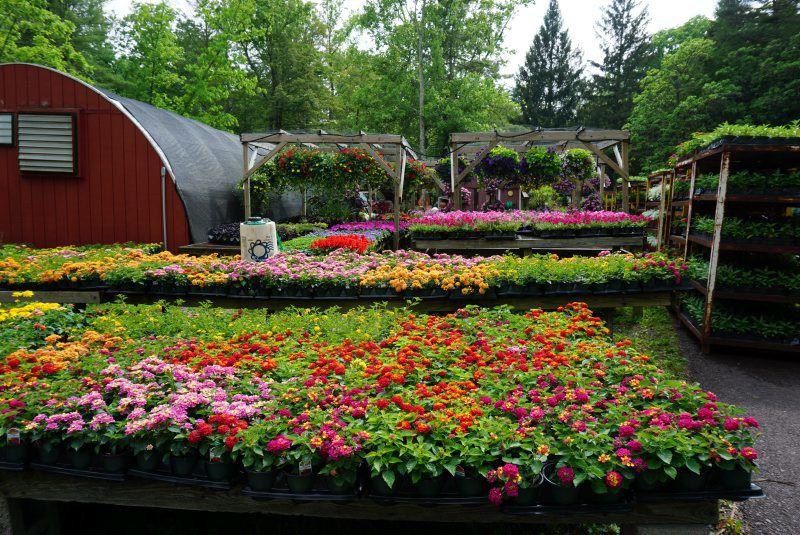 Hoffman has been with Knoebels Amusement Resort for almost 20 years. She started out cleaning the seats on rides, but by 2004 had earned herself the job of selecting and caring for the park's floral décor. Up until that time, Hoffman had been a gardening hobbyist with a green thumb.
"I was very nervous that first year," she said, but adds that she now knows every inch of her turf and has become comfortable and confident in her role.
Where does she get her ideas?
She makes mental notes of floral designs she sees during her travels, then uses trial and error, coupled with her knowledge about plant species, soil conditions and a good intuition for what will be eye-appealing in the park. She also visits the Penn State flower trials held each July in Landisville, and attends shows sponsored by horticulture companies.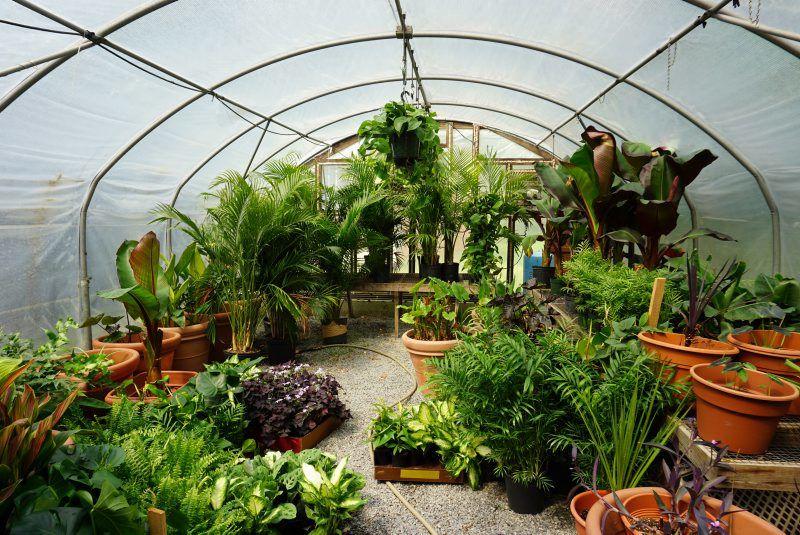 Hoffman has significantly increased the number of planting areas, too. When she assumed her current duties 15 years ago, most of the park's flora consisted of shade-loving impatiens. She's branched out considerably since then, ironically aided by a 2011 flood that damaged the park's grounds, as well as by the park's impatiens falling victim to downy mildew. While some traditional impatiens still grace a few park sites, they're now placed higher up in hanging bags. Hoffman also uses the disease-resistant "SunPatiens" variety, but she has introduced many new eye-catching plants, like bougainvilleas, mandavillas, ornamental banana plants and King Tut papyrus.
The amusement park's co-owner, Brian Knoebel, admires Hoffman's talent for adapting plant selections to the park's unique environment.
"We pride ourselves on our shade. It's what sets us apart from other parks," he said, adding that Knoebels follows the example of Copenhagen's Tivoli Gardens — for every tree lost, a new tree is planted.
Knoebel prefers native trees for replacements, and carefully avoids varieties with surface roots that create tripping hazards, as well as those having roots which could grow into the park's numerous underground utilities.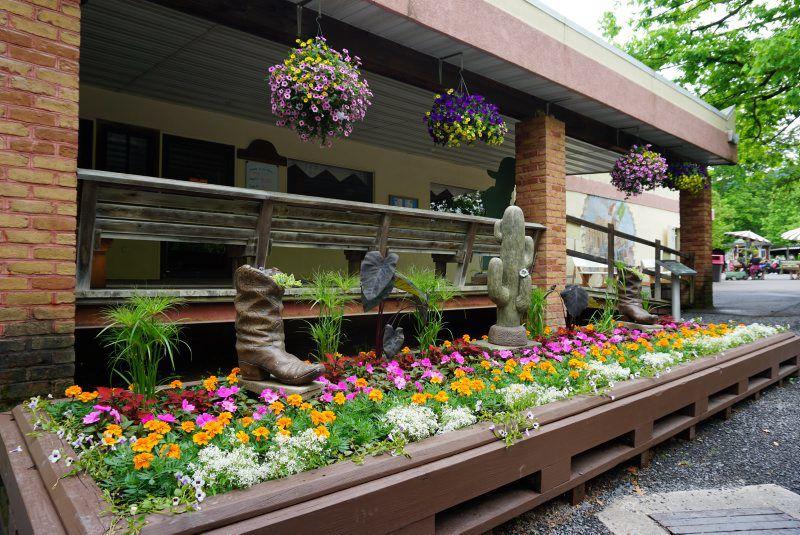 Many of Hoffman's biggest changes to Knoebels' horticulture are related to two "recycled" greenhouses acquired second-hand during the early 2000s. While both greenhouses together would be insufficient to raise all the plants necessary for the entire park, they have allowed the "wintering over" of numerous warm-weather plants. This, in turn, has led to more plants being placed around the park in large pots.
"I'm probably the only one who cries when the park closes (for the season)," Hoffman said, alluding to the massive job of transporting weather-sensitive plants indoors before frosty weather arrives. Likewise, all the stationary flower beds must be cleared before winter. Their foliage goes onto a compost pile; the resulting mulch is eventually blended back into the planting beds' soil.
While perennials might seem like the obvious choice for a large expanse with numerous planting areas, Hoffman said that about 99% of Knoebels' flowers are annuals, which she feels provide "more flower power." Annuals also allow her the opportunity to change plantings so patrons don't always see the same flowers in the same locations each year.
It's with the annuals where she can express her love for color that "pops." Her favorite annual is lantana, due to its pretty hues and low maintenance. Marigolds and petunias rate high with her, but she also uses a wide assortment of floral varieties and colors to bedeck the park. From cannas to caladiums, pansies to prayer plants, elephant ears to euphorbia, mums to mezoo, dahlias to diplodenia, tulips to torenia — all these and many more comprise Hoffman's artistic floral palette.
When it comes to perennials, Hoffman sticks with a few standards like spiderworts, black-eyed Susans, hostas, balloon flowers, sweet woodruff and Joe-pye weed.
The work day for Hoffman and her crew begins with watering plants before the park opens, using four Gator-style vehicles holding large water tanks. As for fertilizing, she adds a "once and done" granular, time-release fertilizer to the soil in pots and planters, rather than apply liquid fertilizers.
When asked how she weeds it all, Hoffman said she tells her workers, "When you water, you weed."
While the months when the park is open are busy for Hoffman and her crew, the off-season months are active ones, too. Planning for the next park season takes priority. Hoffman keeps a diary of plants from year to year, mapping out the varieties and locations of the flowers. She refers to this when ordering plants for the coming season from local, family-run suppliers — Whitenight's Farm and Greenhouse from Riverside, and Tebbs Farms and Greenhouses of Williamsport, most recently.
Hoffman also learns about any new rides planned for the upcoming year and designs appropriate planting schemes for their locations, as well.
She factors in basic considerations like sun versus shade locations, but also accounts for any conditions that could adversely impact plantings. For instance, after several unsuccessful flower-growing attempts near the park's Skloosh water ride, she realized the chemicals used to treat the ride's water were splashing onto the nearby planting areas, which had to be relocated. Other challenges include the usual "critter problems" that go along with a wooded setting. Plant vandalism is another concern when some visitors remove plants or cuttings from the park's greenery.
Is all this attention to Knoebels Amusement Resort's greenery necessary?
Just ask Knoebels' president and co-owner Dick Knoebel what he thinks the plants and trees add to the park. His answer says it all: "Lots!"
Knoebels Amusement Resort is located at 391 Knoebels Boulevard, Route 487, Elysburg, PA 17824, by phone at 1-800-487-4386 or online at knoebels.com.