When we consider modern-day modes of transportation, we think of petroleum-powered planes, trains and automobiles. Historian Craig Benner had other transit means in mind when he recently presented a webinar about "Roads, Canals and Trains" for the Friends of the Cornwall Iron Furnace. The historic iron furnace site is located in Lebanon County, Pennsylvania. Benner, of Ephrata, Pennsylvania, focused on America's 18th and 19th centuries, when transportation was far more arduous and time-consuming than today's travels. Back then, traveling was accomplished either by foot power, horse power or steam power.
Benner began by citing Pennsylvania's best-known natural resources: lumber, iron, oil and coal. He noted that, historically, Pennsylvania had plenty of all the raw materials, but transportation was required to link them efficiently and economically to the people and places they would benefit.
Carving Out East Coast America for 19th-Century Transportation 
Benner said that America's outward movement from the East Coast's port cities drove improvement in transportation options. During the early 1800s, the small trails that had earlier been carved into the forested wilderness became overburdened with a populace expanding westward. The result was a new series of roadways, as well as alternate means of accommodating this migration. The "Transportation Revolution" had begun.
As an example of how challenging transportation was in America's earlier times, Benner pointed to an 1860 statistic. It cost $9 per ton to ship goods from Europe to the United States, but $9 only carried a ton of cargo 30 miles overland within the nation.
Prior to the mid-1800s, the primary modes of travel in America were either via foot, on horseback or using a horse-drawn conveyance. Benner pointed to the inefficiency of North America's first mail route between Boston and New York City using the Boston Post Road, originally an Indian trail. This 230-mile excursion required one month to accomplish around 1700; today, it takes less than eight hours roundtrip by automobile.
Benner said that many early paths from Colonial days survived to become major routes still used today. For example, Forbes Road — built by the British in 1758 during the French and Indian War — traversed the 200 miles between Carlisle and Fort Duquesne, Pennsylvania. It would later become the western two-thirds of the Pennsylvania Turnpike.
American 18th-Century Toll Roads Take Off
Toll roads, known as turnpikes, became the rage around 1730. Shares were sold to finance their construction and, initially, there was such a demand that shares were sold by lottery. Typically, the resulting thoroughfare was paved with stone and covered with gravel. Eventually, over 200 turnpike companies were chartered in Pennsylvania, constructing about 3,000 miles of roadways. In Lancaster County, these included 1838's Lancaster-Lititz Pike, now Route 501, as well as the Oregon Pike and the Manheim Pike, now Route 72, both chartered in 1850.
The boom in toll roads also brought innovations in road surfaces. Plank roads, constructed of pine or oak boards 4-inches thick, were known for being swift and smooth; it was said a fast horse could cover a mile in 2 minutes and 40 seconds, on a plank road. Plank roads were surprisingly long-lasting, if properly maintained.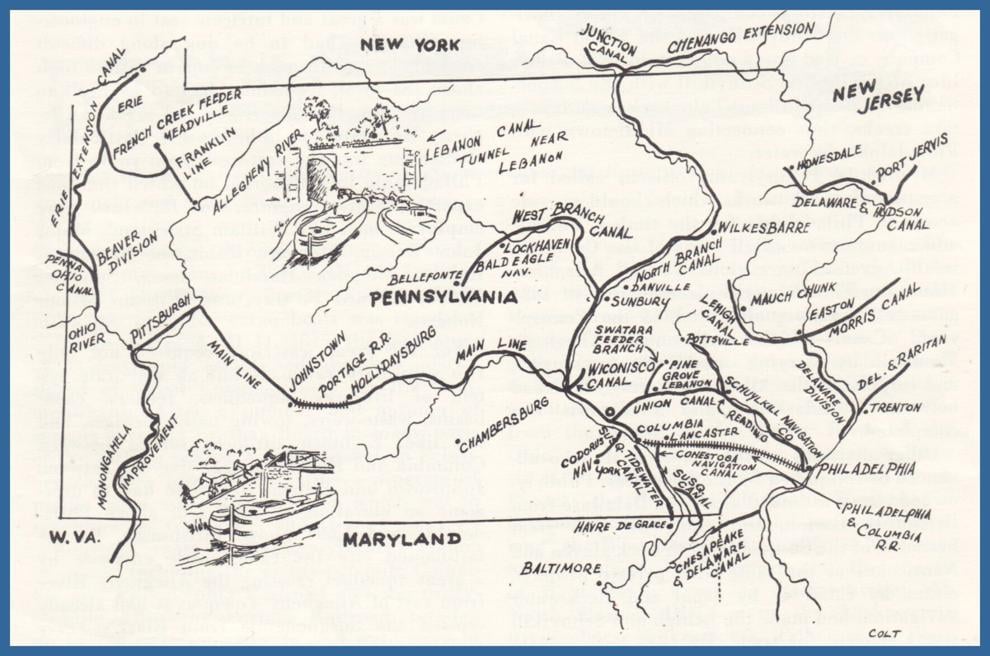 Linking America's Waterways in the 18th and 19th Centuries
Starting around 1790, the next wave of innovation was constructing a network of canals to link America's existing waterways. By the end of the 1800s, America had over 4,000 miles of canals. The 82-mile Union Canal, connecting the Susquehanna River at Middletown, Pennsylvania, and the Schuylkill River in Reading, Pennsylvania, had originally been proposed by William Penn. It was the nation's first surveyed canal and its section from Myerstown to Lebanon was chartered as early as 1792. A lottery in 1795 raised funds initially, but construction of the Union Canal only got underway in 1821, allowing its opening in 1828; it ceased operations in 1884. The Union Canal featured the first canal tunnel in the U.S., located just northwest of Lebanon.
The 350-mile Erie Canal, connecting New York City and Buffalo, was built between 1817 and 1825. It aided America's westward movement with the cargo rate of $10 per ton versus $100 per ton via land routes. Both the Erie and Union canals were tow path canals. Canal boats were propelled by a combination of mules drawing them along from the tow path and men aboard the canal boats using poles to push their way along.
Steam Power Marks a New Era in 18th- and 19th-Century Transportation 
The use of steam power marked a new era for both water and land transportation. While many advances in the use of steam originated in Europe, it was America's James Watts who in 1769 patented the first steam engine that incorporated a condenser, which provided safer power with less pressure. Meanwhile, in 1807, Lancaster County native Robert Fulton built the Clermont, America's first successful steamboat, which plied the Hudson River, taking 62 hours to cover the 300 miles roundtrip between Albany and New York City.
Steam also offered greater opportunities for overland transportation through a series of innovations, including Englishman Richard Trevithick's use of higher pressure "strong steam" for his "Catch-me-who-can" railway locomotive. In 1808 it achieved a top speed of 12 miles per hour.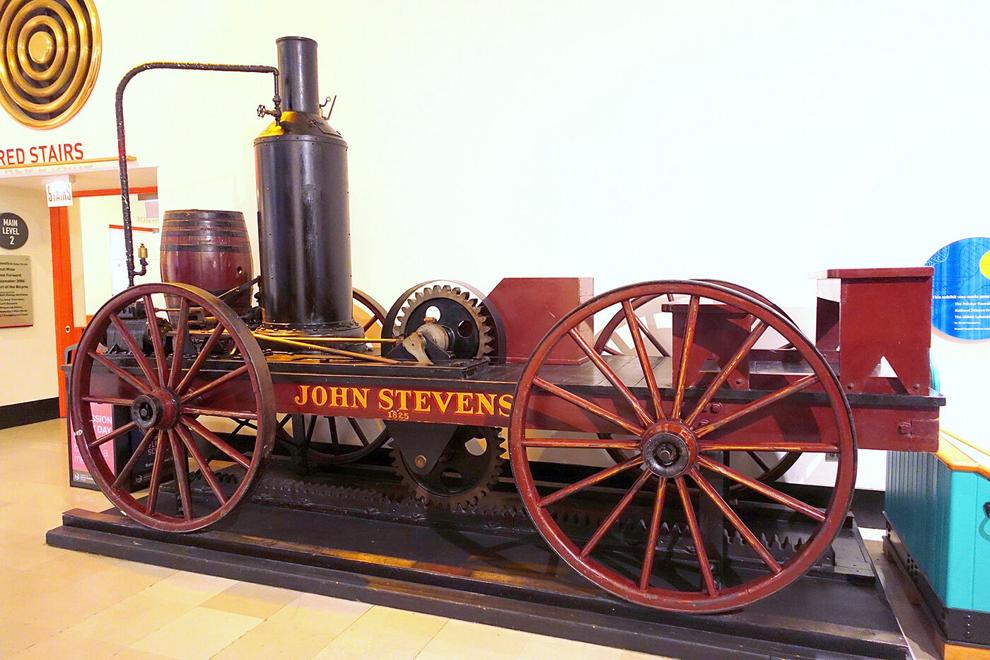 Railroads in 18th- and 19th-Century America
New Jersey's John Stevens became known as the "Father of American Railroads" for his 1825 construction of America's first working steam locomotive, which teamed a cog wheel system and rubber rollers to keep it on the tracks and featured two backless benches for passengers.
As the concept of traction became better understood, Britishman Robert Stephenson in 1829 founded the first company formed for the specific purpose of building railroad locomotives.
Back in America, competition was growing between the use of canals versus railroads. Benner said that both the Chesapeake Canal and the B&O Railroad broke ground on July 4, 1828.
The first railroad passenger cars were patterned after stage coaches and, although B&O's trains were initially pulled along their tracks by horses, it was acknowledged that a better power source was needed. Peter Cooper developed a steam-powered locomotive for B&O, which he named "Tom Thumb." An 1830 challenge pitted a horsedrawn car against Tom Thumb. The horse won due to the locomotive's technical difficulties, but it became obvious that the future lay with steam power.
John Jervis opened his Mohawk and Hudson Railroad in 1830. By 1832, he had designed a steam locomotive called "The Experiment." Its appearance began approximating modern-day train engines, but its most important innovations were two rear driving wheels and four front wheels on a swiveling platform, which facilitated rounding curves and higher speeds.
The Pennsylvania Main Line of Public Works, which opened in 1834, linked Philadelphia and Pittsburgh with a patchwork of trains, inclined planes and canals. It utilized odd-looking crafts — part canal boat, part train car — which could float, be hauled by horse or towed by a steam locomotive. After railroading from Philadelphia to Columbia, Lancaster County, there followed a 172-mile canal boat ride utilizing the Susquehanna and Juniata Rivers to Hollidaysburg. A short railway section then connected to Johnstown, where a second water route merged into the Allegheny River northeast of Pittsburgh for the journey's final leg. By 1857, this convoluted travel path, was superseded by the Pennsylvania Railroad.
Benner said that, "no one ever envisioned how trains would displace horses." By 1869, America would be linked from coast to coast by the Transcontinental Railroad.
Craig Benner's complete "Roads, Canals, Trains and Other Stuff" webinar may be viewed online at https://www.youtube.com/watch?v=pxUP3plY5Ek.
Sue Bowman is a freelance writer in southeastern Pennsylvania.