When Mark and Amy Sharer bought their 76-acre Willow Creek Family Farm in Spring Mills, Centre County, Pennsylvania, four years ago, they immediately started their small-scale farm with a few Scottish Highland cattle. As part of their 10-year retirement plan, their goal is to have a herd large enough to sell grassfed beef to consumers as well as turkey.
The Sharers purchased two Scottish Highland heifers from a local farmer in Bellefonte who was looking to retire and reduce his herd after 37 years with the breed. Unbeknownst to the Sharers, one of the heifers was pregnant, so they ended up with three.
About a year ago, they purchased a bull and now have plans to expand the herd. 
Mark has a family history of farming — both of his parents were raised on farms and his first job was working on his uncle's dairy farm. As a young man, he attended Penn State and earned a degree in business marketing, thanks to the GI Bill. After that he worked professionally at Penn State for 16 years, 12 of which were in the College of Agricultural Sciences as a fundraiser.
Focusing on Turkey Production
For now, the Sharers are focusing on their flock of 75 pasture-raised, non-GMO and antibiotic-free turkeys. Last year was their first year raising and selling turkeys. The couple did a lot of research and selected Broad Breasted Bronze turkeys to raise. However, this year they are raising Broad Breasted White turkeys, because they were not able to procure bronze turkeys in the spring. When Mark attempted to find bronze turkey poults, he quickly realized that, starting in March, the COVID-19 pandemic — and the consequent stay-at-home orders to prevent infections — had inspired many rural homeowners to try their hand at backyard farming, resulting in lots more competition for young turkeys, chickens and ducks.
Besides nutrients the turkeys get from green pastureland, the Sharers buy feed exclusively from Martin's Feed Mill in Coburn, Pennsylvania, and feed their turkeys Kalmbach-brand non-GMO and antibiotic-free feed.
Through Mark's professional experience, he formed a network of experts to lean on when his family ventured into their own family farm. He often called retired colleagues to ask them about diet management, for example.
"Farming is a lot of luck, but obviously preparation helps you," he said.
They sell dressed turkeys to consumers for $6 a pound and their turkeys are between 16-24 pounds each. They also sell ground turkey meat in 5-pound packages for the same price per pound.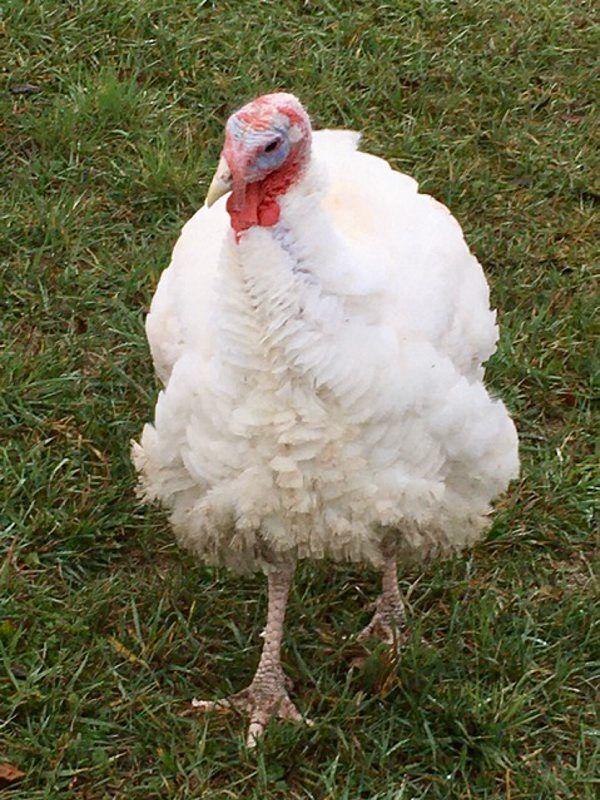 That price was determined by the Sharers after meeting with other producers, processors, restaurants and potential customers to determine what the market was willing to bear. Restaurants pay a lower wholesale rate, they said. At those rates, Sharers sold all of their turkeys available last year, either whole or as turkey burger.
"The burger turned out to be a great idea after we were contemplating what to do with the several gobblers that were oversized," Mark said. "It was truly an afterthought last year, and now I have customers requesting burger."
In 2019, they made a modest profit at those rates and expect to do similarly well this year. However, there are two factors that may change their business model in 2020: they invested in more fencing and materials to enlarge the pasture area, which increased input costs. Additionally, the COVID-19 pandemic has forced people to reduce the size of holiday gatherings, so consumers are requesting smaller turkeys this year, in the 10- to 12-pound range, dressed.
"Unfortunately, I would have needed to send the birds to the processor a month ago or more in order to accommodate their requests," Mark said. "We promise to do our best to get those with a preference the smallest bird possible."
The pandemic has been a blessing in some ways though, because Mark and Amy, both of whom work for local universities, are working from home and are now able to tend to the flock's needs during the day. Earlier in the spring and summer, that work often fell to their two teenage sons, such as keeping young poults at the correct temperature during their first weeks.
"It's very helpful to physically be here during the day to water the turkeys or move them to a different pasture, then come back to the house to work," Mark said.
Cross-Marketing Essential
As a beginning farm, the Sharers are finding cross-marketing to be essential. Working closely with two local businesses, Mount NitaNee Kombucha and Elk Creek Café, extends their network two times, and reaches local customers who already have an appreciation for small-scale farming.
Elk Creek Café is a restaurant, brew pub and music venue that focuses on fresh, flavorful, authentic and locally sourced ingredients. The cafe has been rooted in Millheim, Pennsylvania, since 2007 and has built a powerful identity crafted around local food, carefully selected beers, and a respectable lineup of live musicians. For their partnership, Elk Creek Café lists Willow Creek's name on the menu and frequently posts pictures and recipes on social media showing menu creations that feature the farm's turkey products.
And, by partnering with Mount NitaNee Kombucha, a small business that "crafts naturally probiotic beverages that bring digestive balance back to the gut," the farm reaches consumers who are laser-focused on maintaining good health. This often leads to customers interested in buying dressed turkeys for the holidays. As an exchange, Willow Creek offers turkey customers a complimentary sample of cranberry kombucha, that in turn often leads to a repeat customer for Mount NitaNee. It's truly a win-win for both enterprises.
In addition to cross-marketing, the Sharers are investing time and resources into two certifications for their turkeys: the PA Preferred program through the Pennsylvania Department of Agriculture and the Homegrown By Heroes program, managed by the Farmer Veteran Coalition. Mark served four years in the U.S. Navy, which made him eligible for the veterans program. Sharers believe that both programs will enhance their marketing efforts and distinguish their products to discerning consumers.
Therapeutic Benefits of Small-Scale Farming
Mark said that the scale of his family farm, with its turkeys, cattle and egg-laying chickens (for personal use) is the ideal size, because it is manageable as a part-time operation and offers therapeutic benefits.
"We have enough stress in our lives, so when I come home, it's therapeutic for me to go out and just lean on a fence post and watch the cows chew their cud ... or talk to the turkeys. A lot of worries melt away," he said.
Mark feels strongly that the therapeutic benefits translate to children, too. He is always willing to have neighbors and friends bring their children to the farm to experience farm life for a few hours —picking eggs or running through a field and "just being kids" in a safe and wholesome environment.
For more information, Willow Creek Family Farm can be reached at willowcreekfarm406@gmail.com or 814-777-6869.
Lisa Z. Leighton is a freelance writer who lives in Columbia County, Pa., and can be reached at lisazleighton@yahoo.com.