JONESTOWN, Pa. — Attracting young farmers is a national challenge, which is why Wyatt Schriver's story is encouraging.
The 21-year-old is nearing the end of his first year as owner of The Mum Farm in Lebanon County.
He bought the operation, previously known as Moyer's Mum Farm, on Dec. 13. He had worked for the former owners, Ben and Tonya Moyer, full time for four years and part time for about five.
Plans for buying the business started to develop when Schriver was still a teenager.
Schriver said Ben Moyer approached him with the idea, and it took about a year and a half for all the paperwork to be finalized.
"I knew it was a good business," Schriver said. "I was just looking for a way to get started in agriculture as a young person."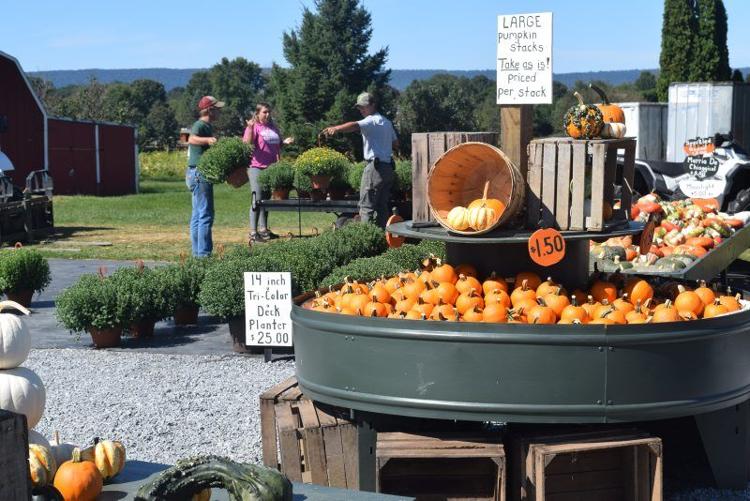 And getting into agriculture as a young person isn't an easy thing to do. In Pennsylvania, the average age of a farmer is 56.5, according to the Census of Agriculture. Only 12% of all principal farm operators in Pennsylvania are under the age of 35.
The high cost of land, equipment and supplies is a major obstacle for aspiring young farmers.
Schriver worked out an agreement with the Moyers to allow him to pay for the farm over time rather than in a big one-time sum.
"Them being willing to work with me with the financial part is what enabled me to do it," Schriver said. "Without them I wouldn't have been able to afford it at the current time."
An Aspiring Farmer From A Young Age
Schriver knew from a young age that he wanted to work in agriculture, getting his first taste of the industry on his grandparents' poultry farm.
"I was always with my grandpa on the farm from the time I could remember anything until they sold it in 2009," Schriver said.
After that, he worked for local poultry, beef and crop operations. And of course, he worked on the mum farm.
As a result, Schriver was familiar with the farm's operations before he bought it.
"I knew most things, but there was a lot that I learned throughout the summer," he said.
Schriver typically worked for the Moyers during the busy fall season, so the day-to-day things, like how much water the plants need in the summer, were new to him.
He irrigates his crops, so he was able to water as needed.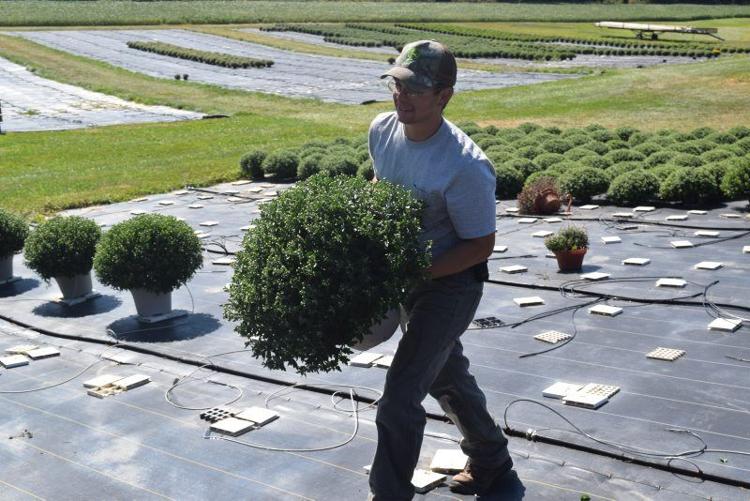 "It's always better to have more sunshine than rain because we can give the flowers and pumpkins water but we can't give them sun," Schriver said.
Though the farm has a new name, Schriver made sure to keep all the products that the regular customers were used to seeing.
Counting all the varieties and colors, Schriver offers about 60 types of mums over the season. He also sells about 20 pumpkin varieties.
Autumn Sales
At the beginning of the fall sales season, mums are the biggest sellers, but as late September and October roll around, pumpkins sell just as well, he said.
For his first year, Schriver grew 4 acres of pumpkins and just under 9,000 mums. He expects to sell out of everything by the time his season comes to a close.
He said he had a profitable season and is planning to grow more mums and pumpkins next year to add to his income and to keep up with demand.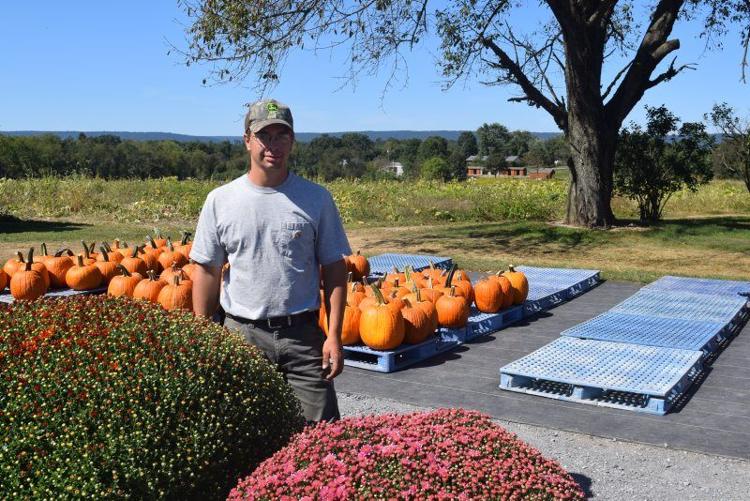 Along with The Mum Farm classics, Schriver added some new offerings, including painted pumpkins, wooden planters and wrought-iron decorations that he makes himself.
Because the farm isn't new, Schriver already had a solid local customer base, and he's been able to grow that, mainly through Facebook. He said his social media posts have attracted a lot of people from the Harrisburg area, and even customers from as far away as Baltimore.
Schriver enjoys interacting with customers, but he said he's often too busy working out in the fields to do so.
Schriver doesn't currently have any full-time employees, but gets a lot of help from family and friends. His mom, Julie Schriver, often helps with customers. His girlfriend, Mykka Keller, helps wherever she is needed.
"I try to do as much of it myself as I can," he said. "I usually come in the morning before it opens and pick pumpkins or make corn shocks and stay after I close and do the same thing."
Schriver took over the business shortly before the coronavirus came to the U.S., but he said the pandemic didn't cause too many problems for him.
By the time he opened for the season on Aug. 13, many of the strictest coronavirus restrictions had already been lifted.
Also, with the customers shopping outside, it's easy for people to practice social distancing.
Schriver did have a few issues getting pots for mums because his usual shipment comes from overseas and was delayed due to the pandemic. He found a local source for his pots instead.
"Overall it's going pretty good, especially considering the year that it's been," Schriver said.
As of now, The Mum Farm isn't active year-round. Schriver planted his pumpkins around Memorial Day, and planted the mums on June 8 and 9. He plans on staying open till Oct. 31 this year.
However, he's interested in finding ways to farm all year.
"I'm looking at maybe selling some spring flowers," Schriver said.
He owns a snow plowing business to help keep himself busy during the winter, and he worked off-farm jobs this spring and summer to make some extra money before he opened for the season.
"I definitely enjoy working for myself," he said.
Schriver said that many of his customers have been surprised at his age, adding that he knows it's pretty rare for a 21-year-old to have his own agricultural business. But he thinks it's something that's worth doing.
"Find something you enjoy. Do your research. Make sure whatever you're trying to do is going to be profitable and make money for you," Schriver said.
As for Schriver's first year as the owner of The Mum Farm, he simply said, "I enjoy it."