DOWNINGTOWN, Pa. — Lew Frame has come a long way from when he started farming at 17 years old on his family's Honey Brook farm.
The 125 acres were originally rented out by local farmers in the area until Frame approached his father about letting him try his hand at the trade. Frame says that family friends involved in farming and agribusinesses sparked his interest in reconnecting with his farming roots.
"Crops just came easier. They made more sense to me," he said. "I can't get away from it."
He made a lot of mistakes in the beginning; he would mow too much hay at one time and wouldn't be able to get it all baled, and he undersold his products, he said.
Those mistakes have allowed Frame to grow. Now, he is organized and proficient at each task on his hay, row crop and beef cattle operation. A part of his growth came from attaining more knowledge on agronomy at Penn State and being employed as a student worker at the university's Agronomy Farm assisting with crop research. He also learned a lot from other farmers like Daryl Alger when he was an agronomist at Mark Hershey Farms, he said.
Now, Frame balances his farming passion while working in the industry as a nutrient management consultant for Team Ag in Ephrata, Pennsylvania.
Focusing on his farm's hay production, Frame cuts, tedds and rakes his hay product. He also small bales his orchard grass, timothy and fescue mix fields.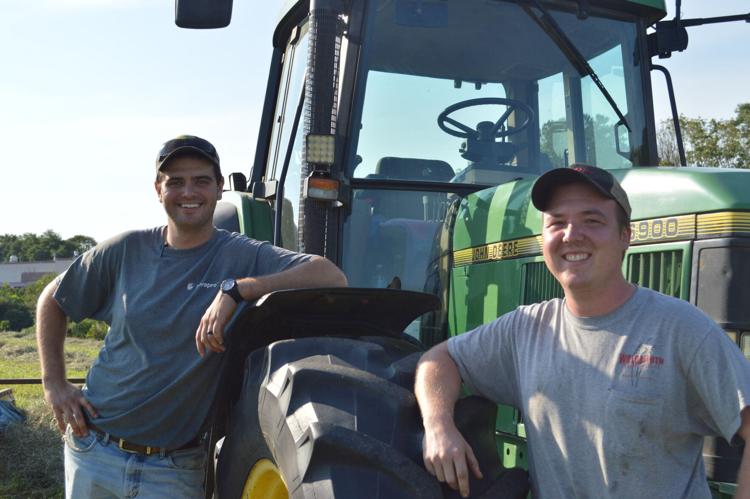 As of Sept. 7, Frame had finished a third cutting. He began his first cutting around May 21. Drought conditions through July and August made it a struggle to get in a good second cutting. This summer had farmers questioning the productivity of their fields as "we lived off typical rains," Frame said.
Within the past few years, he has built up a customer base of horse owners and dairy farmers. He sells all his product private through Craigslist and Facebook Marketplace. He prefers to sell privately since he can set a premium price over selling at an auction.
"People don't want to buy hay from a different person every time," he said.
He also has raised corn and wheat, and double cropped soybeans after he took off his wheat crop for straw. This was his first year doing a wheat harvest, and Frame was surprised to have excellent quality. Looking through files stored on his iPhone, Frame recalled that he made around 12,000 small bales from 12 acres.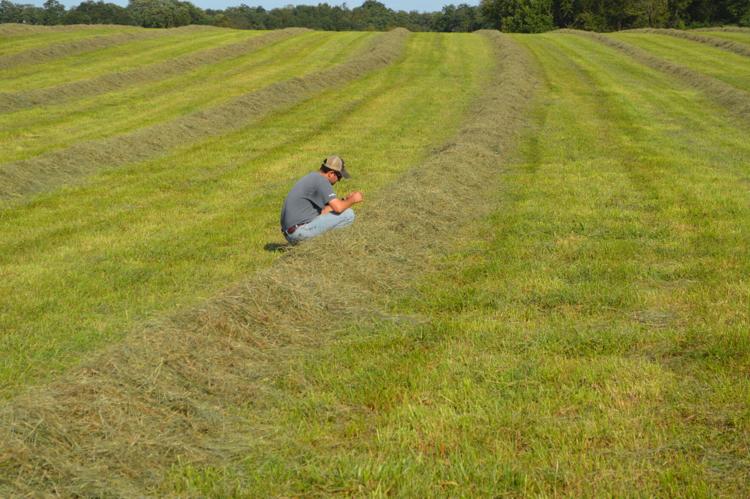 When double planting soybeans, he said that this year's planting conditions were dry and he got them in later than he wished, but he also wanted to wait until he got the wheat off.
Many of the fields needed their soil fertility improved through the application of poultry manure which he spread himself with a manure spreader he bought.
Frame performs soil tests every year on his fields to track the progress of his improvement efforts — he wants to stabilize the soil pH levels. He has applied about 60-100 pounds of potassium fertilizer on some of his hay fields.
He also tops dresses 40-45 units of nitrogen in-between the second and third cuttings. "It pays for itself in both tonnage and quality," Frame said.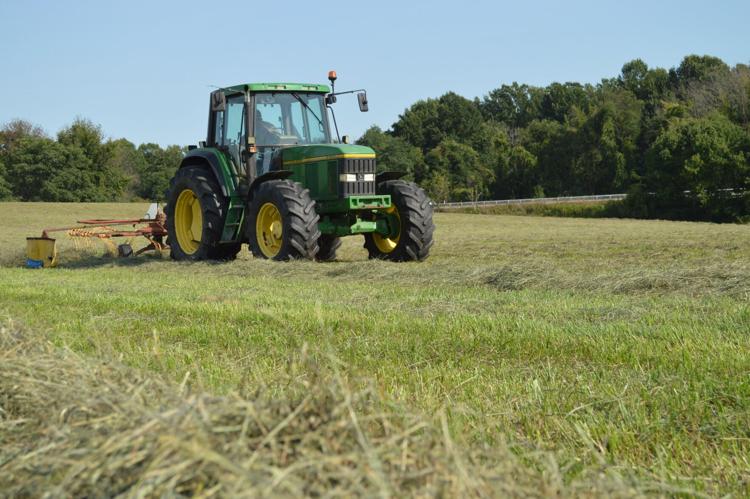 With the use of his own sprayer, Frame can get into his fields to do his favorite part of growing crops — spraying. There's a peaceful rhythm of going through a field that gives you control of what happens in your field, he said, smiling.
He'll spray through Oct.15 to clean his fields of perennial weeds that will begin setting up their root reserves. He also had to use some herbicides to curb Palmer amaranth and waterhemp within his corn fields since drought conditions affected the crops post emergence. "Even if you think a field is clean, it's good to spray," he said.
Frame hopes to continue growing his operation. He already has a few rental acres along Route 30 and various other locations in Chester County. But without help from his friends, Josh Martin and Dalton Kubovcsak, Frame says he wouldn't have been able to continue to grow his enterprise to where it is today.
"I don't do it for the money, I do because I enjoy it," he said.