As a young girl, Kristin Johns from Bethel, Berks County, got a taste of what being a dairy princess was like. She often tagged along with her older sisters, Samantha and Kayci, during their reigns as Berks County dairy princesses in 2010-2011 and 2012-2013, respectively. She liked watching them throw out the opening pitch at a Reading Phillies baseball game, serve ice cream at the Berks County courthouse, and make giant ice cream sundaes at the Reading and Kutztown fairs.
Although Kristin Johns and her family don't live on a farm, she inherited a passion for the dairy industry through her late grandfather, John Stump, who founded Stumpland Farm in Bernville, Berks County. A daughter of Mark and Deb Stump Johns, Kristin began showing dairy with a Red and White heifer calf at the Reading Fair when she was 7 years old. The following year she joined the Western Berks County 4-H Dairy Club and has gone on to own a series of 20 to 25 dairy animals since then.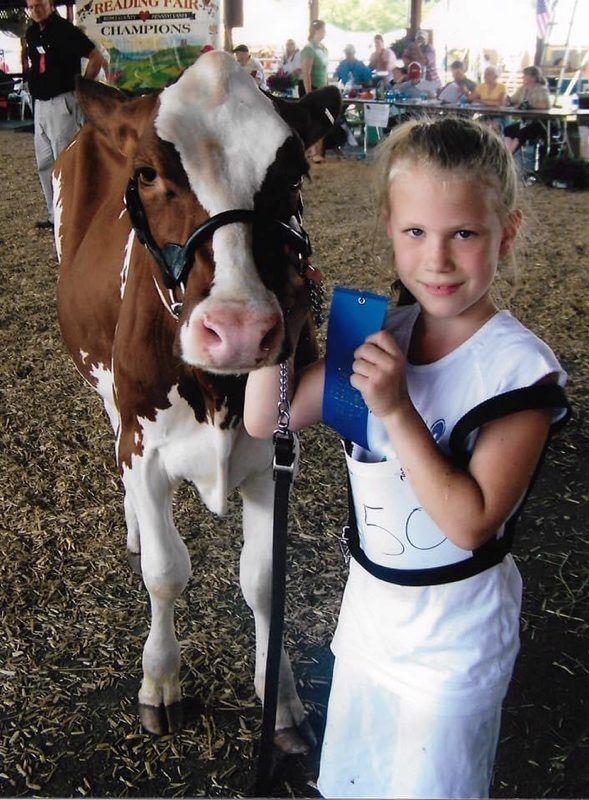 Many of them have been her first love — Red and White Holsteins, which she has bred and raised herself with bloodlines that go back to the Red and Whites shown by her brother. She's also bred and owned black and white Holsteins descended from cows her oldest sister had shown.
Though she has a special affection for Red and Whites, Johns confesses that, even as little girl, she was drawn to the "fluffy ears and sorta goofy look" of the Brown Swiss breed. She had always dreamed of owning one, and that dream came true in 2019 when she purchased Alora.
Johns proudly showed Alora at the Reading and Kutztown fairs in 2019 and at the 2020 Pennsylvania Farm Show. Now, she's eagerly awaiting the birth of Alora's first calf in August.
With encouragement from her uncle, Duane Stump, and her mother, who both had successful 4-H dairy judging experiences, Johns qualified for Pennsylvania's 4-H State Judging Team in 2019. She set her sights high. Her uncle's judging team had made it all the way to the World Dairy Expo, and Johns made that her goal, too.
She said that the judging preparations her team undertook were so intense that they "gave me headaches." But, practice made perfect, and the team worked their way through the All-America Dairy Show to win a berth at the 2019 World Dairy Expo in Madison, Wisconsin.
Johns, currently secretary of the Pennsylvania Junior Holstein Association's executive committee, also found success when her speech at the 2016 National Junior Holstein Association's Convention placed third. Its catchy title, "The E-I-E-I-O of Farming," used that acronym to call out the qualities of a successful dairy farmer. The speech was so popular that she was asked to deliver it repeatedly to various audiences. The Pennsylvania Dairymen's Association also had her develop an abbreviated version of it into a blogpost for them.
A Unique Reign
Although Johns served as the Reading fair queen in 2018, it seemed only natural that she would want to follow in her sisters' dairy royalty footsteps. After serving as a county dairy ambassador since her early teens, Johns, now 21, became the Berks County dairy princess in May 2020 — but it turned out to be a reign very different from those her siblings had experienced.
Instead of being held in front of an audience of onlookers awaiting the contestants' speeches and dairy skits, the 2020 dairy princess pageant in Berks County was canceled due to the COVID-19 pandemic. Johns learned of her princess selection from the county pageant coordinator in May 2020, but it wasn't until August that she was officially coronated on Dairy Show Day at the Kutztown Fair.
Johns' unique reign continued when the Pennsylvania Dairymen's Association decided to proceed with a modified version of their September state dairy princess pageant due to COVID-19. Instead of being held at a hotel ballroom in the Harrisburg area with a large audience in attendance, the 2020 competition was moved to a tent used for weddings at Altoona's Blair County Convention Center.
The pageant was held in the afternoon instead of at night, the traditional banquet was absent and crowd size was limited to just four guests per contestant, due to the pandemic's social distancing requirements. Johns took all this in stride, practicing her as-yet unused speech and skit with her county pageant coordinator. Looking back, Johns says, "It was just amazing to be together and to have a pageant — and to have family there."
Johns was crowned as Pennsylvania's 2020-2021 alternate dairy princess, but contrary to the usual whirlwind of activities during a state-level dairy princess' reign, the pandemic interfered with many of the personal appearances she would normally have been making.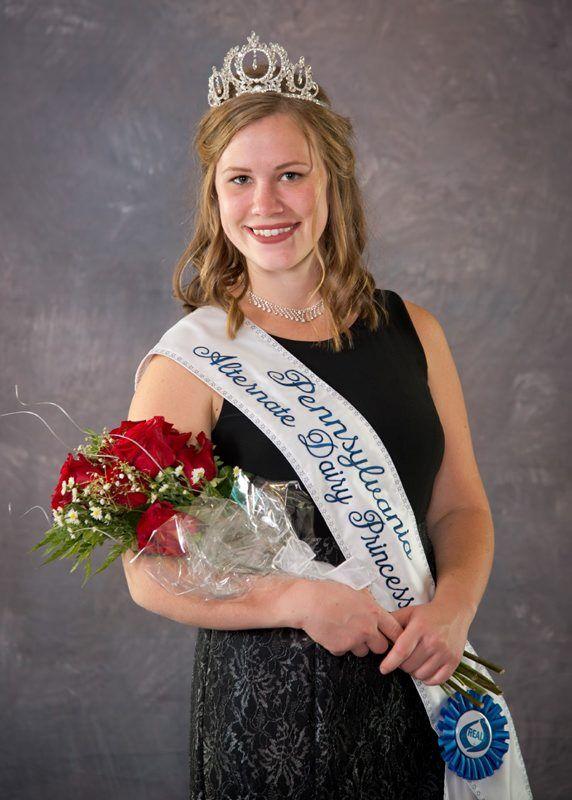 Johns was able to keep busy following her normal routines close to her Tulpehocken Township home. This included working at Anthony and Diana Martin's Tulpa-Canal Farm in Womelsdorf, Berks County. She had started helping to milk their 130 Holsteins on weekends back in 2015, just as her sisters had also done. The herd was downsized in early 2021, but Johns continues doing some milking, as well as keeping an eye on the fresh cow pens.
Johns also spent four years as a cook in the kitchen at Dutchway grocery store in Myerstown, Lebanon County, and calls the managers there "some of my biggest supporters." She recently started working part-time at an Ephrata, Lancaster County, consignment shop, which allows her more time to focus on her suddenly "crazy busy" dairy princess schedule now that vaccinations are reducing COVID-19 infections and many more promotional events are being scheduled.
Johns particularly recalls two highlights during her reign to date. One involved serving dairy products at a Lancaster County event attended by then-Vice President Mike Pence in September 2020. The other was a field trip opportunity she designed for home-schoolers in her area. A home-school graduate herself, Johns borrowed an idea from her Tulpehocken FFA Chapter to demonstrate to these students where their food comes from. She arranged for a tour of Tulpa-Canal Farm in late April, bringing 35 youngsters to the event.
Johns' unusual reign as Berks County's dairy princess ended in May 2021 when she crowned Mikayla Davis as her county's new dairy princess. Johns finally got to present her 2020 dairy skit, titled "Maggie's Market," to her home county's audience at the pageant, but admits she had a hard time writing her farewell speech. She realized she didn't really want to say farewell after a year in which she hadn't gotten to fulfill many of the position's traditional duties she'd been anticipating. Nevertheless, knowing she still has a summer filled with Pennsylvania alternate dairy princess engagements to attend made relinquishing her Berks County dairy princess crown more bearable.
After the September 2021 Pennsylvania Dairy Princess Pageant rolls around and the new state dairy royalty are selected, Johns will be shifting gears. She's not sure exactly where her career path will take her, but said, "I always want to be in ag in the future."
Another thing Johns has no doubts about is that, when it comes to the dairy industry, the saying "once a princess, always a promoter," will be her motto moving forward.