Thirteen-year-old Henry McEvoy really enjoyed showing ducks and chickens last year as a 4-H'er at the Putnam County Fair in Carmel, New York.
As a member of the Hooves, Beaks and Bills 4-H Club in Croton, New York, he liked showing his animals to visitors who had never petted a chicken before or seen a duck up close. So, it was natural that the Chappaqua, New York, teen felt deeply disappointed when the fair was canceled this year because of the COVID-19 pandemic.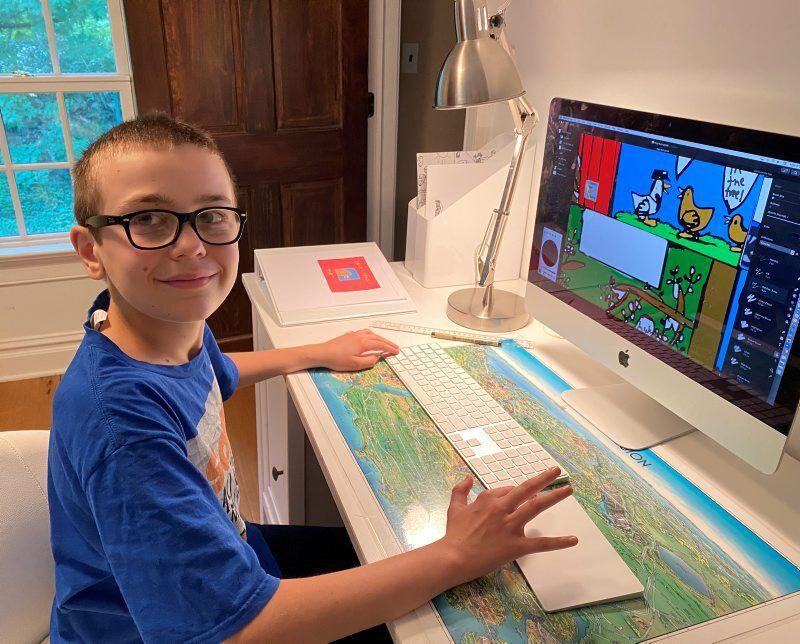 Henry also realized that without the fair, the 4-H club would lose a chance to fundraise and promote. But then he had an idea: he could put his creative and artistic skills to good use. And so, he made his own comic strip, "Ducky Comics," to draw attention to the importance of fairs and solicit donations to the New York State 4-H Foundation Inc. scholarship fund for statewide educational programming.
So far, Henry has drawn two comics with help from Phil Lohmeyer, Henry's cartooning teacher at school, and the support of his parents, Robert McEvoy and Marta Svitelova. Henry is currently in eighth grade at Whitby School in Greenwich, Connecticut, about 10 miles away.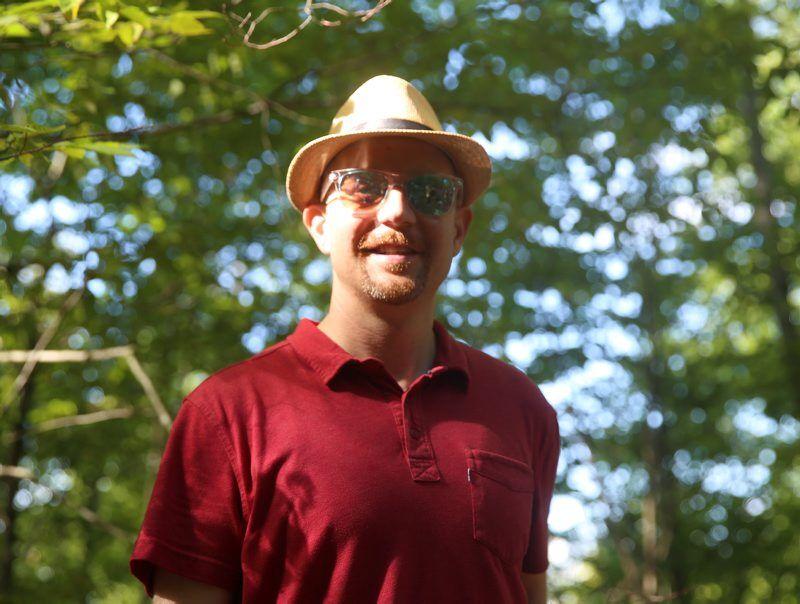 "We live in the suburbs of New York City and have a big backyard with a couple of ducks and chickens," Svitelova said.
She expressed pride in her son's artistic ability and his drive to support his 4-H club.
It all started two years ago when he met a 4-H group at the Yorktown Grange Fair. Henry liked the idea of learning about animals and working with them for shows. He subsequently joined 4-H.
Henry believes that owning ducks and chickens helps him draw the cartoon birds better because he knows how they look and how they move. As for his comic-strip characters — the duck, a raccoon flying with a jetpack, a duck sheriff, a chicken news anchor, and more — they spring from Henry's vibrant imagination.
"They definitely inspired me to do a comic about ducks and chickens," he said. "We have a class in school called Design, where we do things like comics. I liked ducks and chickens, so that's what I drew."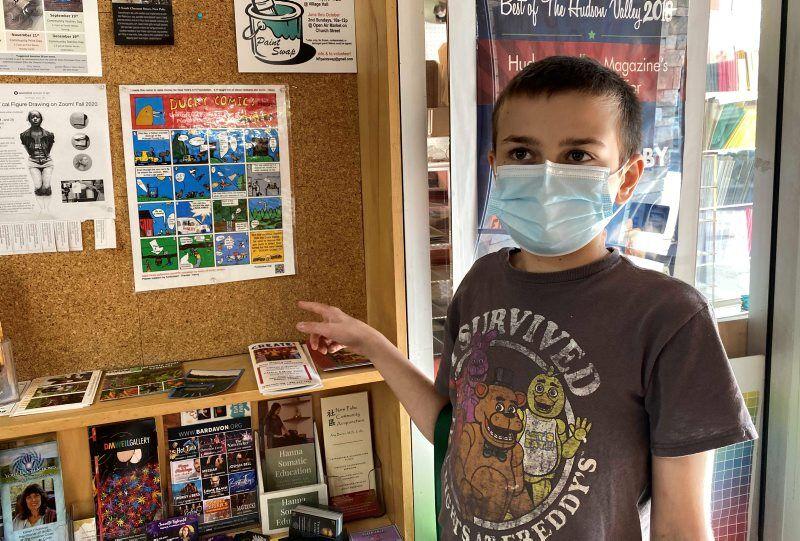 He also has not seen any other comics featuring ducks, chickens and, as villains, raccoons, like in his "Ducky Comics."
Sad, but not surprised, about the fair canceling, Henry realized that comics could help promote both 4-H awareness and funds.
"I want to do this for a while," Henry said. "I want to draw quite a few comics."
He draws the comics in pencil, in sets of four, 4-by-4-inch panels on a page and then inks them in. Next, he scans them to make a digital copy and edits them with photo software.
He uses a color scheme of five to eight colors. Otherwise, it becomes too busy visually, he said.
He initially hoped to raise $500. So far, he has raised more than $800 in donations directly from his "Ducky Comics."
"Maybe I'll have a 'Ducky Comics' website at some point," Henry said. "I generally enjoy editing them and I like making up the story."
"I wonder if 4-H would accept comics as a project?" he pondered.
Lohmeyer said that last spring, his class studied comic strip design and animation.
"Henry brought in his interest in ducks, chickens and roosters, and animals he knows a ton about and can illustrate," Lohmeyer said. "I'm new to the world of 4-H and county fairs, so it's cool to see this whole audience out there that's really receptive and supportive of this idea. ... He's inspired by the reactions he's gotten. I think we'll keep going with this story that started at the Putnam County Fair."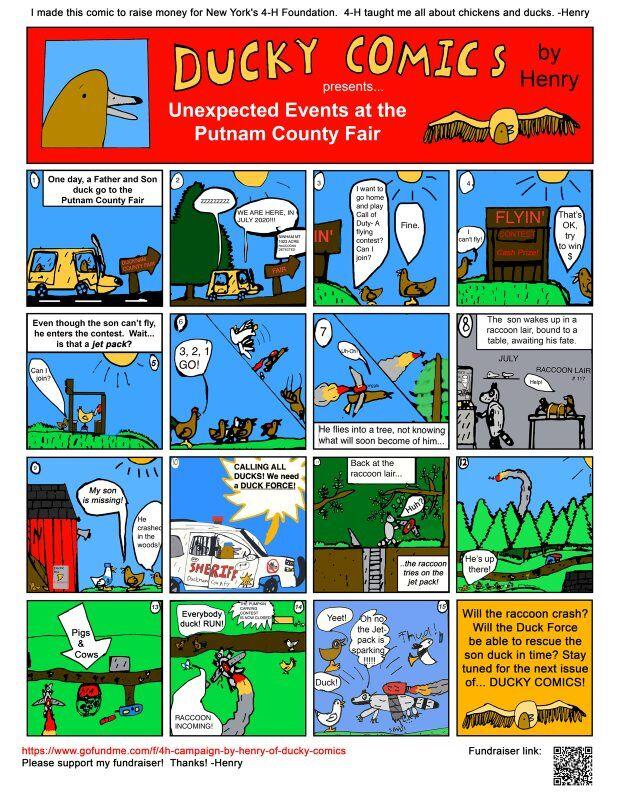 He added: "Henry is one of the most imaginative people I know. I try to help steer him in the direction I think will be the best for his brand, "Ducky Comics.'"
Lohmeyer has led comic strip clinics for thousands of students since 2003, both in-person and online. Henry and Lohmeyer are considering sending comics to poultry trade periodicals.
Lohmeyer sees lots of potential in Henry, whom he calls "a natural designer."
"Henry has a strong brand represented by a simple, but defined, duck character," Lohmeyer said. "It's something that not a lot of students that age can represent: a symbol that has such a universal impact. I see the symbol he draws as an easy-to-spot duck symbol that can influence the industry."
Henry's mother helped him print the comics, blown up to poster size with a QR code on it, so readers could scan the code to be directed to the Go Fund Me online website and make donations.
They posted "Ducky Comics" in Ulster, Westchester and Putnam counties, and Henry's father posted the comic on Facebook.
"The 4-H people in Putnam County were excited that Henry brought life to a fair they had to cancel," Lohmeyer said. "It brought joy to their department and the volunteers that brought life to this."
Henry has six ducklings and two adult ducks, Aflac and Lucky, in addition to chickens.
"I want to continue making comics and find a way for people to buy the comics," Henry said. "Maybe I will have a 'Ducky Comics' book on Amazon or make a website."
To view Henry's fundraiser, visit www.gofundme.com/f/4h-campaign-by-henry-of-ducky-comics.