BEDFORD, Pa. — National FFA began in 1928 as an organization for boys in rural farming communities.
In those days, it was primarily to help young men learn how to breed and show livestock as well as grow better crops. Boys learned such things as cattle judging and how to test milk.
High school FFA groups were under the auspices of the national FFA organization. Accomplished FFA members often participated on the state or national level.
As the years passed, the mission of FFA grew to include programs on leadership and public speaking as well as on the business, science and technology areas needed for careers in agriculture-related occupations.
Now, there are 700,170 FFA members in the entire United States and 38% of them are female.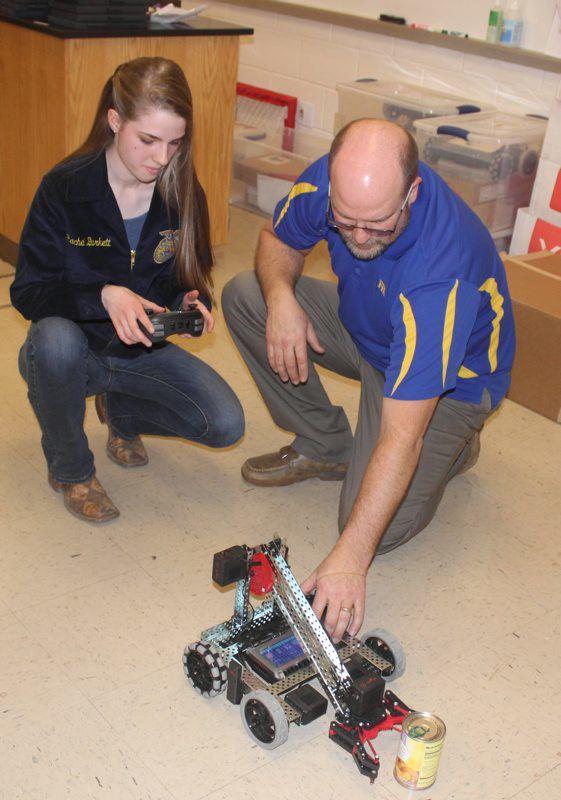 But girls had been strongly dissuaded at the state level since a 1935 FFA convention resolution denied funds, participation and transport to groups that included female members, according to the FFA organization's website, and girls did not achieve the right to be national FFA members until 1969. Today, women are national members and comprise 47% of state leadership positions.
Scott Myers, the bio-tech and ag science teacher at Bedford County Technical Center, is also its FFA leader. Students from both Bedford and nearby Everett are enrolled at the vo-tech center, and Myers is particularly proud of the achievements of his FFA members.
"We have had more girls than boys enrolled for probably the past 10 years or more," he said. "Girls hold all of the offices. They just do well in leadership roles."
Of the 25 FFA members currently at the Bedford-Everett center, 14 are girls and 11 boys.
"Both genders do all kinds of things," Myers said. "They breed, raise and show livestock, and they learn about the many occupations or vocations connected with agriculture."
The ag students have their own greenhouse and raise plants that are available to the public when growing season comes around. This year, the students grew houseplants to make miniature landscapes for Pennsylvania Farm Show competition. The plants now are being recycled into mini "fairy gardens" to be sold at the annual FFA benefit auction on April 4. The FFA produces a number of items for the auction and often gets donations from the welding and building classes.
"Fairy gardens are primarily a girl's project," Myers said. "The girls will have to figure the cost of the plants and the cost of the small figures it takes to complete them. From that, they can come up with a price tag."
Four of the young women who are FFA members in his class volunteer to explain what has attracted them to agriculture. While farming is in their blood, they say, each has a different goal.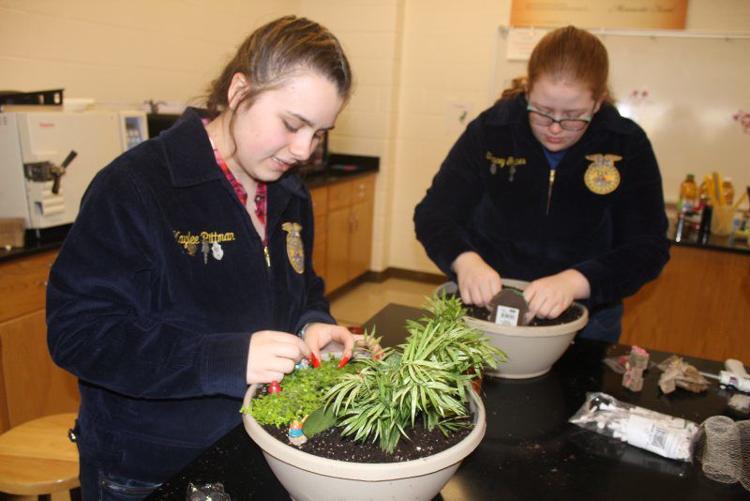 Madison Koontz said that her uncle and grandfather both had dairy farms, but despite this being a very rural area, small dairy farms have been dwindling. Her uncle is now in the swine industry and Madison has been involved in helping with the swine and showing them.
Koontz said she wants to do something similar to ag educator Myers. She has been active in FFA doing CDEs, or career development events, which involve activities like livestock evaluation, and LDEs, or leadership development events, involving public speaking.
Koontz was also chosen to participate in the FFA National Band. She plays the bass clarinet.
FFA member Kaylee Pittman said she lives on a very small farm and has a horse, three chickens and three ducks. Her uncle and grandfather were both in FFA. She loves animals and always thought she wanted to be a veterinarian, but as time has passed, she is leaning more toward studying criminal justice.
"But, I would still want to own or be part of (an animal) shelter," she said.
Tracey Grapes lives on a dairy beef farm where they raise Jerseys and Holsteins. She is nearly certain she would like to become a vet tech.
Rachel Burkett also lives on a beef farm. She got involved with FFA because her brother loved agriculture so much she realized she didn't want to miss out on it. Though still a student, Burkett has her own dog-grooming business and raises Australian Shepherds. After high school, she hopes to expand on the businesses she has already begun.
"Our FFA has a lot of diverse members," Myers said. "We have a girl who gets excused to work on a pig farm in the afternoon. We have another girl who is into FFA leadership and works in Jesse Topper's office (Topper is the state representative for the Bedford area)."
Myers also has three FFA boys who are out working on farm-related jobs, he said.
"This is a beautiful, rural area, but with dairy farming diminishing, it is good to see these kids learn about other areas of agriculture from which they can make a living," Myers said.
The FFA projects they do in school are many and varied, Myers said.
"Many of our FFA members do participate in the original FFA-type projects," he added. "Hunter Jay, one of our young men, had the reserve grand champion beef cow at the Farm Show this past year."
"We were fortunate enough last year to get a grant to purchase several 3-D printers. The girls used these to make their landscape projects for the Farm Show. They also built a robot," he said.