The Mid-Winter Convention wasn't quite the spectacle it's been in the past, but Pennsylvania FFA still produced an upbeat event Monday as part of the Pennsylvania Farm Show.
The state FFA officers honored new members, Keystone degree recipients and parents in the 80-minute video ceremony on YouTube.
The program had much in common with previous in-person conventions held in the Large Arena at the Farm Show Complex.
The state officers opened with the standard liturgy about their roles. A familiar list of dignitaries made an appearance.
"The world needs what you offer now more than ever," Ag Secretary Russell Redding told students in his customary address, though he recorded it this year at home.
Some parts of an in-person event could not be duplicated on screen. Members did not get to stride across the stage to receive their awards, and new students did not put on their jackets for the first time en masse.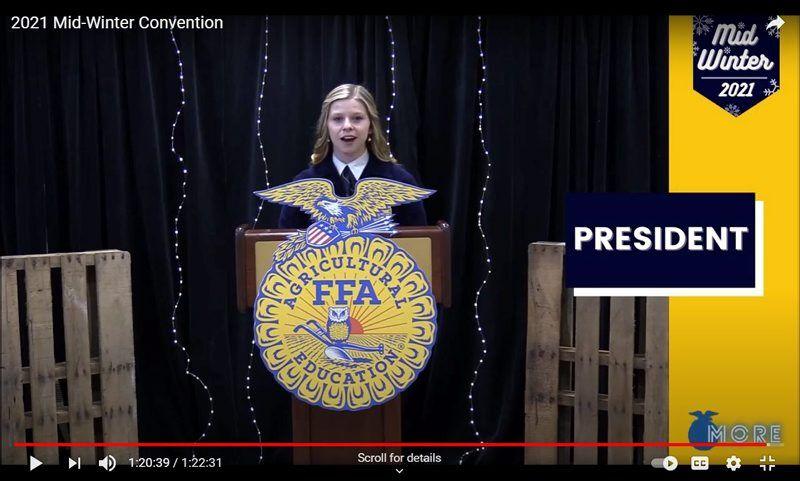 Perhaps reflecting the solemnity of the times, this year's officers even scrapped the corny skits that previous teams used as transitions.
Still, the convention was about achievement, not loss. Some 234 members received the Keystone degree, Pennsylvania FFA's highest rank, and their names and photos ran in a slide show set to quiet music. (A second round of Keystone awardees will be recognized in June.)
The names of the 483 first-year members receiving their FFA jackets also scrolled across the screen.
"The front of your jacket will say who you are, and the back of your jacket will remind you where you come from," said Sherisa Nailor, president of the Pennsylvania FFA Alumni, which sponsors the jackets. "But nowhere on that jacket does it say who you will be or where you will go. FFA members, that comes from within."
In a normal year, the convention would see hundreds of FFA members arranged in rows down the middle of the Farm Show Complex's Large Arena, staring up past stadium lights into a bowl of seats filled with family members and supporters.
This year, the state officers spoke to a camera, using a lectern adorned with the FFA emblem. A few simple decorations were in the frame — a dark backdrop, four vertical strings of lights and two pallets standing on end.
Mikara Anderson, the state FFA president, said she missed the dramatic setting of the Farm Show Complex, but the virtual convention had its benefits.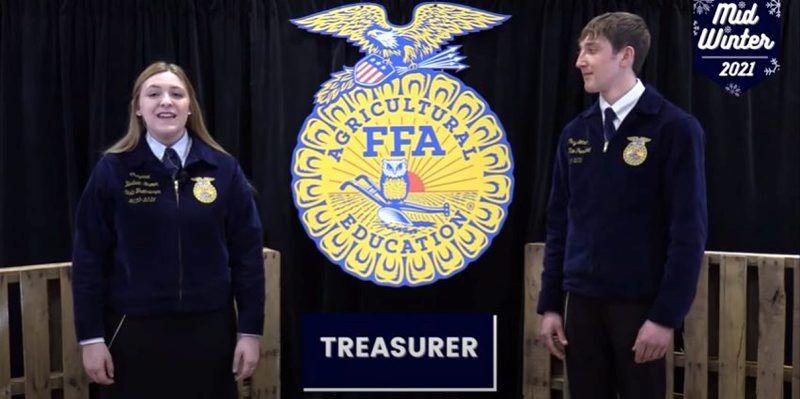 Southern Huntingdon High School, where she graduated, would normally take one school bus of FFA students to the convention each year, leaving many chapter members unable to attend.
Transportation wasn't an issue for the virtual show.
The officers' preparation for this year's convention was also a little different than in years past. The team members could re-record their parts until they got them right.
"Normally, we would just rehearse, rehearse, rehearse and be ready to go and then just do it live, and whatever it is, it is," said Mike Brammer, executive director of Pennsylvania FFA.
The video format also offered new chances for members other than the state officers to participate.
The young jacket recipients don't normally have a speaking part in the ceremony, but this year, several fresh-faced students gave brief statements.
"Being a part of the FFA community means that I will be a part of something bigger than myself," said Skylar Peiffer, a jacket recipient from Cedar Crest FFA.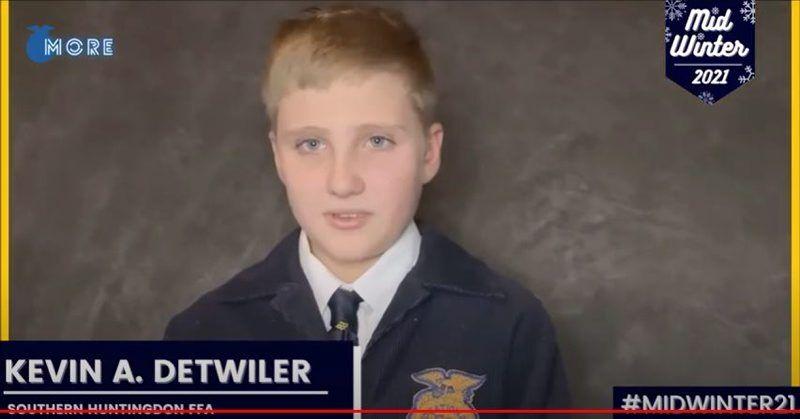 And while one student would normally recite the entire FFA Creed, 29 members from across the state each read a line.
Some stood in front of chalkboards, others in front of curtains or blank walls.
"I believe in leadership from ourselves and respect from others," Jaclyn Martin of Garden Spot FFA said in a field green with cover crops.
Virtual togetherness has been a hallmark of the state officers' tenure, which began last June. Only a few of their 30 chapter visits have been in person, said Jessica Herr, the state FFA secretary.
"When we come to a visit, either virtually or in person, students are really excited to see us, just because it's different, it's new," said Emma Musser, the state FFA chaplain. "They're not getting much interaction with other people, so it's great for us to go spend some time with them."
The officers themselves have met in person much less frequently than their pre-pandemic forerunners did — not that anyone would guess it.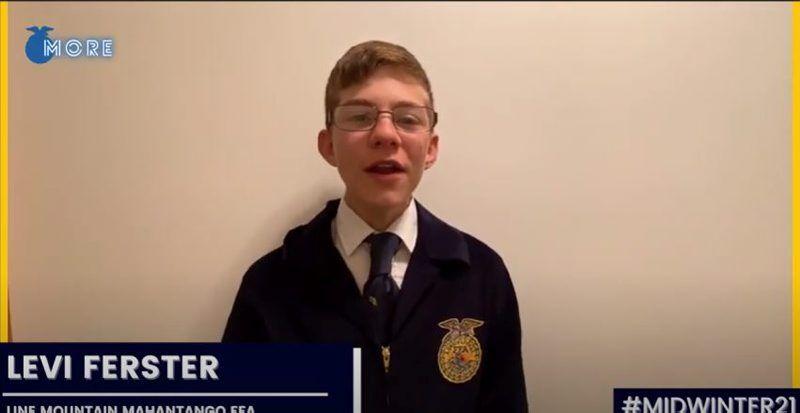 "There's been no lost time from one time we meet to the next, and I think we just mesh really well as a team," Anderson said.
The Mid-Winter Convention also honored parents of three or more FFA members, presented former Pennsylvania FFA Vice President Brandon Bixler as the state's national officer candidate, and feted the new chapter at Otto-Eldred High School in McKean County.
Watch the full convention: