Something clicked for Jamie Specca when the New Jersey state FFA officers visited her seventh-grade classroom.
The youth program combined her interests in horticulture, teaching and leadership.
"I knew it was something I was destined to do," she said. "It's the perfect crossroads for me."
Destiny it was. Specca is finishing her term as state FFA president and was the state vice president the year before that.
Not too many state officers get to serve a second term, but at 19 years old, Specca has the resume to back up that honor.
Since middle school, she has participated in community service projects with her Northern Burlington FFA chapter, public speaking contests at the national convention, and the Washington Leadership Conference.
Specca said she has developed as a leader who can contribute to the ag community that has supported her.
"Being able to dedicate my time to serving other people and helping them grow into leaders and shape their FFA experiences — it kind of gives me an adrenaline rush," she said.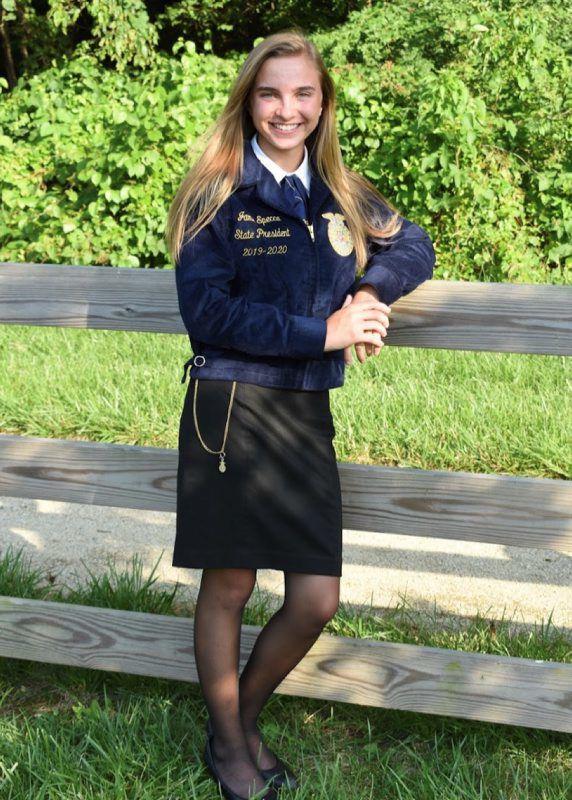 One of Specca's top experiences was visiting South Africa with the International Leadership Seminar for State Officers.
The program gives 75 state FFA officers an opportunity to learn about the agricultural industry of a foreign country.
Specca had to raise most of the $4,000 cost herself. She got support from her county fair, county agricultural board and the New Jersey Agricultural Society.
After two days in New York City learning South African etiquette — tipping restaurant wait staff is considered rude there, for example — the group embarked for a 12-day tour of agribusinesses and farms.
The stops included goat farms, wineries, vegetable operations and wildlife preserves. Specca also saw some large dairies with technology similar to what's used on many U.S. farms.
The group also visited Cape Town and the Apartheid Museum in Johannesburg.
"It was an experience that changed my life, and I will be friends with those fellow state officers for a very long time," Specca said.
Specca's FFA commitments haven't kept her from her studies. She recently finished her sophomore year as an agricultural education major at Delaware Valley University in Pennsylvania.
Like other colleges, DelVal shifted to online learning midway through the semester because of the coronavirus pandemic.
Studying from home in the evenings, Specca has spent many of her days helping her father with the family nursery business — propagating and watering greenhouse plants, deadheading flowers and helping customers.
"Any way I can get myself out of house and on the nursery, I am looking to do so," Specca said.
She also assists with the family's 15 acres of produce. The 18-acre farm sits less than a mile from the New Jersey Turnpike in Jacksonville.
One of Specca's first supervised agricultural experiences involved planting summer crops on the farm.
Specca also offers fresh cut flowers and arrangements. "I love doing that," she said.
The pandemic has prompted consumers to reconsider how they get their food, and Specca is seeing an uptick in people wanting to plant vegetables this year.
"A lot of people were really eager to get their gardens started," she said.
While the produce season is just getting started, Specca's time as FFA president is coming to an end.
Specca and her fellow officers will sign off in the state's 91st convention May 20 to 22.
The six-session event will be held virtually, another concession to COVID-19.
Being online won't provide the same atmosphere as the crowded auditorium or the hands-on contests like livestock judging.
But Specca said the convention should still be an enjoyable experience for FFA members and could provide a sense of normalcy during an uncertain time.
And even after she virtually passes the gavel to a new president next week, Specca's FFA journey won't quite be done. She is New Jersey's candidate to be a national FFA officer.