CANANDAIGUA, N.Y. — Avah Gladle, 15, hopes to attend State University of New York Cobleskill to study animal husbandry once she's finished with high school at Marcus Whitman High School in two years. While an ag college represents an expected route for a teen who grew up on a large farm, it's exceptional in this case since Gladle's family raises just a few animals on 2 acres. Gladle attributes her interest in farming to her experiences in 4-H and FFA.
It all started with a couple of Guinea pigs three years ago, according to her mom, Marcy Gladle. She and her husband, Chuck, allowed Avah to get the small pets, which eventually led to their current six rabbits, three chickens, six sheep, a beef cow and calf at Rosewood Farm, their Stanley, New York micro-farm.
The family's small barn and pasture have expanded over the years to keep up with their growing menagerie. They supplement the pasture with purchased hay.
The Gladles bought the cow pregnant from AK Sunset Ranch near Syracuse. The calf didn't live, however. They milked the cow for a week until they could find a calf needing a foster mother. It took a little cajoling for the pair to accept each other.
"We laid the calf next to her and put honey on the calf's top line and put grain on it," Avah Gladle said. "It's natural to lick the calf off after birth so we wanted her to lick the calf. The first night we got her home, he didn't eat from her because he had already eaten. We tied her up and worked with him getting on the udders. Ever since he's done really well. They bonded pretty well. It's cool because she accepted him."
Experiences like this helped spark her interest in future agricultural employment. She's raising the calf for two years before it will go to market and has already bred the cow again in July.
Gladle's interest in animals has helped her in the show ring. She won best of show at the Ontario County Fair for her chickens and for her rabbits, and reserve best of show and reserve showmanship for her sheep. She showed her cow in the showmanship class, but didn't place, which didn't disappoint her.
"I'm a novice for the cow," she said. "I've always shown rabbits. I showed sheep the previous year. It was my first time showing chickens and cows."
She learned about animals through her mentors and 4-H leaders.
"We do projects and we do clinics," she said. "They cover grooming for shows and animal care. The mentors show me how to show, too."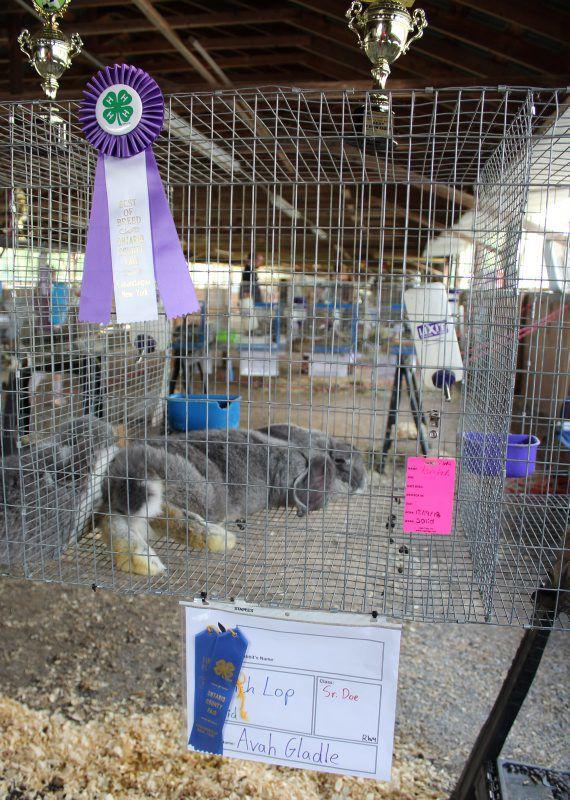 Her mentors include Karen Clark, Philip Nesbitt, Kate Reisback and Scarlett Lamphier, all from the Stanley area.
Her brother Brayton, 17, also helps.
"Dad has helped me out the most," Avah Gladle said. "He built the barn and pasture. He pays for quite a bit of stuff, too."
She enjoys showing because she wants to get more people interested in livestock, even if they don't live on a large farm.
"You can do a 4-H project by leasing a cow; you don't have to own one," she said. "It's more about learning than owning."
Gladle said that she learned patience this year.
"With halter breaking, you can't walk out into your pasture and grab your sheep or cow," she said. "You have to get used to them and they have to get used to you for them to cooperate with you."
She advises anyone interested in showing to "not give up. Keep trying. Stay calm because the animals will notice if you get worked up and it doesn't help."
Gladle's mother could not sound prouder.
"She's done really well," she said. "My husband and I and my son, we support her for whatever she wants to do."
The family travels to animal shows from New York to Ohio, including the New York State Fair.
"We want her to experience everything before she goes to college," Marcy Gladle said. "She's a really good kid and we're pretty proud of her. She does all the chores on her own."
The Ontario County Fair ran July 23-27. It has been an annual event since 1843.
Deborah Jeanne Sergeant is a freelance writer in central New York. Email her at deb@skilledquill.net.