When 17-year old Lycoming County dairy princess Katelyn Taylor was putting together a cookbook for a class project at Montgomery Jr.-Sr. High School, she never envisioned that anything would actually come of the hard work of compiling dairy-based recipes. But when a local farmer sustained a farm injury that would lead to spinal surgery and months of rehabilitation, her cookbook preparation was put to very good use.
Katelyn, daughter of Brett and Laura Taylor of Allenwood, Pennsylvania, is a fourth-generation caretaker of South Creek Acres, a 120-acre farm that includes three broiler chicken houses, an Angus beef herd, and dairy show heifers.
She has always had a passion for raising dairy cows for show at the local, state, national and international levels in both junior and open show divisions.
"My heifer barn is one of my favorite places," Taylor said, smiling.
When she learned that a local farmer had been seriously injured at the end of her farm road in mid-May, Taylor's generous spirit propelled her to help. While she didn't know Harley "Chubby" Fry personally, she knew his name and she clearly recollects the day the incident happened.
"I was on my way to drop off items at the local sale barn, and on the way, I passed a fire truck, which struck me as odd living in such a small town; it wasn't something that we see often."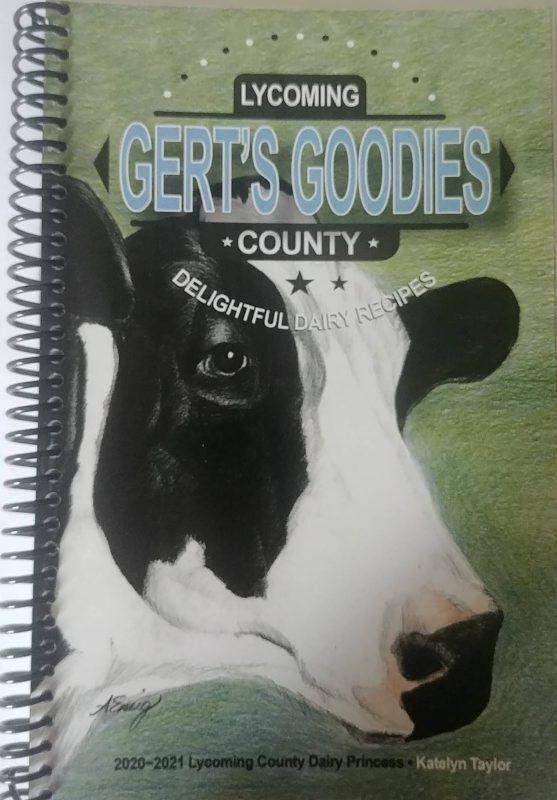 When she got to the show barn, she had a conversation with the injured farmer's granddaughter who relayed what had happened.
As Taylor learned and the local Muncy newspaper, The Luminary, reported: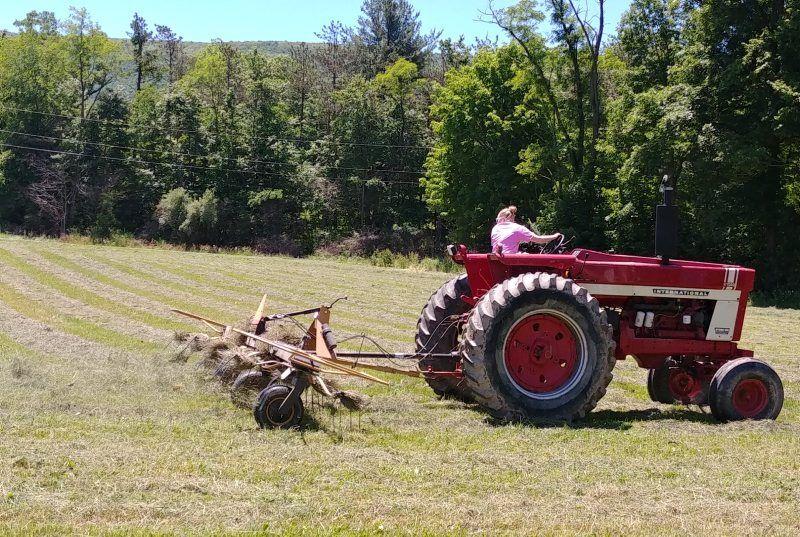 "Harley 'Chubby' Fry sustained injuries when a dairy cow — weighing at least 1,000 pounds — attacked him and momentarily pinned him against a wall in a barn. When Fry was taken to the Geisinger Medical Center in Danville, he had limited movement in his arms, no movement in his hands, and no control below the waist. He underwent spinal surgery to relieve pressure and was transferred to Gibson Rehabilitation in Williamsport, where he underwent physical therapy. Recovery has been slow, as Harley had been unable to move his limbs until recently. He is now able to use his right arm and more recently, his legs. He is now continuing therapy and recovery at home."
After Taylor spoke to her mom and dad later that day, she quickly moved into action with the idea of taking a meal to the family. It then evolved into raising funds for the farmer's recovery with — what else — a dairy-based cookbook. Within a few short weeks, her "Gert's Goodies" cookbook was born.
Many people assume "Gert" is one of her prized heifers, but that is not correct.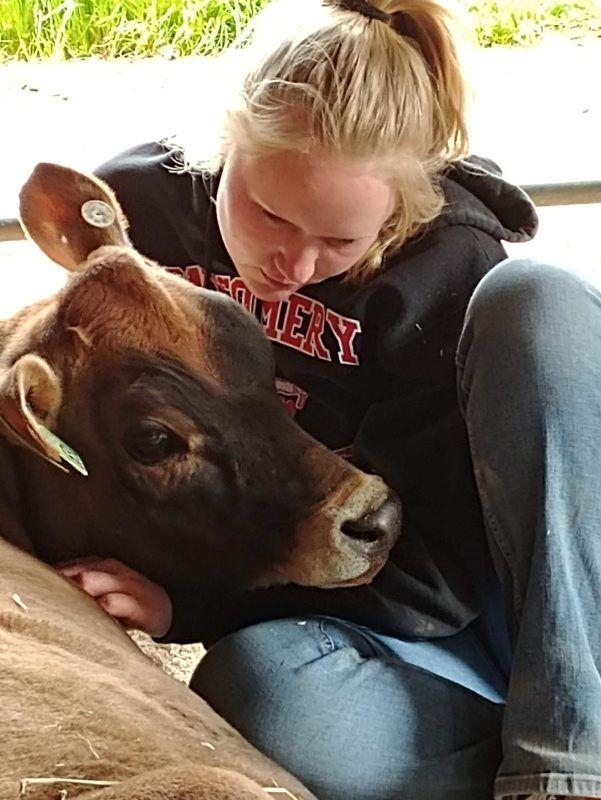 "I thought the name was really clever, because 'Gert' is my nickname, but then I realized later that unless someone really knows me well, they would have no idea," she said, laughing.
She continues, "I take no credit for the recipes; I found them from past dairy princess cookbooks, other cookbooks around our house, and, of course, on the internet."
While she doesn't have a favorite recipe ("I'm a terrible cook," she admitted honestly), she is thrilled by the response that the cookbook has received so far.
Cookbook Serendipity Continues
"Right before the pandemic, my mom met Amanda (from Copi LLC print shop in Montoursville) at a local meeting. She ended up helping with formatting, page illustrations, and even painting the cover of the cookbook. We later added the write-up about myself and the farmer when we were selling the cookbooks as a fundraiser for him in August," Katelyn Taylor said.
She continues, "We sold over 150 cookbooks, one was auctioned off and it went for $200, so we were able to raise about $1,500 for him in hopes to get him back moving and mobilized again."
The funds were used primarily to make modifications to the interior and exterior of Fry's home, as well as purchasing equipment for his use at home.
"Everything just came together with the cookbook, and we were able to raise a lot of money for him and help him find some peace during this time," she said.
Her mom Laura said, "Katelyn (had) worked countless hours to prepare this recipe book. Then, when this situation with the dairy farmer occurred, she went full-speed ahead and 'Gert's Goodies' was published.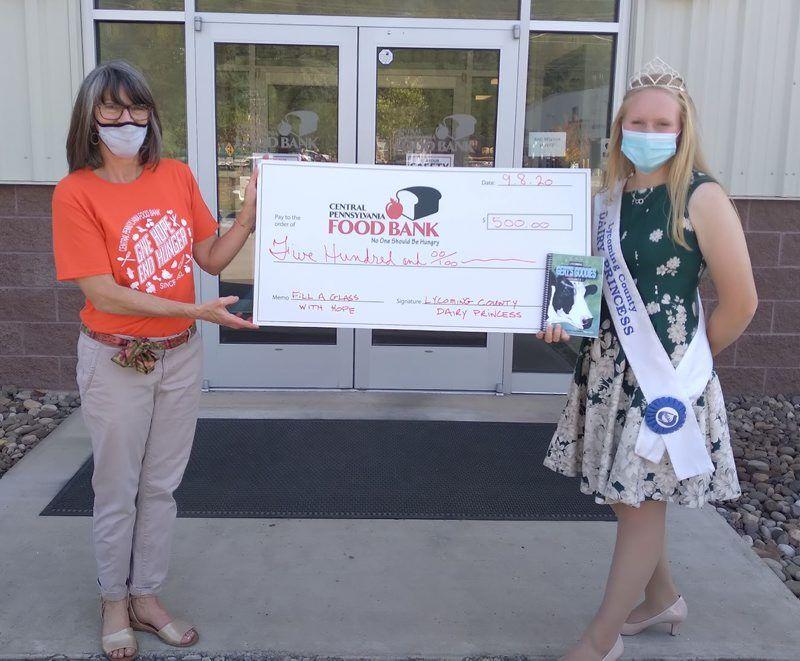 She was in amazement by the overflowing support she received to help the farmer, and recently presented him with the very impressive results. Katelyn is eager to help others, always putting others before her and loves promoting for the dairy industry. The outpouring of support from other states like New York, New Jersey, Minnesota and even California has been amazing."
Katelyn Taylor's passion for helping others doesn't stop with the cookbook project though. She is also involved in Mini-THON, which is modeled after Penn State's THON, an opportunity for K-12 students to take a leading role in the fight to conquer childhood cancer. She also participates in Bald Eagle 4-H Club and serves as the president of her high school's FFF chapter that started a year ago.
In a few weeks, she will compete for the Pennsylvania dairy princess title. Then, in a few short months, she will apply to Penn State's agricultural sciences program, where she aspires to find a career in the agricultural sector, whether at her family farm or beyond.
The $15 "Gert's Goodies" cookbooks are still available and can be purchased by emailing Laura Taylor at ltaylor617@windstream.net. Shipping and handling charges will be added.
All proceeds in September will go to the nonprofit organization, Fill a Glass With Hope, for which every $1 in profit will put eight servings of milk into a local food bank across the state.
"It's neat that for every cookbook sold, 72 glasses of milk is being provided to a food bank, per book. I think that's pretty amazing," Taylor said.