Maddy Cracknell, 16, a junior at Octorara High School in Atglen, Pennsylvania, is a young horse rider with a bright future, according to her instructor Lillian Heard, herself a rising star in U.S. eventing competitions.
Maddy also gets high marks from her high school agriculture teacher, Helena Martin. Martin said her young student is focused and takes her Supervised Agricultural Experience (SAE) work seriously and it's helping her focus on an equestrian career.
For her equestrian work to qualify as an SAE project, Maddy keeps a daily journal of her activities at the stables for Martin, including her progress in training her two Thoroughbreds for eventing competition.
The teenager rolls her eyes, like most teenagers, when hearing the praise. She grins as she talks about balancing a school year of in-person classes and online instruction with riding six days each week. The riding includes three intensive lessons with Heard.
"And, oh," Maddy says, "mucking out a dozen horse stalls at the barn puts it all into perspective pretty quickly."
Maddy has been riding horses since she was 3, when her mother, Wendy Ott, found a riding program in Delaware for children who literally had learned to walk a year or so before.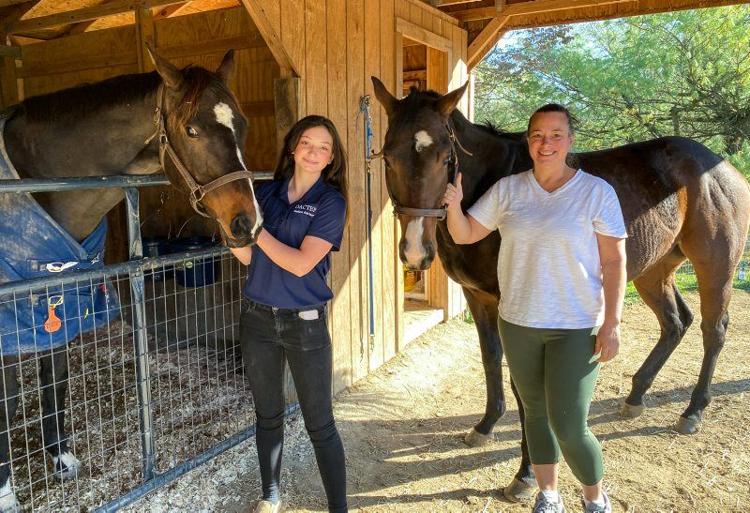 "Maddy took to it quickly or she didn't know any better," her mother said, smiling as her daughter chuckles. But, both mother and daughter agree it wasn't long before Maddy felt really comfortable on the back of show horses a lot bigger than she was.
But Maddy's life hasn't been easy. She was born with a heart defect that resulted in one heart surgery six weeks after birth and another heart surgery at age 8, according to an article by sports writer Jeff Reinhart in an April issue of LNP in Lancaster, Pennsylvania. Despite those health challenges, Maddy plays basketball at Octorara, too.
However, not content to sit at home, from age 13, Maddy has been working with Heard at Windurra Farm in Cochranville, Pennsylvania. World-class equestrians Boyd and Sylva Martin own the farm and training center. It is literally a short trot from the Cracknell home where Maddy cares for her horses.
"Maddy is a natural on eventing horses," Heard said, "and dedicated to not only her horses, but to the sport and all the horses here at the stable where she can put in a 10-hour day on a weekend."
"Lillian has been an excellent trainer for me," Maddie said. "When your training hits a speed bump, as it can do frequently," she said, "Lillian works you and the horse through it with specific instruction and positive feedback. My horses and I both work hard for her."
About the discipline of caring for your own horses, the teenage rider said, "I was the only kid at school that didn't have to ask for a pony for Christmas. I woke up one day with a Thoroughbred in the barn that I had to care for."
Maddy now has three horses in that barn including two Thoroughbreds, and it means feeding, grooming and caring for them before she rides.
As she became serious about eventing, a sport that combines the disciplines of dressage, stadium jumping and cross-country, her mother wanted to be sure she had a horse up to the task.
They acquired Commanding Curve in 2017 from Fair Hill Training Center in Elkton, Maryland. It was just three years after the Thoroughbred surprised the racing world with a second-place finish in the 2014 Kentucky Derby, behind California Chrome. Curve, as Maddy calls her horse, earned more than $600,000 in a racing career of 16 starts.
The retrained Curve won a U.S. Eventing Association competition with Heard aboard in South Carolina in early 2019.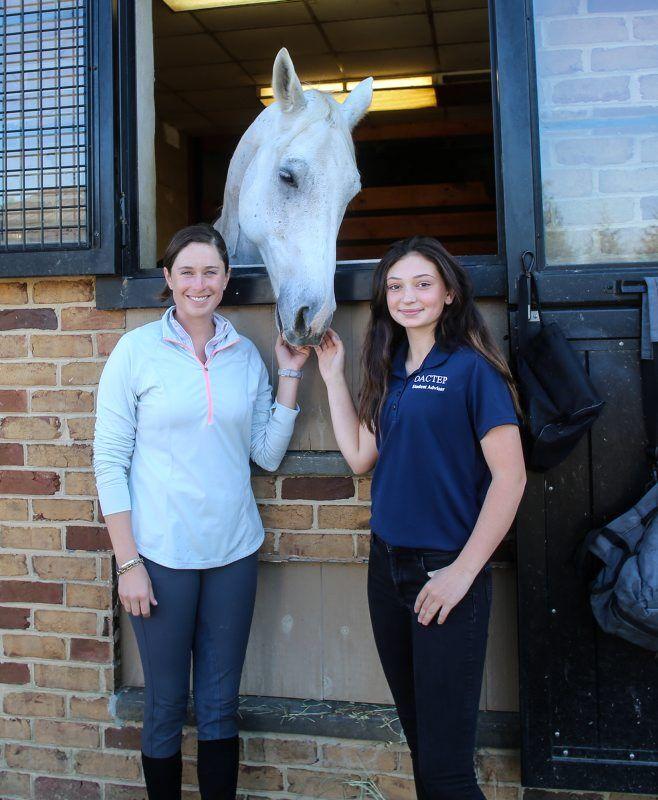 Maddy and Curve placed first in a Beginner Novice event in July 2019 and then a Novice competition this past July in addition to other high finishes in the past two seasons.
"There are horses and then there are Thoroughbreds," Maddy said, "and it has been a experience for both Curve and me. We are learning together with Lillian's help."
Maddy is now at level two of six in the eventing world and has her eyes set on qualifying for the third level (training) in 2021, in which she will have to compete in at least four events and finish with good scores.
Eventing is like a triathlon with three phases and first originated as a cavalry test. Riders and horses first show their working skills in dressage competition, executing a series of figures in a ring in smooth harmony.
"Second," said Maddy, "there is show jumping in a ring over obstacles with height determined by poles. And, finally (there is) cross country, where horse and rider show speed, endurance and jumping ability over varied terrain and solid obstacles. It's a workout."
The high school junior said there are lots of opportunities for a career in the equestrian field that she is thinking about, after finding the right college where she can continue her riding and competing.
"I could teach riding," she said, "train horses or do horse rehabilitation or therapy, but I have plenty of time to decide."
As she continues to train and establish a strong, trusting relationship with Curve, Maddy said that the retired gelding has taken to eventing and now has a relaxed, good-tempered personality.
"Curve is a big horse," she said, "and when I was 13, he was a big jump for me when I started training with him. We have grown close in the last three years."
"Curve is an amazing horse," she added, "and although he likes to play at times, he is learning to get down to serious business when we enter the ring in competition."
Maddy and Curve are eyeing events at Fair Hill, Full Moon Farm in Maryland, and the Horse Park of New Jersey as they both take the next steps in their equestrian journey.
Recently, a second retired Thoroughbred joined Curve in the barn.
"My mom acquired a young 3-year old, Galway Empire," Maddy said, "who, with Lillian's help, I also will train with for eventing competition."
"It's been fun to watch Maddy compete and learn responsibilities in caring for horses every day," said Ott. "She's only 16, but we all hope with Lillian's guidance, Maddy's riding skills will continue to improve and she will continue to surprise us all."