YORK, Pa. — With cattle shows and fairs around the nation canceling due to the COVID-19 pandemic, York County Holstein club leaders made a choice.
While virtual gatherings have worked adequately during the pandemic shutdown for school classes, committee meetings and church services, an online activity was deemed inadequate for giving dairy youths some hands-on experience to learn and fine-tune their show ring skills.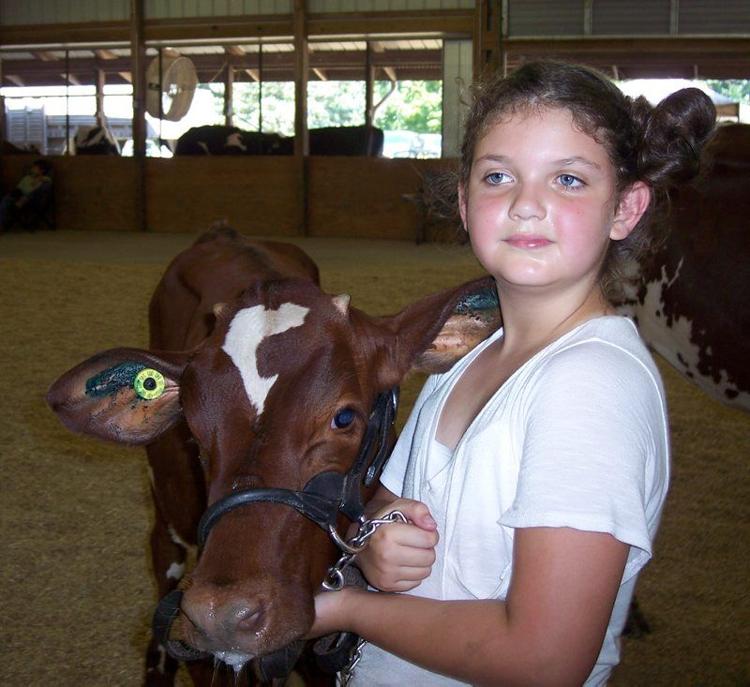 "After the York Fair was canceled, we talked among ourselves. (We) thought it was time to get the kids together and give them a chance to work with their calves," said club member Roy Thompson, observing from the sidelines at the county's recent all-breed dairy show.
"It's for the adults, but it's more for the youth. We wanted to have a fun show for the kids. You have to have something for them to look forward to," he said.
"For example, my grandchildren have been working on their cattle all year and had no place to put into practice what they are learning," Thompson added.
The Holstein club extended an invitation to exhibitors of all dairy breeds to take part in the show, held July 26 at York County's 4-H center. But, the event was focused primarily on the 4-H members of the countywide dairy club.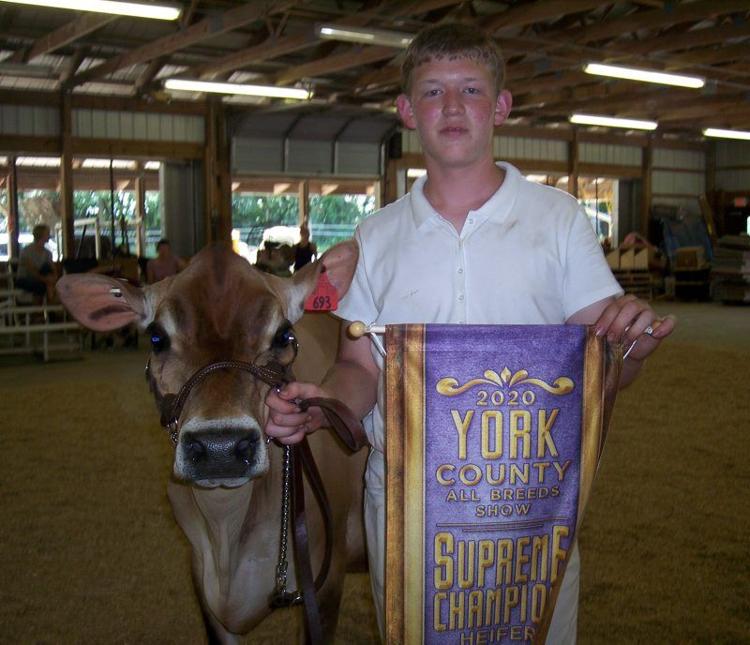 York Holstein club's president, Amanda Stewart Thompson, echoed the sentiment.
"This was done for the kids, to give them a place to show their animals," she said. "I don't know of any other shows, other than the state Holstein championship shows, still being held. There are just very few youth shows available for them to participate in."
"We've had good support and sponsors to help with the show," said Stewart Thompson, praising numerous local dairy farm families who stepped in to assist with the show's planning and finances.
Second-year 4-H'er Talan Miller was glad to have the chance to get some hands-on practice preparing and exhibiting his Holstein yearling heifer.
"My grandpa and my mom both showed dairy cattle," said the 12-year-old, who lives in Red Lion. "It's fun working with animals and with your friends."
Veteran youth exhibitor Jacqueline Bortner, of Spring Grove, agreed. "It's good to see everyone," she said of the many friends she's made over her years of youth showing. "It helps to boost everyone's spirits."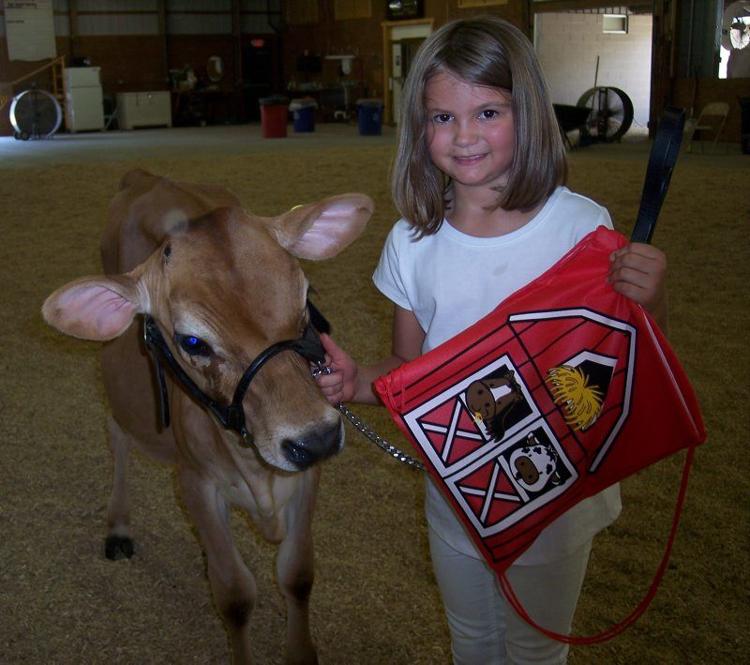 More than two dozen youths took part in the competition, which kicked off with showmanship competition in four age classes. Connor Walker, of Thomasville, was the winner in the 10-12 age group and won the purple champion overall showman banner. Brooke Walker, also of Thomasville, was the winner of the senior age class and the reserve champion showman. Other age class winners included Jenna Morris, intermediate; Luke Morris, junior; and Hunter Lucabaugh, Cloverbud, ages 5-7.
While a few adults circled the ring at the halters of their entries, youths dominated the day's competition and winnings.
Cody Walker, of Thomasville, earned the senior and grand championship of the Holstein show, then topped it with a supreme champion win in the show's final runoff.
His senior 3-year-old, Walk-Le Millennium Ivy, got the nod for top spot overall from judge Chris Reichart.
Cody Walker also took both youth and open supreme champion heifer awards with his Jersey spring yearling, South-Mountain Viral Rhapsody-ET.
A spring calf shown by Elsa Peiper, Thomasville, topped the Red and White Holstein competition for youth and open grand champion honors. The winter calf exhibited by William Lucabaugh got the nod as reserve champion of youth and open divisions.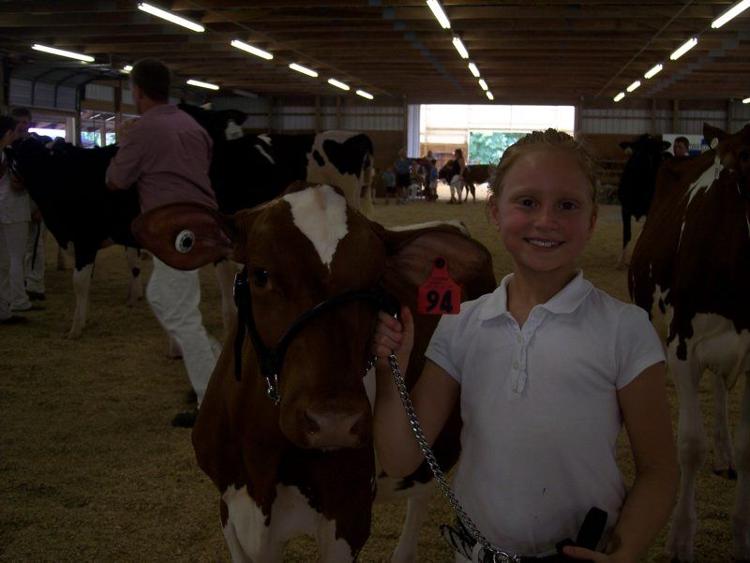 Brown Swiss heifer honors went to Brock Morris, of Fawn Grove, who won both junior and open class championship with his winter calf. Reserve junior and grand champion in the open class was Gary Crowl, of Airville, with a spring calf. The youth reserve junior and grand champion was Isaiah Druck, of Airville, exhibiting a winter yearling.
In the Brown Swiss cow classes, Druck claimed both the open and youth show senior grand champion honors, over the reserve champion exhibited by Brock Morris.
Guernsey class wins all went to open competition exhibitor Kelly Johnson, exhibiting a Rutter's Dairy string of heifers.
The Jersey heifer competition finished with Wyatt Pieper taking the junior division and open class reserve champion placings. Senior division open class champion was the senior 2-year-old Sunnybend Colton Ginabelle, exhibited by Brooke Bortner. Reserve open class grand champion and youth division grand champion winner was Nicole Weaver, with Tallys Colton Trixie, a junior 2-year-old. Brianna Walker's junior 3-year-old was the youth division reserve grand champion.
In the Milking Shorthorn class, Alivia Carbaugh's spring calf was selected as the open class junior champion and grand champion. Carter Myers earned the youth division champion junior animal championship and reserve in the open class. Reserve champion youth division heifer honors went to Casidee Crowl. The open-class senior champion and reserve grand champion was a dry 4-year-old, Sun Rock-C Bart Polor, exhibited by Gary Crowl.
A kiddie class competition gave youngsters not yet old enough to compete as juniors the opportunity to practice their show-ring skills. Judge Reichart selected all of them as winners, with awards presented to Rya Sigler, Leo Sigler, Morgan Bortner, Hunter Lucabaugh, Alivia Carbaugh, Calvin Pieper, June Pieper and Sadie Brown.