WASHINGTON — The sun had finally made it through the clouds as marchers gathered around 1:30 p.m., Tuesday, March 7, to walk to the steps of Supreme Court Building following a rally at Freedom Plaza that included the voices of farmers and farm groups demanding a 2023 Farm Bill that addresses climate change.
Speakers at the "Farmers for Climate Action: Rally for Resilience" — part of a three-day event spearheaded by the National Sustainable Agriculture Coalition — also urged Congress to include support for Black, Indigenous and people of color farmers, several making the point that their ancestors farmed in ways that nurtured rather than degraded the environment.
They included Chili Yazzie of the Navajo Nation, fourth-generation Minnesota farmer Angela Dawson, Norysell Massanett of La Botica de la Tierra in Puerto Rico, urban and agroecological Texas farmer Julieta Saucedo, Arizona farmer Yadi Wang, Central California community organizer and pesticide reformer Yanely Martinez and Helga Garcia-Garza, executive director of Agri-cultura Network and La Cosecha CSA in Albuquerque, New Mexico.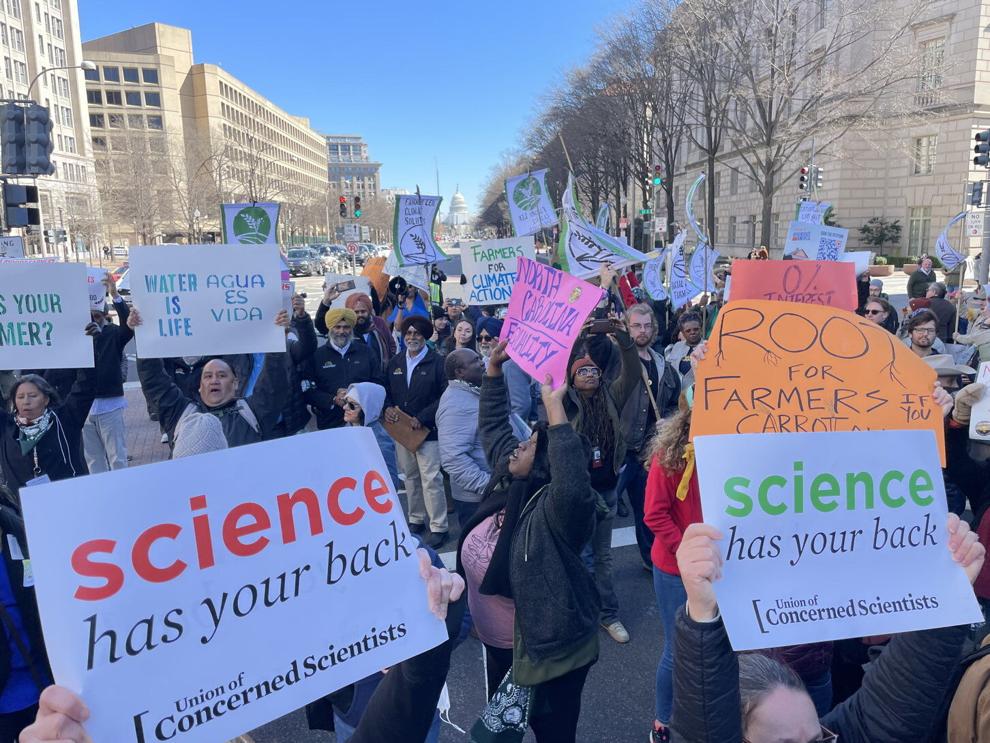 Putting "communities before corporations" was another rallying cry of the marchers, with a broad coalition scheduled to lobby Congress Wednesday, March 8.
"Like many of us gathered here, I am advocating for a Farm Bill that is inclusive of the community I belong to," said Marielena Vega, a farmer worker and advocate for the Idaho Organization of Resource Councils, which, like many of the organizations present, is a member of the HEAL Food Alliance.
"I need the 2023 Farm Bill to provide and improve worker protections, protections from exposure to harmful working conditions, conditions like extreme heat, poor air quality due to wildfires and pesticides."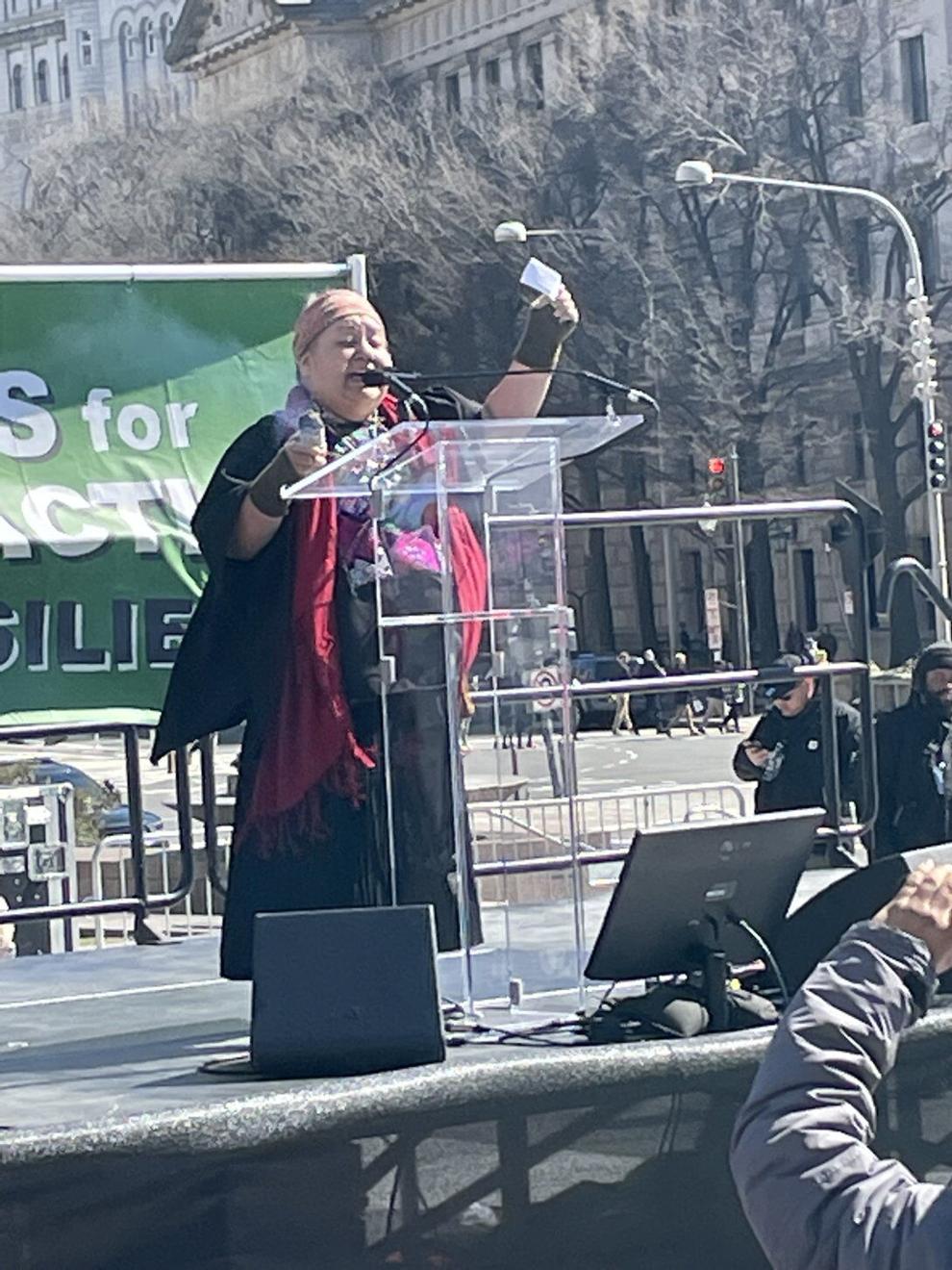 Vega said she knows from personal experience the agony of working in extreme weather.
"When you are outside in the heat and you feel like your body is burning ... You feel your body struggling to cool itself and you feel yourself struggling to breathe.
"...I have seen my own mother continue to work despite feeling unwell, because there are no protections for farm workers in public health emergencies. Severance pay, sick leave and health care are not options because they do not exist. We need a Farm Bill that puts the well-being and livelihood of our communities, of our farm workers, as a priority."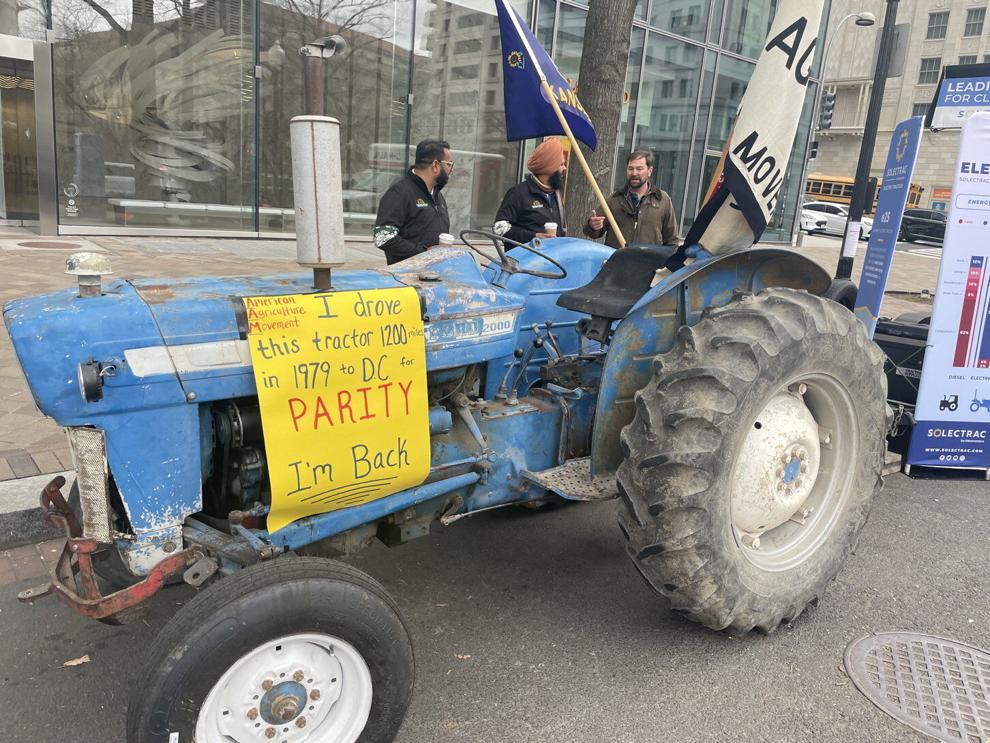 Claudia Lenz, 21, from Threshing Table Farm in Star Prairie, Wisconsin, who attended the Land Stewardship Project's first youth summit, said it's a false assumption that young people do not want to farm.
"But we are not interested in managing thousands of acres of a single crop, growing our livestock operations as big as we can, or continuing to deplete the resources we depend on.
"We are interested in a model that will provide solutions for climate, solutions that protect the integrity of our land and water, solutions that strengthen our food systems and rural communities. Young people want to secure a future on this planet, and we understand that climate focused farming is the only way."
David Senter, founder of the American Agriculture Movement, participated in the 1979 Tractorcade to Washington, D.C., when more than 3,000 tractors and 10,000 farmers showed up on the National Mall to advocate for policy change.
Senter spoke at the March 7 rally and told the hundreds gathered that it had taken him 15 days to drive his tractor from Texas to Washington. During the march that followed the rally, he offered a few thoughts on the upcoming Farm Bill.
"Most of the groups and marchers here are concentrated just on the climate issue ... that it is a part of what will be considered in the Farm Bill."
"I support all these groups ... because we need it. But there's so many other titles that's in the Farm Bill that we also need. Farmers need higher reference prices, higher loan rates closer to cost of production to protect them against commodity price slump, particularly with input prices so high. There's credit, all of the conservation issues. There's a lot of pieces that have been put together, including all of the feeding programs."
Senter predicted "a huge debate" with the Supplemental Nutrition Assistance Program and said he'd like to see more robust state and federal partnerships that incentivise individuals and families on public assistance to shop at farmers markets.
"As a farmer, I've always supported SNAP, because that's the urban-rural coalition, supporting what they need to feed people, and then supporting what we need to produce the food. It's a great partnership through the years, but it will be tested."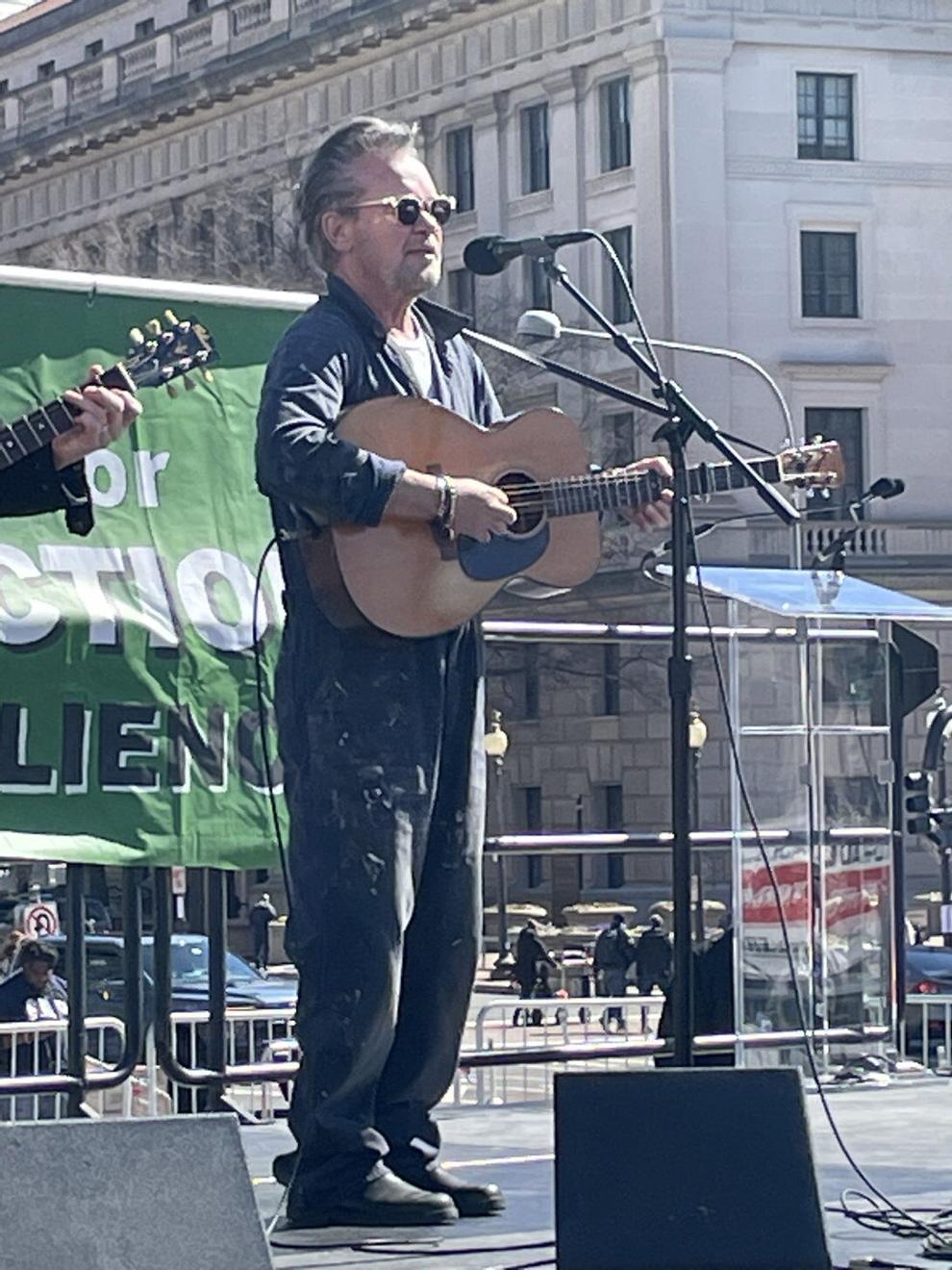 Senter was instrumental in helping Willie Nelson launch Farm Aid, the nonprofit organization and annual benefit concert to help America's family farmers, in 1985. Co-founding Farm Aid board member John Mellencamp was present at the rally to offer a few words and play a few songs.
"We've been slugging since 1985," he said following a short acoustic set that included "Rain on the Scarecrow" and "Pink Houses."
"Let's keep slugging, and let's try to improve the quality of the food that we eat, the air that we breathe and the people that we are."
Farm Aid, HEAL Food Alliance, Kiss the Ground, Food Animal Concerns Trust and Family Farm Defenders helped organize the three-day event in partnership with an alliance of food and farm organizations.