The head of Norfolk Southern Corp. assured Pennsylvania senators Monday that his company will clean up the aftermath of a toxic train derailment, but he left them skeptical on other points.
"I am determined to make this right," CEO Alan Shaw told the Senate Veterans Affairs and Emergency Preparedness Committee in Harrisburg.
The Feb. 3 derailment and fire in East Palestine, Ohio, included about 10 cars containing hazardous substances such as vinyl chloride. The wreck occurred less than a mile from the Pennsylvania border.
Shaw and the senators tussled over who had given final approval for the Feb. 6 venting and burning of train cars that had lost pressure controls.
The fire released dangerous gases into the atmosphere but was intended to prevent several cars from exploding and dispersing shrapnel in addition to the chemicals.
Shaw said Ohio Gov. Mike DeWine and state and federal agencies involved in the incident command were closely involved in the decision, but the call ultimately belonged to the incident commander — the local fire chief.
Chairman Sen. Doug Mastriano, R-Franklin, pushed back on that explanation.
"Your cars are on fire. It's your rail. It's your incident. And you're going to leave it to a local fire chief who probably never had to deal with potentially such a catastrophe before?" he said.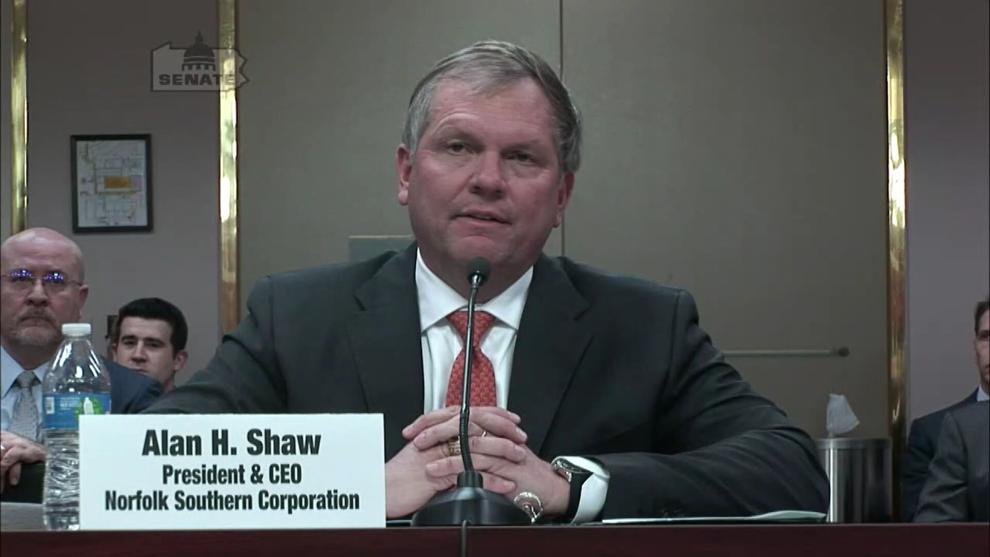 Mastriano also asked about concerns some officials have raised that in conducting the vent-and-burn, Norfolk Southern was focused more on getting trains running again than on protecting the well-being of nearby residents.
"This was based solely on the safety and health of the community," Shaw said.
Norfolk Southern has provided $7.5 million for a Pennsylvania relief fund and reimbursement to emergency and environmental agencies. The company opened a family assistance center the day after the incident and has served hundreds of Pennsylvanians, Shaw said.
The railroad is also negotiating with stakeholders to design a long-term fund that will cover health costs, environmental testing and lost property values. The duration of benefits will be determined in the final agreement, he said.
At the same time, Shaw pointed to state and federal testing indicating that residents are safe.
Testing on air, water and soil in the region continues, but Pennsylvania says it expects no long-term issues with air quality or groundwater related to the derailment.
"Why is it necessary (to cover health costs) if no one was poisoned?" asked Sen. Katie Muth, D-Montgomery, the panel's ranking Democrat.
The assistance center is designed to help residents, whether to provide information or to compensate them for inconvenience, Shaw said.
In a February hearing in Beaver County, the committee gathered testimony from residents who reported health concerns and whose lives had been disrupted by the incident.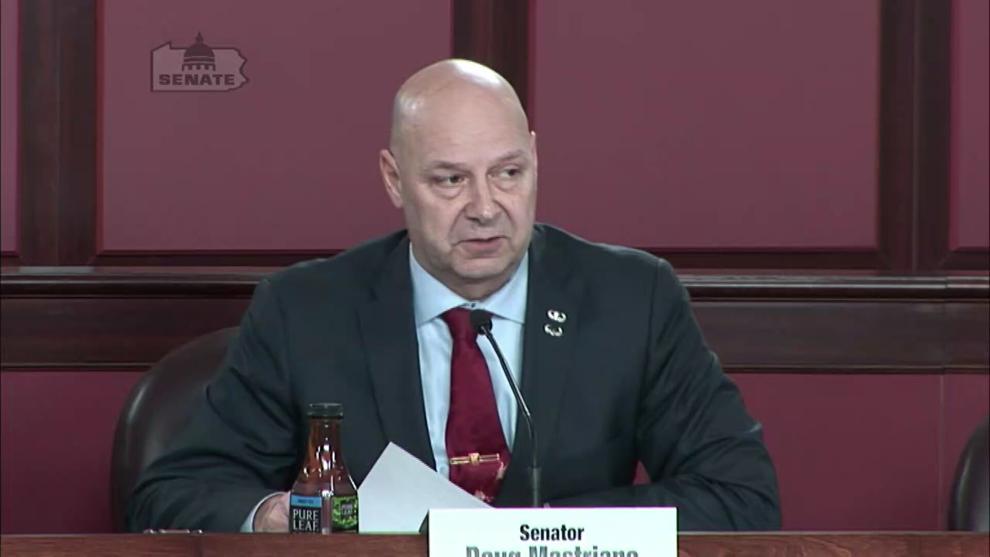 The U.S. Environmental Protection Agency is managing the cleanup of the derailment site. More than 6,000 tons of contaminated soil and 7 million gallons of wastewater have been shipped away for disposal, the agency said Monday.
But there's some question whether the government is registering all potential hazardous chemicals.
Andrew Whelton, a Purdue University environmental engineering professor, said his research group found chemicals in creek water near East Palestine that officials weren't testing for but he was confident were linked to the fire.
Whelton is conducting pro bono environmental testing in the derailment area.
"I advise agencies when I get involved in these types of disasters that they need to throw the kitchen sink at it initially to figure out what they need to test for and what they don't need to test for," Whelton said.
Pennsylvania does not expect the derailment to have long-term effects on agriculture, but farmers who have concerns should contact the state Ag Department at 855-777-6735 or their veterinarian.
State ag, health and environmental officials will be available to talk with residents Thursdays noon-5 p.m., starting March 23, at the Darlington Township municipal building in Beaver County.
Update: On March 21, EPA announced that preliminary results showed semi-volatile organic chemicals and dioxins in soil samples were similar to typical levels.