Blaine Hitchens is a soil health champion, but the Laurel farmer admits there are still some crop decisions he regrets.
"I planted green early (last year) and the slugs ate my breakfast, lunch and dinner," he said at a July 16 discussion and press event with Sen. Tom Carper to discuss soil conservation practices and the Growing Climate Solutions Act.
On a hot day with tall corn waving in the background, Hitchens talked about how he tries to improve the soil on his nearly 1,000-acre farm in Laurel.
Hitchens grows corn, soybeans and cover crops, and has six poultry houses. He began no-till farming more than 15 years ago and added cover crops more than 10 years ago.
Hitchens was named the National Association of Conservation Districts' Soil Health Champion in 2019. He received the Governor's Conservation Award this year.
He makes sure every acre has a living root growing year-round, improving soil health and sequestering carbon in the soil.
Hitchens told Carper that one of his keys to improving soil health is consistently planting cover crops so that the soil never remains bare. He is also a big supporter of no-till, which reduces erosion.
When he sees clouds of dust during spring plowing, he feels like farmers are "giving away their soil."
Hitchens will do an aerial cover crop application on the fields with corn coming into tassel.
"Then (after harvesting corn) we won't touch that soil until next spring," he said.
'Farmers Can Do Good and Do Well'
Farmers have dramatically increased the use of cover crops for a number of reasons in the Delmarva area, including weed control and erosion prevention, but the press event focused on soil health, particularly carbon sequestration.
"It works. It really does," Hitchens said. "You know it's working when you start seeing worms. And keeping something growing constantly is a key to that."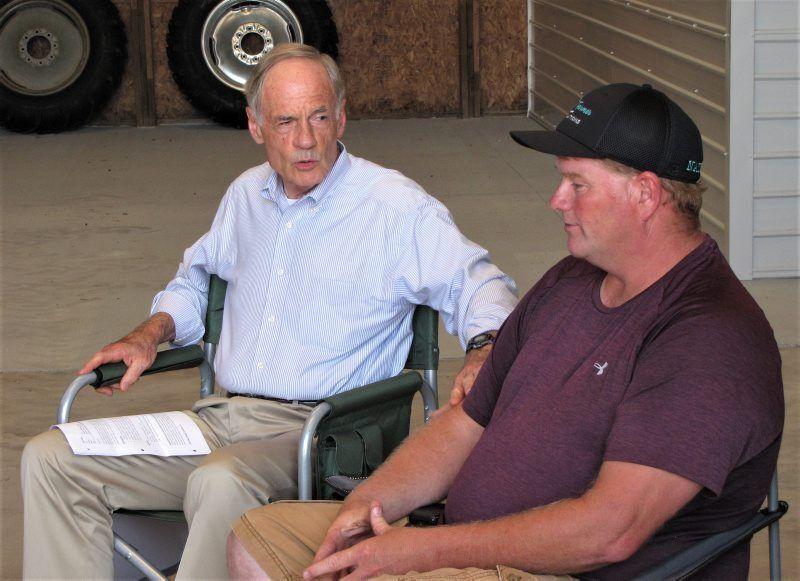 Speakers said that living roots feed the soil microbial community and allows the microbes to continually cycle and sequester carbon.
Hitchens said that farmers need to take a long view and realize the benefits of slowly building better soil for the future.
He described some fields where the organic matter has increased 0.9% after 17 years of crop rotation and cover cropping.
Hitchens said his practices can also lower soil temperatures and may buy farmers a few extra days before drought starts to damage crops.
He said traditional farming is plant, harvest and then let the land lay fallow until spring, but "there's a different way, and it's not about spending money."
Hitchens suggested that farmers start new practices slowly on small acreage before expanding to larger tracts.
"Blaine Hitchens is proof that our farmers can do good and do well at the same time," Carper said. "His soil conservation work is a textbook example of the positive impact that the agriculture community can have on reducing the amount of carbon in our atmosphere and keeping land fertile and prosperous."
The Senate passed the Growing Climate Solutions Act on June 24 by a vote of 92-8. The bill aims to help farmers and ranchers participate in carbon markets.
Farmers can sell credits for polluters such as power plants or manufacturers that need to offset emissions because of regulatory requirements or voluntary environmental commitments.
The legislation would establish a certification program for third-party technical service providers and create an advisory committee focused on ensuring that such a program meets the needs of farmers, forest landowners, and carbon market participants, according to National Farmers Union, which has endorsed the bill.
Rob Larew, president of National Farmers Union, said the program would expand financial incentives for farmers to participate in practices that fight climate change.
U.S. Ag Secretary Tom Vilsack has also made carbon markets a key focus at USDA.
But carbon markets have been slow to develop so far. Standards for quality control and verification remain underdeveloped, and environmental groups have questioned whether market-style programs will actually lead to emissions reductions.