Chuck Kutik isn't exaggerating with his business name. Kutik's Everything Bees does everything from selling hives and queens, to operating beekeeping workshops and classes to selling retail honey and bee-related items. The Oxford, New York-based business began back in 1978 with two hives that Kutik received as a Christmas gift. As his bee interest grew, he learned from a New York State bee inspector by shadowing him on his visits.
"He had to take the honey off to examine the broods," Kutik said. "One commercial bee yard was in the woods and the bees had to fly through the canopy. It was while there was a honey flow so there was a roar of bees. With the light shining through the canopy, the bees looked like little diamonds. At that point, I said, 'I'm going to do this: be a commercial beekeeper.'"
A commonplace question he receives is "Do you get stung a lot?" to which he replies, "You can suit up with gloves and a veil, but eventually you'll get stung. They find a chink in the armor."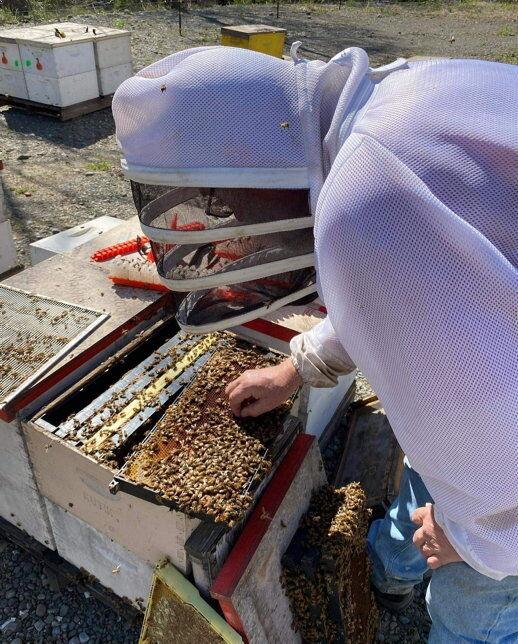 Kutik has developed a tolerance to stings and they don't typically bother him much, he said.
The past three years have been tough in the bee industry, with poor honey crops. Kutik typically harvests 900,000 pounds of honey annually, but has struggled to reach 500,000 recently.
"Cornell studies show a steady decline in honey production in New York," Kutik said. "Whatever it is, it affects us, for sure."
The business's main income source is pollination services. Two-thirds of the commercial honeybee population of the United States works in California from mid-February until the middle or end of March to pollinate trees that are part the state's sizable almond industry, according to Kutik.
He works with a broker who transports 400 of his hives divided among three to five truckloads. The rising cost of trucking has negatively affected his business. It used to cost $14,000 round-trip, he said. Last year, it was $22,000, and this year it is close to $24,000. With a surplus of almonds occurring, the fee he receives for pollination has decreased, because the industry sets the prices. Kutik must also pay fees to the broker, which eats into his profits, he said.
Kutik also buys tanker loads of corn syrup to give the bee queens a boost to lay well. He said it used to cost $5,000 but has jumped to $18,000.
Beekeeping also has challenges related to bee longevity and bee health. Pesticide use has always been an issue that affects honeybees.
"We do a lot of blueberry pollination," Kutik said. "There are fungicides being sprayed. We tell them to keep it at a minimum. A lot of people say you should move the bees out if they'll spray, but that's a lot of work with 2,000 hives. You have to accept some liability when you do a pollination. The farmer has to survive, too."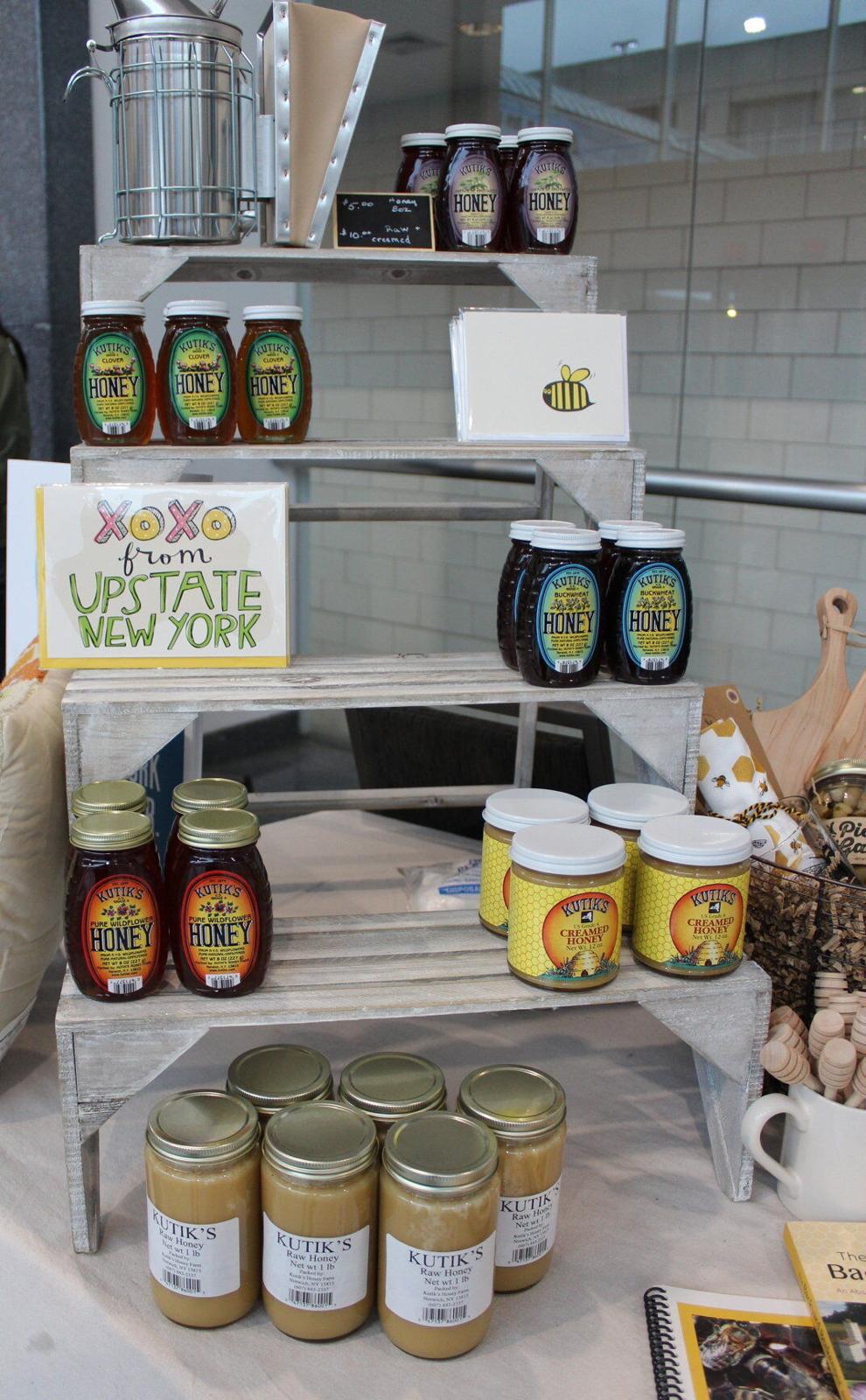 Spraying at night helps, he said, as that's when bees are less active.
Varroa mites have been a big challenge, too. These pests bite through the bees' exoskeleton, leaving them vulnerable to viruses. Miticides can knock out the mites, he said, but treatment-free beekeeping can also reduce mites' numbers. Kutik said using a drone comb can differentiate the drones from the workers. Drone combs have larger holes, making them attractive to drones. Mites seem to prefer drones to workers.
"You pull the drone comb out, cut the cappings off and knock the bees out," Kutik said. "You pull the mites out of there that way."
He used to be able to tolerate 10 mites among 300 bees; however, now the threshold is two to three. At that point, it's necessary to treat them, he said, because the effect of the mites has worsened.
Another difficulty for the bee business is the dearth of wildflowers that occurs when farmers clear hedgerows and other areas where wildflowers would typically flourish.
"One of the worst things that happens to the bees is the lack of forage," Kutik said. "It's being reduced every year. Ethanol took millions of acres out of production for forage for bees, as pasture and hay ground (changed) into corn ground. The seeds are covered in neonics (insecticides), and it can affect your hives."
Despite the challenges, he loves working with bees.
Kutik has four branches of the bee business. Kutik's Everything Bees is the retail side, which offers educational business classes and outreach. Kutik's Honey Farm is the honey-packing business that offers wholesale and private label packing. Kutik's Pollination Service offers pollination and makes honey. Kutik's Nucs and Queens provides to wholesalers nucs — a small hive of five frames — and queens, plus beekeeping equipment.
All his bees winter in Manning, South Carolina, by the middle of November. The maples bloom in January there, giving Kutik's hives a head start.
At the retail store in Oxford, customer attractions include waterfalls and a six-sided observation hive where people can walk inside, surrounded by bees.
Kutik hopes to open a tasting room for honey mead at the farm store eventually. He also hopes to expand the pollinator garden at the retail site.
He also plans to expand the sale of queens in 2023.
He credits his wife, Karen, for her support of his work. The couple have two sons and daughters.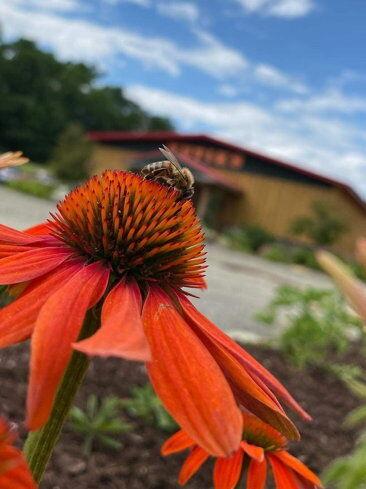 Kutik, 70, has business partners that include his niece, Lindsey Moroch. He has about a dozen employees among the business's four branches as well as employing 19 H-2A temporary agricultural workers from January through mid-November.
"That's enabled us to grow," Kutik said. "Without that help, we could never be as big or successful as we are."
He meets a lot of would-be beekeepers interested in buying a hive. He asks them why; if it's to get their own honey, he tells them to buy from a local beekeeper, as that is much cheaper.
"If they want a hive as a hobby, get their hands in there, enjoy the bees and don't worry about making honey," he said.
It costs about $300 to $400 for one frame nuc and equipment. But, a pail of 60 pounds of honey is $200. If the bees die — which is not too uncommon — the keeper will need to sink another $150 to $200 into the venture.
"We got into it because we love to do it," Kutik said. "We didn't say, we'll be beekeepers because we'll make all this money. There are lots more lucrative businesses. God gave us a desire to do it. In the Bible, it says you need to work, but you're really blessed if the work you get to do is something you really love."