SHAVERTOWN, Pa. — The narrow, two-lane road that runs through the heart of The Lands at Hillside Farms dairy is far from a major highway.
But when it came to crossing the herd of 50 cows four times a day, the road was a dangerous barrier.
The farm, which was established in 2005 as a nonprofit educational operation that offers the public plenty of hands-on opportunities, previously milked the cows in an old tie-stall setup. Because grass-fed is a major component of the farm, the cows had to be taken across the road before and after every milking to access the pastures.
The process was hard on the cows, hard on people and just a stressful event, said executive director Chet Mozloom. The cows often developed foot problems from stone bruises, he said, and there was a safety issue as well. The road may be narrow, but the farm's proximity to urban areas such as Dallas and Wilkes-Barre made it heavily traveled.
"It's a small road, but 7,500 cars use it each day. It's dangerous," Mozloom said. "Plus, we have a bull and people always line up to watch the cows cross, and there was nothing separating them but a rope."
"It's not a normal country road."
The road, however, is just one reason why Hillside Farms opted to seek donations and obtain a Growing Greener grant to construct a new dairy barn next to the pastures. Founder Doug Ayers, who died in 2017, always envisioned a facility that would promote cow comfort. The tie-stall barn sufficed for a while, but it was a bit cramped and required a lot of maintenance.
When Mozloom and Ayers began exploring other options, a trip to the Zaginaylo dairy barn in Columbia County proved particularly helpful.
The Zaginaylos built an 80-cow bedded pack dairy barn with a step-up parlor in 2016, and their model was emulated at Hillside Farms.
"We originally wanted to do another tie stall, but when we went to the Zaginaylos and saw their cows so comfortable on the bed pack, and not stressed, we knew that was the barn we had to do," Mozloom said.
But first, they had to pay for it.
Since the bedded pack barn is also considered a manure storage facility, Mozloom said, they were eligible for a Growing Greener grant, which covered $320,000 for concrete and excavation work. Donations from the community totaled approximately $900,000, in large part due to an anonymous donor who offered to match donations 2-to-1, up to $600,000.
"That was a person who really cared about Doug, and that's how this happened," Mozloom said.
Mozloom expects to use 260 cubic yards of sawdust to establish a bed pack 12 inches thick, and that rate will increase to 100 cubic yards a month during the winter when the cows aren't on pasture as often. The bedded pack is turned daily with a 7-foot tiller.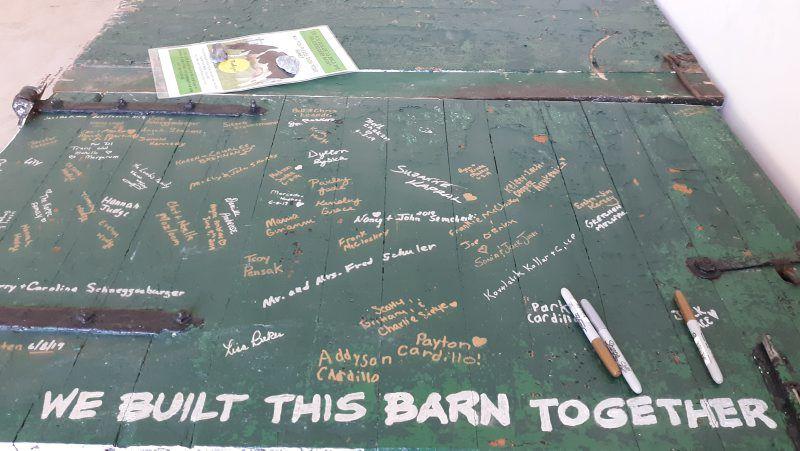 Manure and waste water from the holding area and parlor are collected through grates and piped underground to a holding tank.
A 1,000-gallon milk tank mounted on a trailer is used to transport milk to the nearby processing facility and retail store.
The barn and parlor cost $970,000, and Mozloom said they may add fans for ventilation this summer.
Construction on the 14,500-square-foot barn, which features a double-four herringbone parlor, was completed last month and the cows were milked there for the first time on May 16.
Because Hillside Farms is a nonprofit that opens nearly every part of the 412-acre farm to the public, the first milking proved to be quite an event with plenty of onlookers.
It took nearly five hours to milk 50 cows — which were used to the tie-stall barn — through the parlor for the first time. But now that the cows have grown accustomed to the new setup, milking takes less than two hours, Mozloom said.
"We noticed production pick up right away, and I think that's more because the cows are comfortable," he said.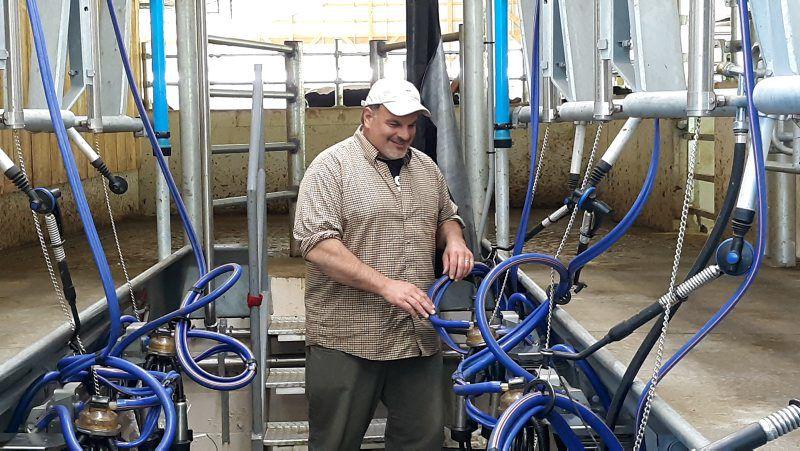 All of the milk produced on the farm is used by the on-site dairy store for fluid milk, ice cream and butter (which is bright yellow in the spring because of the beta-carotene in the grass, Mozloom said). Hillside also purchases milk from nearby dairies to sell as well.
Still, high production isn't the main goal for the milking herd of Shorthorn, Brown Swiss and Lineback crosses. The daily average is around 35 to 40 pounds, Mozloom said, adding that the cull rate is extremely low.
"We're not going for high numbers, and we don't ship any milk. We do sell more milk than we make, so we also offer local milk from other dairies," he said. "At some point in the future all those small farms may not be here, so the milk production will be all on us."
And all eyes will be on the farm.
Education is the key component of Hillside Farms, and that means allowing the public to enjoy a hands-on experience. While the milking is handled by employees, a large window on the parlor allows a crowd to gather and watch the cows being milked.
Mozloom admits it is challenging, at times, to manage the public presence with the intricacies of running a dairy farm. But the new barn makes it easier.
"There's a push against dairy, and it's a small percentage of the population having a big platform," he said. "We need to be presentable and always do the right thing as far as animal welfare. People want to see the cows are treated well, and this new barn helps to show that to the public.
"Not having to cross the road any more is a huge relief, and the level of cow comfort in the barn is off the charts."