Richard Church wondered why he was not included in the New York State Agricultural Society committee to select the next recipient of the Distinguished Service Citation.
Then, in mid-January, ag society board member Hans Kunze explained what had happened during the 191st Forum in Syracuse, New York.
He said that bumping Church from the award committee was the only way the organization could give the honor to Church. Though well-deserving of the award, Church would certainly never nominate himself, Kunze said.
"It was pretty overwhelming," Church said recently, since receiving the distinction. "It was a special treat to receive that award. I had served on the committee and chaired the committee 10 to 12 years. It was odd to be sitting on the other side of the table. ... It was a special moment."
The society's Distinguished Service Citation honors "an individual who has provided distinctive service to the agri-food system and natural resource industry, improving agriculture's image among the non-farming community, and fostering support, progress and success in New York's diverse agricultural arena," Kunze said.
A Lifetime In Ag
Aged 81, Church has been involved in agriculture since his youth. He grew up on a Guernsey dairy farm and was involved with 4-H, FFA and Junior Grange. He attended Cornell University, intending to have a dairy farm one day. At Cornell, he met his wife, Joyce, who was studying home economics.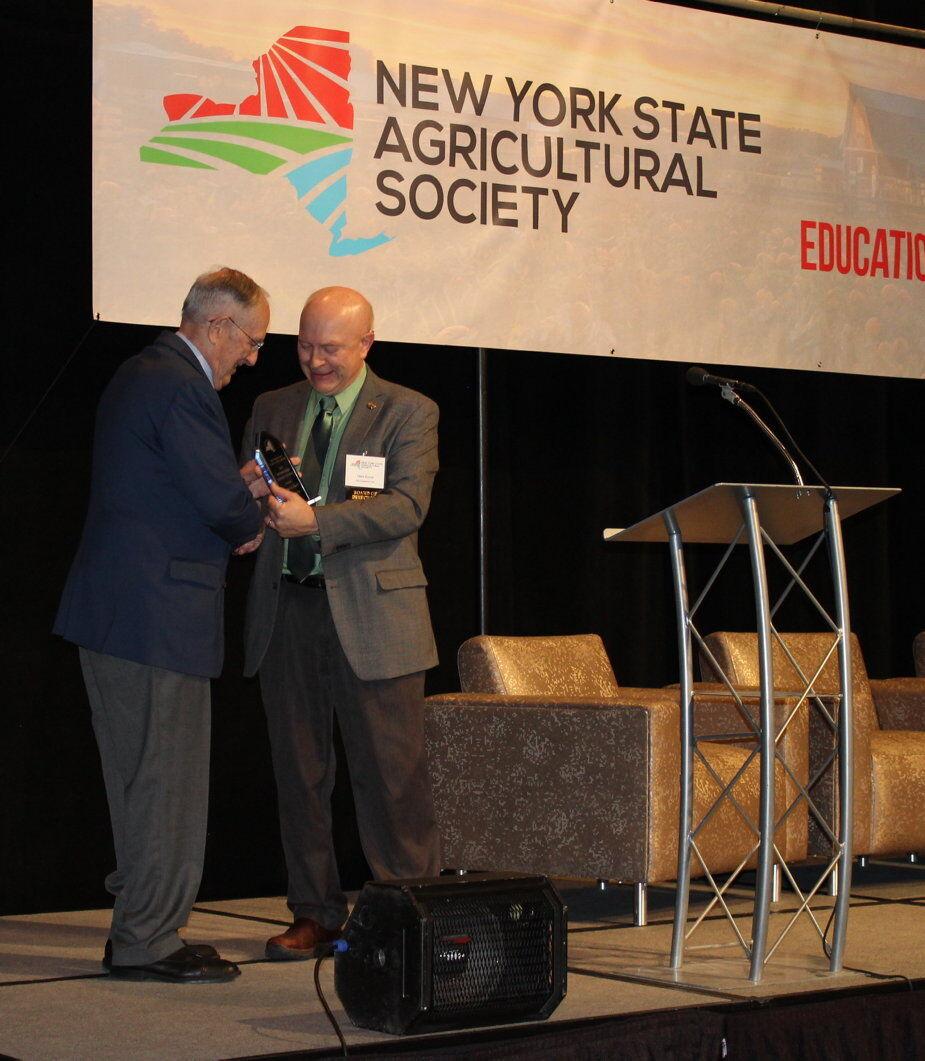 However, once he finished his college education, the dairy industry experienced a downturn, just as his father, Alanson Church, was ready to hand over the reins of the family farm.
"What had been a good way to make a living during his lifetime in the '40s and '50s, changed," Church said about his father. "He had an offer to be an ag rep for a bank. He was ready to move that way, but I said I wasn't ready to not try my hand at farming. My wife and I operated our dairy farm from 1964 to 1968."
After a few cold winters and low milk prices, Church felt ready to try something else. A dean at Cornell wanted an assistant to help with farm organizations and the alumni association. It sounded perfect to Church. Eventually, he became a Cornell trustee representing the Grange. He served as a faculty adviser. When he served as New York State FFA president, he met then-Gov. Nelson Rockefeller at the forum and made a presentation to him.
He also returned to farm life on a smaller scale as he and Joyce realized they wanted their children to be able to raise 4-H animals.
Church worked for Cornell for 20 years, including as director of admissions for the College of Agriculture and Life Sciences, for 12 years. He also served as president of the corporation board for Alpha Zeta agriculture fraternity for two stints and as a faculty adviser.
In 1978, Church and his wife established a second 4-H club in the Groton, New York, area, the Owasco Valley Achievers. The first 4-H they had established was in the mid-1960s while farming in Moravia, New York.
Church retired from Cornell in 2001 as director of alumni affairs.
Since then, Church hasn't slowed down. Once retired, he joined the New York State Agriculture Society board in 2003, serving as its treasurer until 2007. He chaired the aforementioned Distinguished Service Award Committee from 2008 to 2020, and also served on the Nominations Committee for the past 10 years. Church joined the board of the Friends of the Witter Agricultural Museum in Syracuse, New York, in 2002. He led the group as president from 2006 to 2010, and is still on the board.
In 2003, he was elected to the board of directors of the New York State Grange, became chair in 2011, and continues to serve.
Looking to the Future
Church lives in the Freeville-Dryden area of New York with Joyce. He continues to work with a number of organizations in the area, including the Methodist Church. The couple have been married for 58 years and have three grown children.
He likes that his daughter Sheryl Taylor and son-in-law Glenn Taylor have continued in farming at their operation, Tayl-Wind Farm in Cassville, New York, with 250 milking head on four robotic milking units. They decided they wanted a few Guernseys, hearkening back to the family's historic Guernsey breeding.
"They were buying young stock mainly and that they felt would be good to add to their herd," Church said. "Her husband said as long as we can buy some that are good enough to stand with the Holsteins, let's do it. They ended up buying a bred heifer a few years into their operation that turned out to be a real gem."
The Guernsey herd became Heritage Brook Guernseys, with 15 to 20 head of carefully selected and bred cattle. Seeing the next generations of his family continue in farming is heartening to Church, because his childhood memories involve working on the Church family farm that was established in Moravia in 1856.
"My earliest memories are of seeing a team of horses in our barn, probably in the late '40s," Church said. "But, I don't remember when we didn't have a John Deere A or B."
The innovations in agriculture, along with larger herds, are among the biggest changes he has observed in the industry, he said. Despite the challenges of uncertain milk prices and crop prices, he said "there's still the joys of operating the farm and breeding cattle, and seeing genetic improvement in cattle and how milk production has gone up."
Church believes that the outlook for farmers is good in central New York, because the area is close to good markets, has abundant water and healthy soil.
"We have well-educated farmers," he added. "The future for agriculture is good. I wouldn't discourage any of my family from getting involved."