LEBANON, Pa. — For every FFA member, a supervised agricultural experience is required. But not every FFA member turns that SAE project into a career.
Kevin Heagy did just that.
About 12 years ago, Heagy, now 26, started growing and selling pumpkins as his supervised experience.
Today, his booming business, Heagy's Pumpkins and Produce, has expanded to include more pumpkin varieties, mums and a variety of produce.
Heagy said he started growing pumpkins because he wanted to do something a little out of the ordinary.
"I just like growing different things," he said. "Pumpkins is what got me into produce."
After graduating high school in 2014, he began expanding the operation to include produce and mums. But, Heagy said, pumpkins are still one of his favorite things to grow — and they're a customer favorite.
Almost everything sold at Heagy's stand is grown at the farm, where fields and high tunnels line the lane.
Four acres are designated for 40 varieties of pumpkins and gourds.
The acreage for pumpkins hasn't increased over the years, but Heagy has been able to get more of the fall favorite.
"With pumpkins, each year we keep getting better yield," he said.
Mums are also a popular seller, with red and yellow being the most sought-after colors. And Heagy sells corn shocks and straw bales for additional autumn decorations.
"We gear up for fall time," he said.
His sister, Megan Hostetter, also works full time on the produce farm. She agrees that fall is their busiest time of year, with strawberry season coming in second place.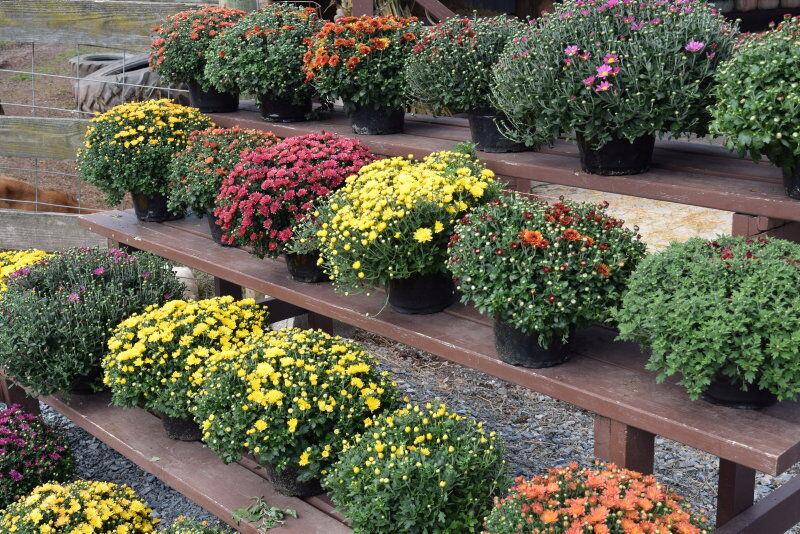 Heagy said business has grown each year, and the pandemic fueled consumers' desire to buy local.
"The produce took off a lot like two years ago," Hostetter agreed.
But even with the height of the pandemic in the rear-view, sales continue to increase.
"People still want to buy local," Heagy said. "Plus, the taste is a lot better."
During the early fall months, Heagy's produce shed is stocked full of options including cucumbers, zucchini, tomatoes, peppers, eggplant, watermelon, cantaloupe, potatoes and more.
"Basically, everything is grown right here," Heagy said.
The farm is located just north of the city of Lebanon, which helps keep a steady flow of customers.
Heagy relies mostly on word-of-mouth advertising. He also has some large signs along the busier roads leading into the city.
"We always tell people we're the first farm outside of the city," said Eileen Heagy, Heagy and Hostetter's mother.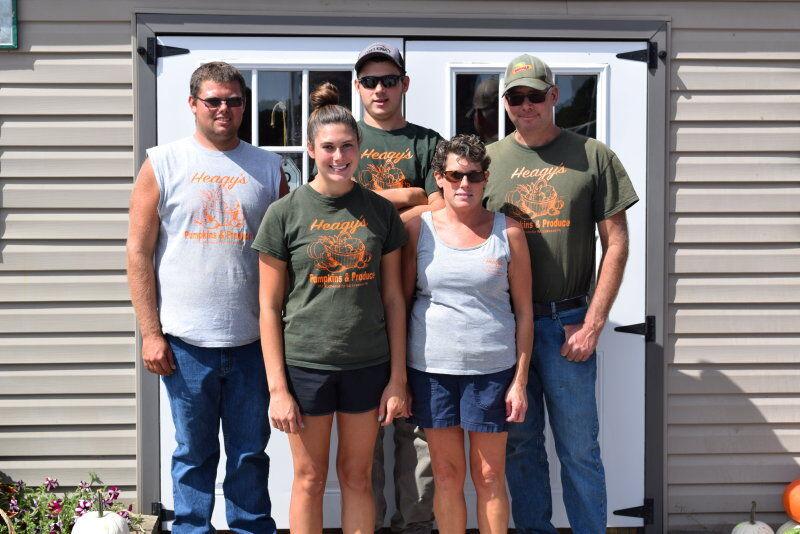 Hostetter also started a Facebook page for the farm to help with advertising.
The farm stand is open year-round, six days a week.
Though offerings are fewer in the winter, the stand sells eggs — fresh from the farm, of course — baked goods made by Eileen, and a few other things.
In addition to selling direct-to-consumer at the farm stand, Heagy sells some produce at auctions in Lebanon and Lancaster, as well as selling mums at some local stores.
The Heagy family also raises beef cattle and grows corn, wheat, soybeans and alfalfa hay.