LEWISBURG, Pa. — For any farm venture to survive and thrive, evolution must be part of its growing process. This is especially true for Dreamcatcher Farm, an 11-acre farm in central Pennsylvania that encompasses pastures, an orchard and vegetable plots.
The farm is owned by Joe and Jackie Detelj, who started with the idea of making a homestead there. Joe recalls the humble beginnings of the farm.
"When we started, there was nothing here — it was corn and soybeans. So every tree, every shrub, everything you see here, we planted," he said. "I was doing other economic development work and doing the farm, which was originally intended to be like a homestead. But then it evolved into a (working) farm."
Throughout the farm's multi-decade history, the couple's emphasis was on sustainability, environmentally friendly practices, and relationships. As the farm grew, nurturing the soil and expanding community connections were two key components of its dynamic success.
Joe Detelj said at first the farm tried to offer an on-farm market stand, but it was unsuccessful. Then he and his wife launched a community-based farm that shared both the risks and the rewards of the farm's production each season. Using a Community Supported Agriculture, or CSA, model, they offered weekly food shares to the community. Their local CSA shareholders pay an up-front fee each spring. In return, the members receive a weekly box of seasonal fresh vegetables, fruits, herbs and flowers for 22 consecutive weeks, spring through fall.
The farm is currently operated by full-time farm manager Leah Bingaman, who has extensive experience in the restaurant industry, sustainable farming practices and education. Bingaman earned a B.A. degree in multi/interdisciplinary studies, which included a certificate in organic farming through Delaware Valley University and the Rodale Institute. She also earned a certificate in Teaching English as a Foreign Language (TEFL), teaching in Indonesia for several years.
"What makes this farm so unique is the intention with which things have been planted," Bingaman said. "Our mission is being able to provide food for everyone that needs it, regardless of demographic or economic standing, but also not having to make cuts to how this is supposed to support the environment. We're meeting (customers) needs, but still building the soil and doing things that are beneficial for the environment and for human health. Even the way that we treat employees … it's synergistic."
For more than 20 years, the farm has focused on its soil health and biology by incorporating organic material into the soil and using methods like minimum tillage and microbial inoculation as an alternative to chemical fertilizers and pesticides.
Education Is Core Component of Farm's Offerings
Early on in their agriculture venture, the Deteljs created a nonprofit organization with an educational mission. It had an advisory board made up of other farmers and educators. Soon thereafter, the farm joined forces with nearby Bucknell University to offer on-the-farm vocational and learning opportunities for college students.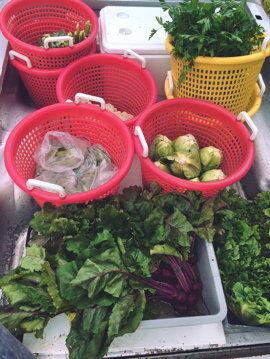 What started out as a three-week summer course for Bucknell students has now blossomed into a robust series of weekly classes, with lectures such as: Frankenfood versus Farm Fresh Food; The Dirty Life: Food, Farming and Ecology; Food, Farming, Ecology and Economics; and Cultivating Change.
Each class features a combination of reading about food and the food industry, along with experiences of organic farming at Dreamcatcher Farm, which is just 4 miles from campus.
Geoff Schneider, presidential professor of economics at Bucknell University and Dreamcatcher Farm board member, said, "Students learn how hard farming is — lots of weeding and digging — but also how rewarding it is, by sampling the food."
He continued, "Classes have been visiting the farm for more than 15 years. The partnership began because Joe has always been passionate about educating people on the importance of sustainable agriculture. He's a gifted educator, so it was a natural partnership."
This semester, there are 40 students working at the farm regularly.
"Bucknell students read the latest studies regarding food and health, which invariably point to the benefits of local, organic agriculture," according to Schneider. "But that is not the same thing as experiencing it yourself. There is nothing quite like picking a fresh tomato, raspberry, asparagus ... or apple, and eating it right there on the farm. The flavor and texture are intensely rewarding, and demonstrate the natural nutritional wisdom of our bodies, where we gravitate towards foods with high quantities of the nutrients we need. In the process, the students learn enough to start their own organic garden at home."
Providing and Promoting Healthy Choices
Continuing to evolve, the farm formed a unique local partnership to promote healthy food. In 2021, Dreamcatcher Farm Educational Outreach entered into a CSA agreement with nearby Evangelical Community Hospital in Lewisburg.
Schneider said that many hospitals and doctors now recognize the importance of healthy food in combating obesity, hypertension, diabetes and other health conditions.
Kendra Aucker, president and CEO of Evangelical Community Hospital, agrees.
"Evangelical serves as a financial sponsor of the farm, helping to offset operational expenses and allowing them to focus on their passion for growing," she said. "This sponsorship strategically aims at impacting and improving community health outcomes and food insecurity issues in the Evangelical service area."
She continued: "For Evangelical, the collaboration with Dreamcatcher is a way to achieve the goal of providing healthy, local food for employees and patients of Evangelical as well as the community. Through that, Evangelical invests in the health of community and impacts people's ability to take advantage of fresh fruits and vegetables. Access to healthy and wholesome foods like fruits and vegetables is a cornerstone to good health."
Aucker explained the nuts and bolts of their internal CSA process.
"Forty-five shares are sold to employees through an employee CSA program. The shares are sold at a fair market value to the employees who express an interest, and are chosen in a lottery format. The shares are available for pickup at a location within the hospital for employees to take with them each Wednesday during the 20-week growing season, June to October."
Funds raised from the CSA shares are viewed as a return investment in the health of the local community.
"Revenues generated by the share sales to employees are reserved for future investment in food access, food education and food security projects," Aucker said. "The remaining five shares are donated weekly to the Union County Food Hub, located at The Miller Center. The food hub distributes these shares and other locally sourced produce that they receive through donation and through purchase at a weekly pop-up produce stand. At this weekly produce stand, members from the community are able to shop for produce, free of charge. The hospital's sponsorship of Dreamcatcher Farm (also) helps offset operational expenses such as the farm manager salary, equipment, seeds and other supplies."
Looking to the future, Aucker hopes to expand the program within the hospital to improve upon hospital cafeteria offerings for patients.
"As a community hospital, our greatest desire is to make fresh food options available to our patients, employees and the community," she said. "The hospital continues to work at expansion of the original plan, and it is hoped the next phase will include passing the benefits down to our patients, guests and employees by supplementing the hospital's Nutritional Services' fresh food offerings with locally produced items. There are food distribution regulatory standards that will have to be met from both the farm and hospital-side to accomplish the dream, but the work is being done and our sights are set on success."
Aucker has seen the program grow in unexpected ways. In the spring of 2022, funds from employee share purchases were used to offset costs associated with a farm-to-school program within the Shikellamy School District in Northumberland County.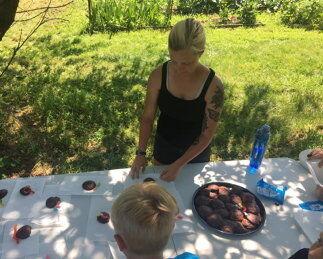 Through the collaboration with Shikellamy, Bingaman met with 225 fifth-graders to teach them about the myriad parts of a farm, the differences between organic and conventional farming, what is grown on a produce farm, and to compare processed foods with whole foods. The students also learned about the growth cycle of specific fruits and vegetables, what plants need to grow, and methods of harvest. Finally, the students studied lettuce crops and had an opportunity to visit the farm to plant and harvest their own lettuce.
Aucker said that more of this type of educational programming within local schools is being planned for the 2022-2023 school year.
"A 'dreamcatcher' is a (Native American concept). It keeps bad things out and keeps good things in," Joe Detelj said. "We're trying to cultivate good, cultivate community and personal relationships. I'm at the stage of my life that I'm not profit-driven."
Detelj encourages people to have a dream and follow it with conviction, because without a vision, he said, a dream can't come true.
For more details, click here.