The farm sells vegetables and meat, but at McEnroe Organic Farms, food production begins with compost.
Using food scraps from the farm's market and local businesses, the farm aspires to run a closed-loop operation. The goal is to leave the world a better place, said Matthew Hamm, compost and soils manager at the farm in Millerton, New York.
That objective has stood since 1987, when farmer Ray McEnroe went into partnership with Douglas Durst, owner of a neighboring compost facility. The two businesses complemented each other, with unsold plant material being turned into a soil amendment to produce the next crop.
The composting is done on an 8-acre outdoor pad lined on one side with leachate control. Fleece coverings help maintain the moisture content needed for the composting bacteria to thrive.
Once the compost reaches between 132 and 155 degrees F, employees turn the windrows regularly to ensure pathogen reduction.
"Because we compost food, we monitor temperatures daily," Hamm said. "We're trying to avoid food pathogens."
After 12 weeks, the material is moved to active storage, where it breaks down until it is at the right particle size and can be screened.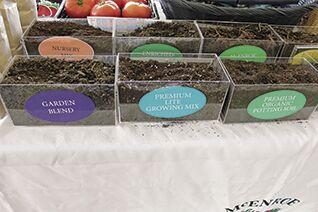 "The timeframe varies based on the time of year, ambient temperature and moisture," Hamm said. "It can be an additional four weeks."
The farm uses the finished compost to feed its vegetable crops, which include tomatoes, lettuces, cucumbers and herbs and are mostly grown in greenhouses.
The farm also sells several blends of compost to garden centers, hardware stores and distributors along the East Coast.
The state allows the farm to recycle up to 15,000 cubic yards and produce a total of 54,000 cubic yards annually. Hamm said that the farm is at half capacity currently.
"We have to make sure the more we take in, the more we stay on top of the rules and regulations," Hamm said.
The farm employs 30 to 40 people to manage the compost, crops, farm market and livestock operation, which raises poultry, pigs, beef cattle and sheep.
"The really nice part of being so diverse is it gives you the opportunity to have different areas working at different times," Hamm said. "During the off season of the market, the compost may be booming, or the vegetables when the compost isn't as busy."
Hamm said the farm demonstrates that closed-loop farming, used recycled inputs from the farm, can be successful.
"That kind of system can be sustainable and be beneficial to the environment," Hamm said. "It's important that we continue our educational efforts to allow customers to see what we do and see it can be a way of life that can be beneficial to the environment."