J.T. Albright and Karl Shlagel have a lot in common. Both are Maryland farmers who farm with their fathers and younger brothers, and both have diversified farms. They both sell products that they sell wholesale and retail. And, both Albright and Shlagel have expanded their operations to raise one product that not a lot of farmers do: Thanksgiving turkeys.
"The birds are sensitive," Albright said. "If it rains, you worry about them, if it gets too hot, you worry about them."
Shlagel adds, "Even once they're harvested, you worry about them! I don't sleep the night between processing and customer pickup. I'm up constantly checking the temperature of the refrigerated truck to make sure they're good."
J.T. Albright farms with his father, Tom Albright, as well as his younger brother Jesse, at Albright Farms in Baltimore County, Maryland
Karl Shlagel farms with his father, Russ Shlagel, and younger brothers, Jake and Luke Shlagel, in Charles County, Maryland.
There is one notable difference when it comes to their experience with Thanksgiving turkeys, however. The Shlagels are raising about 250 birds, while the Albrights are raising around 7,000.
A Smaller Operation
"We started doing turkeys in 2017 because customers were asking for them," Karl Shlagel said. "We saw it as another opportunity, to offer them turkeys for their Thanksgiving table that were raised ethically and responsibly, and harvested locally. The first year, we started with just 30 birds, and now we have 250."
Shlagel buys his birds as poults (about 6 to 8 weeks old) right after the Labor Day weekend, and sources them from a local Plain Sect grower just a few miles south of the Shlagel's farm.
"We raise the Broad-Breasted Bronze breed, which has the look of a heritage breed bird, but still the broader breast that American consumers are used to," Shlagel said. "When we got into raising the birds a few years ago, we had the added benefit that my Uncle Steve had previously raised some turkeys back in the '70s and '80s. He got out of it when he got older, but all the pens and infrastructure were still there for us to update and use when we decided to raise them again."
Shlagel raises his turkeys in open-air pens on pasture, with a long shed for shelter.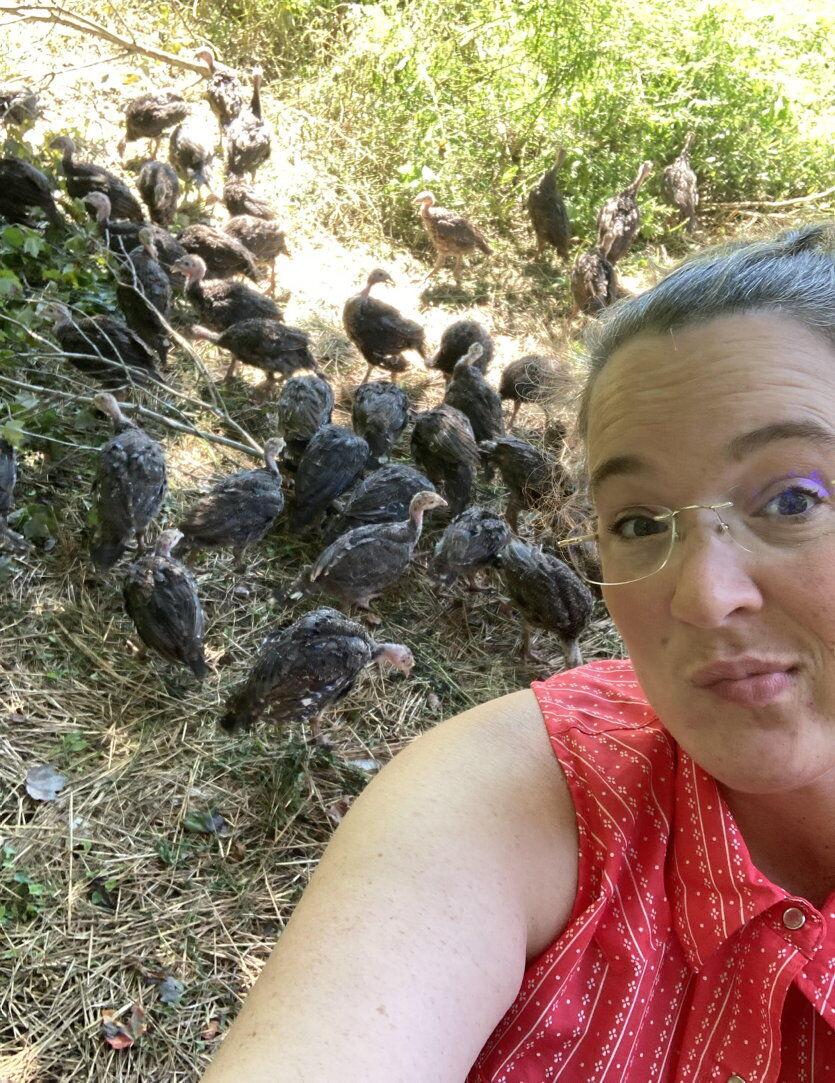 "We feed the birds an all-local meat-bird mix that we get from the Stoltzfus Feed Mill down here in Amish country," he said, "and they also get free-choice watermelons in the summer and pumpkins in October, which is a great way for us to dispose of unsold produce. And, the birds love it."
After years of doing a phone, paper and pencil system for managing orders, the Shlagels changed this year to online ordering.
"Every one of our birds (is) a pre-order sale, we start pre-orders on the first of October. Folks leave a $25 nonrefundable credit card deposit," he said. "Some customers have bought birds from us each year since we started. They can also pre-order our bulk greens, veggies, and sweet potatoes to go with the bird — almost the whole Thanksgiving meal."
The Shlagels do on-farm processing.
"Each one of our birds has passed through my hands on harvest day," Shlagel said. "Our birds are processed and sold fresh, never frozen. We harvest them, chill them down, refrigerate them and sell them all within 48 hours. Customers have no need to defrost their turkey, which is part of the value of buying a local bird."
Shlagel Farms does turkey pickups at four locations, but most of the birds are picked up by customers on what Shlagel calls "Turkey Tuesday" at the farm.
"On the Tuesday before Thanksgiving, we have our big pickup, it's a whole event that requires all hands on deck. Customers come into the farm store and meet the turkey greeter, who calls their order to the turkey grabber, who grabs their bird from the refrigerated truck and brings it to the register for them. At the register, all our other produce is laid out in case they want to grab potatoes, sweet potatoes, onions or greens to go with their meal," Shlagel said. "We also offer complimentary hot cider and hot chocolate, and homemade sweet-potato muffins to the customers. And, every year we give the turkeys out in a custom canvas reusable tote bag that says 'Shagel's Turkeys.' They come in different colors and people collect them. It's a great day, it's a lot of fun."
'Organized Chaos' With 7,000 Turkeys
While similar in a lot of ways to "turkey day" at the Shlagels', "turkey week" at the Albright Farm has some differences.
"We're moving a lot of birds, around 7,000 of them, so when we're harvesting, I've got a crew of at least 50 people on the line," J.T. Albright said.
The Albrights started raising Thanksgiving turkeys 16 years ago. At that point it was their father, Tom, who decided to diversify into this part of the agricultural industry.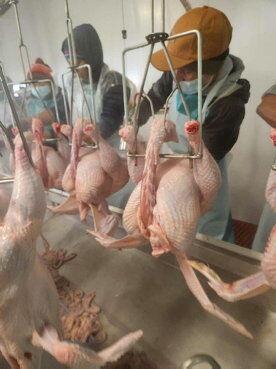 "However, when J.T. and I came back to the farm in 2013," says J.T.'s brother Jesse, "we decided to really expand the size of the flock."
The turkeys at the Albright farm are Broad Breasted Whites. They are raised in pens on pasture with free access to sunlight and fresh air, with a run-in shed for shelter and protection from the elements.
"We get the birds as chicks though, right after they hatch, so when they come over from the hatchery, we do start them in the brooder barn," J.T. said. "Once they're a few weeks old, they get moved to the pasture pens."
The Albrights grow and hand-mix their own feed, which is corn- and soybean-based, with an all-natural mineral ration added in.
The Albrights sell their turkeys directly to customers, and to wholesalers as well.
"Our wholesale actually makes up about 70% of the turkey sales," Jesse said. "Those are restaurants, local stores, and other area farmers who sell them at their farm stores."
Of the 30% that are direct retail sales, the Albrights will take pre-orders right up until a few days before Thanksgiving, either online or via phone. They also have a big demand for parts, such as turkey breasts, thighs, legs, wings and necks. They do a brisk business in "parts boxes" as well. "Those are great for smaller families or elderly folks who don't want to have to worry about cooking a whole big bird," J.T. said.
Like the Shlagels, the Albrights also offer their own produce — greens, onions, potatoes, sweet potatoes, and other items — to go with the Thanksgiving meal. They find that customers really appreciate being able to source as much as they can from a local farmer.
The Albrights sell their birds fresh, not frozen. Because their operation has grown so large, in 2018 they built a brand-new processing facility to do the on-farm harvest.
"We'll have 50 people or more on the slaughter and processing line," J.T. said. "We can do about 350-400 birds per hour. We are extremely careful about cleanliness and sanitation. I stay on the floor with the processors and Jesse oversees the larger operation, and the flow from start to finish."
The Albrights sell their birds in clear bags with the Albright label, along with some recommended cooking instructions for the customer.
"Harvest and pickup week is basically organized chaos," laughed Jesse. "It's the most stressful time of the entire farm year, but I live for it. I love it. Being able to do this for our customers, and being able to help give them a happy holiday, that's an impact that I love."