HARRINGTON, Del. — Delmarva poultry farmers should remain vigilant against avian influenza as the region approaches a high-risk time.
Delaware and eastern Maryland had outbreaks on seven farms last February and March, so it's possible that the disease could show up at the same time this year, said Karen Lopez, Delaware's state veterinarian.
Lopez was part of a Delaware Ag Week program on avian influenza Monday at the State Fairgrounds.
Avian influenza tends to follow a seasonal pattern, with peaks in the spring and fall during the migration of disease-carrying waterfowl, and a lull in the summer when the weather is hard on the virus.
Delmarva was on the leading edge of the curve last spring, one of the first regions hit in an outbreak that is now nationwide and entering its second year.
Delmarva has not seen any outbreaks since last spring, when it lost 3.2 million birds, though the peninsula is still at risk.
The current virulent strain has caused infections in the U.S. every month since last February — a contrast with the last major outbreak in 2015, which ended when hot weather came in.
Most recent cases have been in the West, but Pennsylvania and Virginia have had infected farms, and a breeder flock in western Maryland was infected in November.
"We are probably going to see cases again, based on what we saw last year," Lopez said.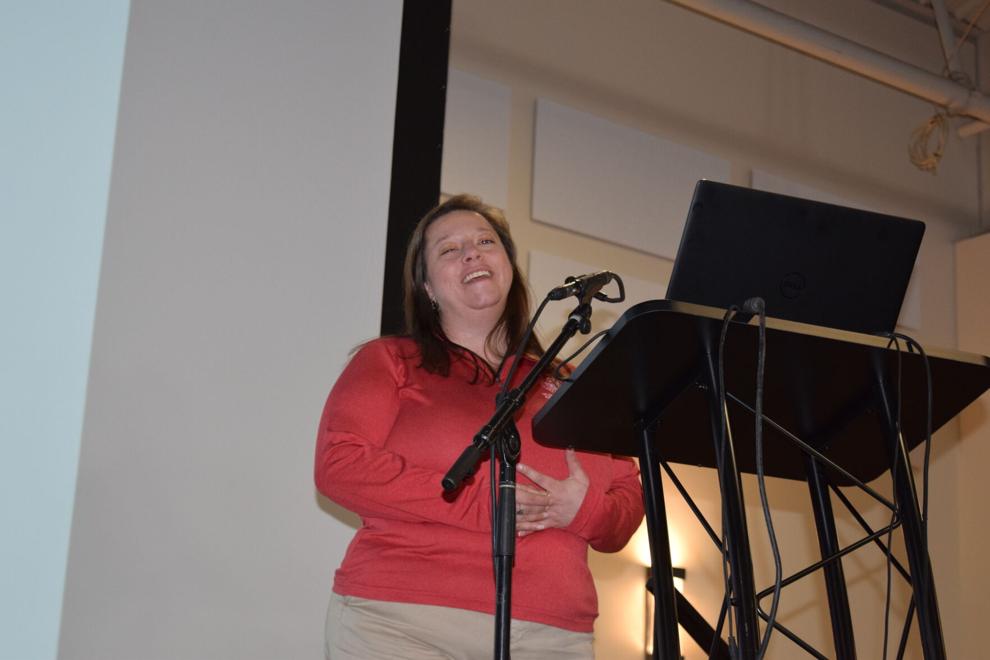 Shoe Sense
Still, the experiences of 2022 may have sharpened Delmarva's ability to handle the disease.
It's now clear, for example, that farmers should have dedicated shoes for each poultry house — shoes that never leave the building and therefore never risk stepping in wild bird droppings. For houses that do not have anterooms, farmers can put the shoes in a plastic container with a lid.
"We thought we were biosecure if we had dedicated footwear for the farm. We can't think like that anymore," said Georgie Cartanza, a University of Delaware Extension poultry agent.
Disposable boot covers are another option, but the same principle applies. If a technician slips on booties when entering the house, but then wears them on an errand back to the truck, that defeats the purpose of having house-only shoes.
Foot baths can improve biosecurity, but Cartanza said they are useful only for disinfection, or killing the microbes on shoes. Foot baths aren't for cleaning, the step before disinfecting when the gunk is removed from the boots. If there's manure stuck to the treads, the disinfectant can't do its job.
Cartanza did an experiment with a pair of shoes she wore in her own poultry house and found that cleaning all the litter off could take close to 15 minutes.
Farmers might be able to reduce that time by choosing footwear with easy-to-clean surfaces and minimal tread, but changing shoes will still likely be the easier option.
Dedicated footwear or disposable boots may seem annoyingly expensive. But Cartanza said reasonably priced shoes will do the job, and the cost of an outbreak is far more than the cost of footwear.
"My question is, what can you afford to lose?" she said.
To deter waterfowl from visiting farms, the Delmarva Chicken Association has received grant funding to help farmers plant vegetation in front of fans and make pollinator strips around stormwater ponds.
The program, which covers 90% of the cost, is only available in Delaware. Executive Director Holly Porter said the association is working to expand the concept to Maryland and Virginia.
The group is also lobbying for a crop insurance-like program for chicken growers to be included in the 2023 Farm Bill. This idea was stalled for years because growers don't own the birds, but Porter said the Coronavirus Food Assistance Program might have provided an alternative model. The 2020-2021 program compensated poultry farmers for loss of income rather than loss of birds.
Porter has asked the three Delmarva states to support farmers who lost income because they could not get new flocks during an outbreak at a nearby farm. Neighboring Pennsylvania allocated $25 million for such farms and for support businesses that lost income due to the outbreak.
Communication
The Delmarva states and poultry industry are also working to ensure that information about outbreaks is communicated as quickly as possible — though that might not be as fast as farmers might like.
Samples from birds must test positive at a state lab, then a USDA lab, before a public announcement is made. This process ensures the U.S. follows protocols for notifying trading partners of the disease, Porter said.
Delmarva Chicken Association emails updates to its list of growers and allied industry as soon as it's able. But rumors sometimes spread in the meantime.
"I think at one point I heard there were 10 farms impacted and thousands of birds. And I just sat there and scratched my head because I had no idea how that would have ever gotten started," Porter said.
Farmers who hear rumors and are concerned that they may be in a control area should contact their flock adviser, she said.
Like other states, Delaware does not disclose the identities of infected farms. The state wants to protect the farm's privacy and discourage bad actors from visiting the farm, said Chris Brosch, administrator of the state Nutrient Management Program.
For their part, affected growers recognized that their outbreaks were preventing their neighbors from getting new flocks, so "they tried to do everything as quickly as they could to expedite that process," Cartanza said.
That's not to say recovery was easy. Farmers could feel isolated and overwhelmed. They had to kill and dispose of the birds they were caring for. They were buried in paperwork. And to avoid the spread of disease, they couldn't get help with the cleanup from family and friends who raised poultry themselves.
Fortunately, affected farmers got plenty of assistance from their poultry companies, and the state and federal government.
Even if farmers can't give in-person help to a friend with a depopulated flock, they can still give the person a call if they think they are struggling.
"Let them know that you still care," said Jonathan Moyle, a University of Maryland poultry specialist.