MADISON, Conn. — Most Americans will put a Broad Breasted White turkey on their Thanksgiving dinner table later this month.
Stephanie Lesnik has tried raising those snowy-plumed behemoths, the breed used in large-scale commercial turkey farming.
But for her small operation, she's found less common breeds work better.
"The heritage bird isn't for everyone," said Lesnik, who operates Field House Farm in south-central Connecticut, a few miles from Long Island Sound.
Lesnik, a school nurse during the day and a farmer on nights and weekends, raises Narragansett and Bourbon Red turkeys.
In 2010, she and her physician husband, Greg — in the midst of raising four children — decided to move the family to the 10-acre site, both to raise animals and to host educational events.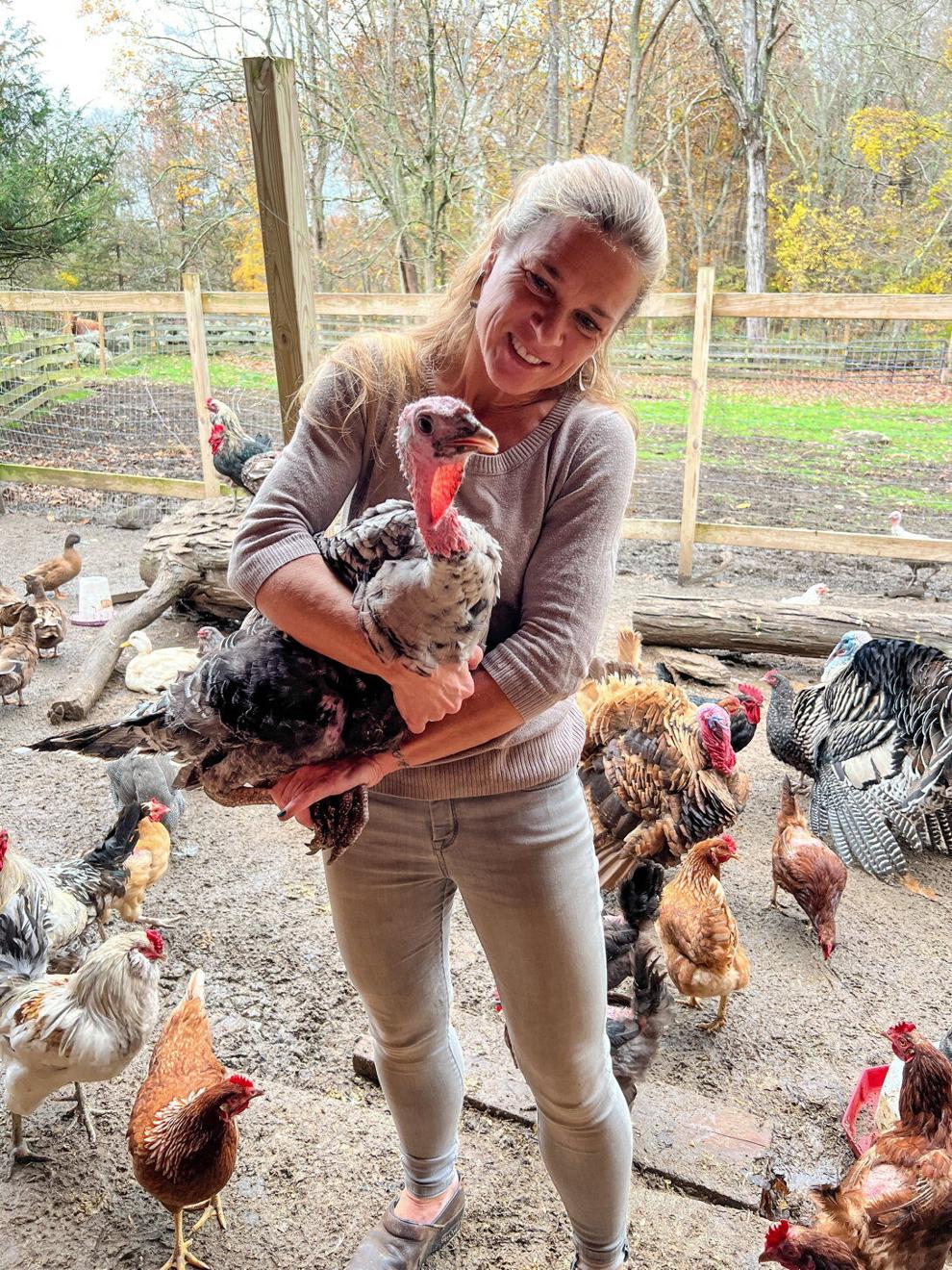 While updating and maintaining a nearly 200-year-old home and its outbuildings, Lesnik stocked the farm with a donkey, chickens, goats, and a small flock of turkeys for the family to eat and sell.
"When we started," she said, "I thought, how hard could it be to raise a few white turkeys?"
Lesnik said she spent her first year just trying to keep the birds from running away.
"We'd come home from work and find the turkeys all over the neighborhood, or we'd get a call from neighbors who might have several turkeys roaming around their driveway," Lesnik said.
Before her second year raising turkeys, Lesnik did some research and found a number of heritage turkey breeds that were native to her area of New England, and she thought they would be easier to raise and have better flavor than the conventional birds.
A decade later, she has stuck with the heritage breeds, which have more colorful feathers and are less girthy than their conventional cousins.
"We are doing it because we really enjoy it," Lesnik said. "This isn't a money-making operation but more like breakeven hobby at best."
The nearly three dozen turkeys forage outside daily but are also fed grain in a barn. The birds are easy keepers and breed yearly, providing offspring that grow to maturity — 13 to 20 pounds — in 28 weeks.
The flock's natural breeding contrasts with artificial insemination, which is widely used in commercial turkeys because they are too bulky to mate effectively.
Still, natural breeding can limit a producer's ability to select for desirable traits.
"When breeding your own small flock of turkeys, you get what you get, and this year that has meant smaller female birds for us," Lesnik said.
An Holiday Choice Outside the Norm
Lesnik has also learned on the job when cooking her turkeys.
The first year on the farm, the Lesniks had planned a large, colonial-style Thanksgiving celebration and had hoped to roast one of her Broad Breasted Whites in her home's large, open hearth.
That didn't happen.
"My turkey breeder colleagues told me it would take about 36 hours to fully cook a 30-plus-pound turkey over a wood fire," Lesnik said.
She ended up baking the turkey in the oven and cooked Cornish game hens on the hearth.
Since then, Lesnik has built a loyal group of extended family, friends and regular customers, some who drive in from surrounding states, to purchase a fresh, never frozen, turkey for their Thanksgiving or Christmas table.
They will be among the minority of Americans diverging from the supermarket standard bird for the holidays.
A heritage turkey comes at a price — Lesnik charges $12.50 a pound — but also provides a different eating experience than a conventional bird.
"The number of families who eat a heritage turkey is pretty small," said Gregory Martin, a Penn State Extension poultry educator. "I think it really comes down to a preference for dark meat and a turkey with large legs as opposed to the broad-breasted varieties with lots of white meat that have dominated the market in the last several decades."
The American Poultry Association recognizes eight heritage turkey breeds — Beltsville Small White, Black, Bourbon Red, Bronze, Narragansett, Royal Palm, Slate and White Holland — though there are others.
Watch the video below for more on Field House Farm's heritage turkeys.