Wyatt Thorn has grown things all his life, even as a youngster on his parents' crop farm in Clyde, New York. While career searching, Thorn considered farming but needed health insurance, so he began working for the New York Department of Transportation. Launching Hello Gourdgeous Farms has brought him back to his roots — literally.
Coming back to agriculture began indirectly with his mother, Amy Thorn. She grows gourds from which she makes rustic birdhouses. She asked for her son's help selling them, and so he started a stand at a farmers market in Lyons, New York.
Soon, Thorn began growing gourds and other items to sell as well. The business grew as friends suggested new items, such as pumpkins, to fill the stand.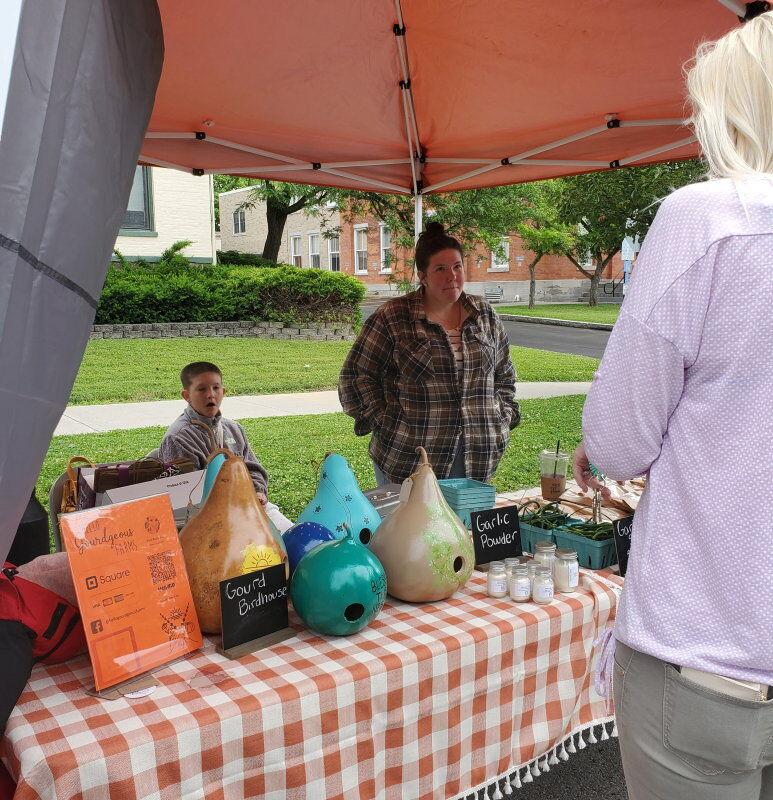 His initial investment wasn't large — just seed and fertilizer. His parents had owned the land for 20-some years, and Thorn borrowed their equipment, including their gardening tractor.
That was three years ago. Now, he grows 5 acres of pumpkins, garlic, cut flowers, herbs, gourds and succulents on his parents' property.
Not all of his endeavors were successful. Sun-loving succulents are tough to grow in a climate like New York, which is often overcast and has a short growing season. Although succulents were popular with customers, Thorn said he isn't going to continue to grow and sell them in the future.
He added, "They don't grow like our research said they would. We keep them indoors, but unless I move them around the house all day, it won't work."
He and his partner, Poni Buckland, also bake cookies and brownies to sell at the Lyons Farmers' Market as well as wholesale to a local farm. They also sell the pumpkins wholesale.
In addition to his mother's tutelage, Thorn has learned a lot about growing through research and experience.
"You're constantly a student to it," Thorn said. "There's always something I don't know."
He decides what to grow by paying attention to customers' comments and suggestions and by staying on top of popular trends. Following gardening groups on Facebook and reading seed catalogs has helped him and Buckland tap into what they think customers will like.
"They have some cool ideas in there," he said. "Sometimes it pays off; sometimes it doesn't."
Buckland helps with branding and marketing, as she and Thorn develop ideas they both like. Thorn's parents, Ron and Amy, help with starting things in the greenhouse.
"They're indispensable; I couldn't do it without them," Thorn said.
Growing plants is a fickle endeavor at times. Any amount of research cannot compare to learning as you grow.
"This year, I have attempted seedless watermelons," he said. "I hope to fine-tune it next season. I had success with sweet corn and hope to do better next year.
"I started growing corn because I don't like it out of the grocery store. That's how I started a lot of things, like peppers. If I can sell any extra of it at the market, that's how I can know I should grow more of it."
This season, he found smut fungus affecting some of his corn, diminishing his harvest.
Except for the pumpkins, the team sells nearly all of their items at the farmers market. Sometimes, they receive custom orders for cut flowers, and then they will sell off the farm; however, the farm is on a seldom-traveled road, making the team suspect that it wouldn't be profitable to try to sell at a farmstand on property.
If they have leftover cut flowers from the farmers market, they partner with a local farmstand to sell there.
Thorn and Buckland are considering selling their birdhouses through some local stores.
"Once we get that figured out, we could send them all over the place," Thorn said.
His advice for anyone interested in growing and selling at farmers markets is to remain patient.
"You have to know there will be good days and bad days in farming and especially at a farmers market," he said. "You have to take the good with the bad. There's no get-rich-quick scheme if you want to keep doing it."
He hopes to become more organized before his next growing season, which includes improving his field layout.
He thinks if he maps out his acres better, he could plant more and have a better yield. While he has used some nearby farmland in the past, he feels he needs to focus on his parents' farm, not other land.
Another goal is to double the number of garlic cloves planted for this season, going from 4,000 to 8,000 cloves.
"It's a very good seller, and I enjoy growing it," Thorn said. "It's a lot of hand work, but it's a nice way to spend the time."
In the Northeast, garlic is better planted in the fall than in the spring, which means that Thorn can use what is commonly a down time to prepare for next year's harvest.