HARRINGTON, Del. — Could disused chicken houses be used to grow strawberries?
"We're just starting," said Gordon Johnson, a University of Delaware Extension fruit and vegetable specialist. "Come back in two months and we should be able to tell you whether it's working or not."
Johnson said there are an estimated 2,400 old or abandoned houses on Delmarva, meaning there's plenty of opportunity to repurpose the sometimes-decaying structures.
Johnson spoke at Delaware Ag Week on Jan. 9 at the State Fairgrounds.
Johnson is working with a farm in Frankford to see how well strawberries grow indoors — a way to produce local fruit in the winter.
If indoor berries can produce enough, they might turn a profit despite high start-up costs and high heating bills.
Jennifer Reed of Pure Starts LLC said the company has grown cherry tomatoes, peppers, eggplants, hemp and Campari tomatoes in a 30- by 40-foot pole building and a converted poultry house.
"You can grow anything in there. The ventilation is perfect," she said.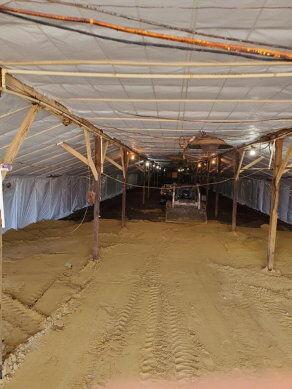 Refitting and sanitizing the houses won't be cheap — roughly $70,000 for a 40- by 550-foot house, Johnson said.
Old equipment must be removed. The top layer of soil should be removed and replaced to avoid salinity issues, and everything needs to be disinfected to kill any residual salmonella.
The roof can't typically be removed because that would weaken the house's structural integrity too much, he said.
The biggest investment is in grow lights. On the plus side, poultry house heaters can be used and seem to present no problems, Johnson said.
Johnson said other crops already being grown under similar conditions include baby ginger (grown at the university's Carvel Research Farm last year), blue-green algae, medical marijuana and greens.
If yields are high enough to cover the heating cost, indoor growing could be a hit in the winter when produce prices are high and fieldgrown local berries aren't available. "You can't compete in the summer with a $7,000 electric bill," Reed said.
Indoor growing could also simplify pest control.
"I think it's a few years away from being perfected," Reed said. "But you can yield enough product and you can make a profit."
The presentation on indoor growing was part of an afternoon of presentations hosted by the Fruit and Vegetable Growers Association of Delaware.
Kalpalatha Melmaiee, a plant breeder at Delaware State University, spoke about ways to limit heat stress in blueberries and control gray mold in strawberries.
Blueberry results are still preliminary, but her team has been gathering different varieties for research, she said.
The strawberry research has found some potential remedies to limit gray mold, at least in some conditions. Foliar applications of potassium silicate, usually used in grain crops, appears to slow mold growth in high tunnel and lab settings, she said. Andrew Ristvey, a University of Maryland Extension horticulture specialist, spoke about alternative crops like aronia, ground cherries and haskap.
He urged farmers to start small to see what works on their farms. In some cases, new crops can mean new pests.
"Aronia was fabled to have no pests. It was bulletproof until I started to grow it," he laughed.
He didn't downplay the potential, but urged caution. Aronia, an astringent fruit sometimes called chokeberry, has gained favor as a kind of superfood, much like blueberries. It won't solve all problems, but in combination with a good diet and exercise, it can be beneficial, Ristvey said.
Besides, it makes good dessert wine, jam and smoothies.
"There's a lot of great uses," he said. "But I've been doing this for about 17 years and I haven't seen Delmarva switch over from corn to aronia yet."
The region may never warm to haskaps, aka honeyberries, which Ristvey doubts are a good fit for the growing conditions.
Ground cherries, though, are easy to grow in the Mid-Atlantic.
The berries are ready for harvest in June if planted in a high tunnel by mid-March.
The main pest is the three-lined potato beetle. Though there are insecticides labeled for use in ground cherries, none are labeled for this potato beetle, Ristvey said.