WOODBINE, Md. — Over 60 growers came to Larriland Farms in Howard County to see a different type of operation at the June 7 Mid-Atlantic Fruit Meeting.
"We have quite a mixture of customers and we are totally pick-your-own fruits and berries," said Lynn Moore, owner of Larriland Farms.
Pick-your-own farms are different from most orchards, which sell wholesale to a packer.
"The farm started with a half acre of strawberries in 1972 and we have been at it for over 40 years," Moore said.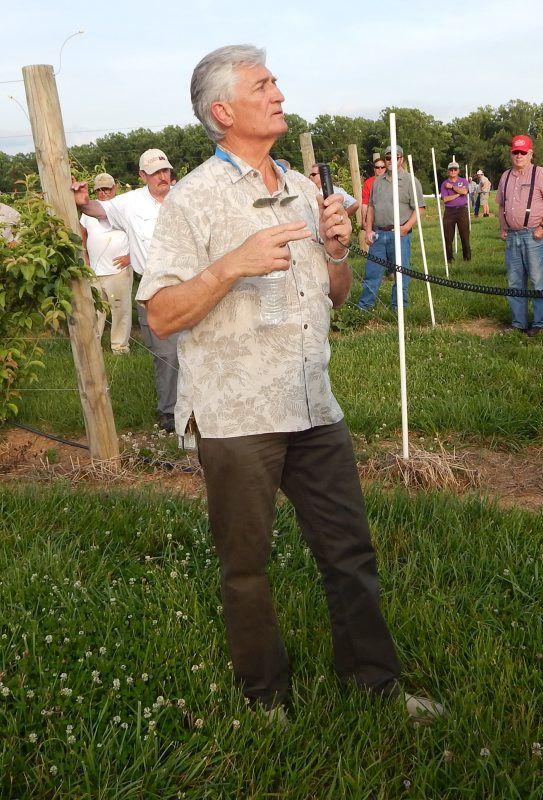 Now the farm consists of 425 acres. They grow apples, peaches, pears, cherries, grapes, blueberries, blackberreis, raspberries, stawberries and pumpkins.
The meeting was hosted by Daniel Weber, a Penn State Extension agent in Adams County, Pennsylvania. Experts from the University of Maryland and the USDA were also on hand at the meeting.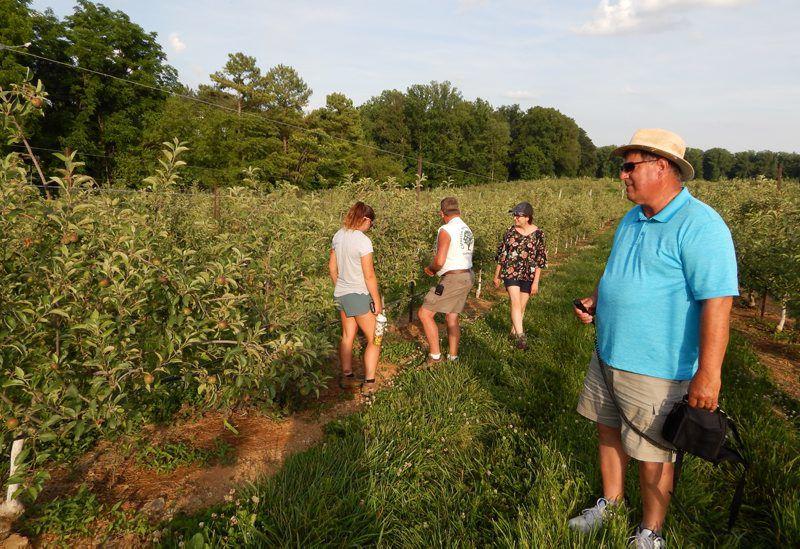 "In Adams County they grow a handful of crops that are sold directly to processors or packers, while here they sell pick-your-own and the goals are different," Weber said.
Penn State hosts nine different orchard meetings, but this meeting was open to producers from Maryland, New Jersey, Pennsylvania and West Virginia.
"We try to visit an orchard or pick-your-own operation like this to focus outside of Pennsylvania and give people an idea of what is happening elsewhere, as well as give people a chance to discuss their issues which are different," Weber said. "This is a very popular event where people can socialize and learn the latest things going on."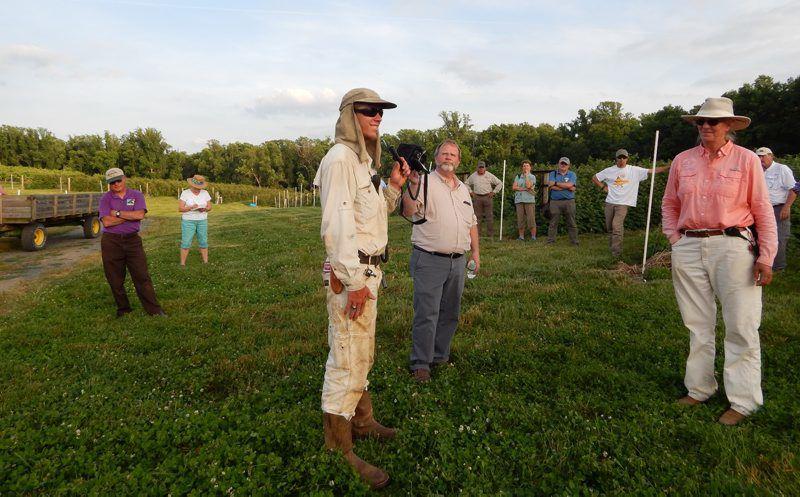 As a family farm, Larriland is worked by the Moore family including Moore, her husband Merle Ricketts, her brothers Guy and Fenby, Fenby's son Jake, Moore's step daughter Morgan, and sister Nancy.
Farm wagons carried the growers on the tour and the first stop was the pick-your-own apples.
"I was worried that the orchard would grow too large as our average customer picker is 5-foot-6-inches tall, and the rest are 4-foot, as they are children," Moore said. "We runted out some trees."
"Part of the solution to runting out is defruiting the tree which is counterproductive if you are a fruit grower," said Jim Schupp, professor of pomology at the Penn State Fruit Research and Extension Center in Biglerville, Pennsylvania. "These trees are perfectly healthy trees and a couple of years of defruiting would help them out."
Moore grows multiple types of apples, including daybreak guji, crimson crisps, autumn crisp, and jona gold.
The next stop was the Asian pear orchard.
"Dr. Chris Walsh has been pushing Asian Pears for years and we have been ignoring him, but we finally went ahead and put in a block and we have been bombarded with demand," Moore said.
"They are so precocious that these things will be in bloom the first year," said Walsh, of the University of Maryland College of Agriculture and Natural Resources. "They are easy to prune as the wood breaks right off like peach."
Larriland Farms grows itago and shinko varieties of Asian pears.
"I am looking forward to getting a nice crop and happy customers," Moore said.
The tour also looked at cherries, grapes, blackberries, raspberries, and blueberries.
"We sell a lot of fruit and it took a long, long time to build the blackberry business," Moore explained. "Raspberries seem to be gold, as everybody loves them. The raspberries, blackberries and table grapes are easy to grow but we are struggling with the blueberries and we have replanted the center section three times."
Moore said the farm brought in a soil scientist from the Natural Resources Conservation Service to take soil cores from all over the farm in order to find an area with a low enough clay content to grow the blueberries.
"A slight difference in soil content makes a huge difference in success," she said.
The tour also looked at the farm's strawberry operation.
"Our strawberries have done very well and the business keeps growing," Moore said. "We had a fabulous crop this year."
Fenby Moore's son, Jake, is running the farm's irrigation system.
"We have a sophisticated system with isolation valves so we can isolate most any area and still run the rest of the system," Jake Moore explained. "We have 8 acres of water, usually 4- to 6-feet deep, to draw from and we emptied it two times in the last 10 years, although since we switched over to trickle and haven't done that yet. The only thing we overhead irrigate is strawberries.
"With trickle comes it own complications as we have so many different types of diameter tubing we need different style regulators. When we fertigate some are all on the same system so you have to irrigate with different sizes and different pressures which is tricky."
The irrigation pond holds over 12 million gallons of water.
Larriland Farms is open for six months of the year, starting with strawberry season and ending with apples and pumpkins.
"What we do will work out because the first requirement of being a farmer is optimism," Moore said. "We have a fine farm because it's going to be fine."