It's 3 p.m. on a Friday afternoon in October, and while other people are unwinding for the upcoming weekend, Evie Goff is headed to Mountain View Junior-Senior High School in Kingsley, Pennsylvania, to deliver pint bottles of chocolate milk to the cross-country team. Goff's mission on this particular day is related to her longtime position as chairperson of the Dairy Princess and Promotion Committee for Susquehanna County, Pennsylvania.
Dairy has been an important part of this retired dairy farmer's life. Goff was born into a dairying family that had relocated from New England to Susquehanna County, in northern Pennsylvania, two generations before she was born. She then married into another multi-generational dairy-farming family when she wed William Goff.
Evie Goff became involved with her county's Dairy Promotion Committee 21 years ago when the Goffs' granddaughter was on the dairy princess team. These days, her 12-year-old granddaughter and 8-year-old great-granddaughter are princess team participants.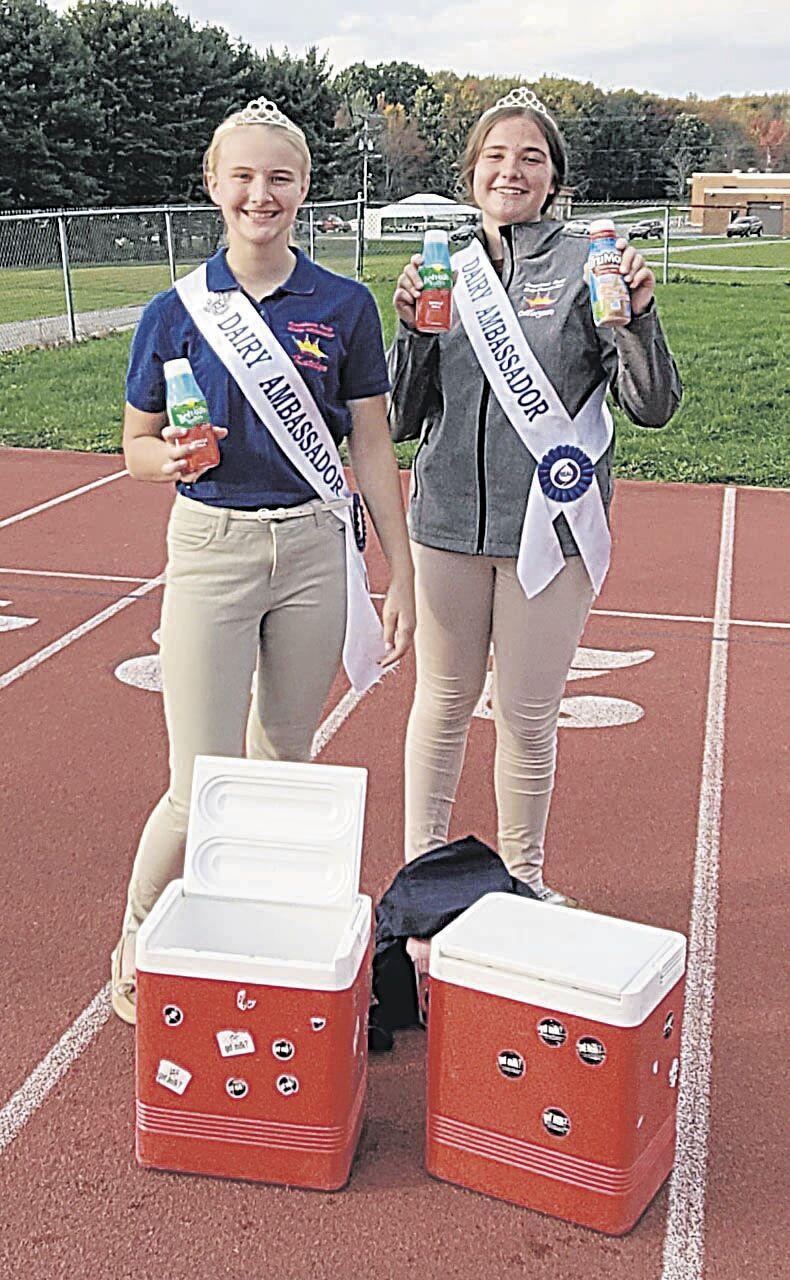 The Susquehanna dairy princess team — made up of local girls who start out as dairy maids while in elementary school and progress to becoming dairy ambassadors when they reach seventh grade — plays a primary role in the promotion committee's outreach activities. One young woman, who is at least 16 years old, is then selected to reign as the Susquehanna County dairy princess at a pageant typically held at the Montrose Episcopal Church on the last Friday in May.
The chocolate milk that Goff delivered for the cross-country workout came from nearby Mountainside Dairy for a dairy promotion requested by Mountain View school's cross-country coach. On a warm Friday afternoon, the ice-cold chocolate milk was especially welcomed, and came with an informative presentation on milk's nutritional benefits, provided by Susquehanna dairy royalty Katelyn Farley and Morgan Tweed.
Farley and Tweed are two of the 10 young women currently participating in the county's dairy team promotions. Goff said that each princess team member must have some connection to the dairy industry, "even if it's just that they enjoy drinking milk," and each needs to become a knowledgeable dairy representative. That said, all but one of the current dairy princess team own dairy animals or other livestock.
This year, for the first time in Goff's tenure, Susquehanna County is without a dairy princess, due to the minimum age requirement. Fortunately, with a promotion team of 10, it hasn't stopped them from promoting dairy and it doesn't mean there's any less enthusiasm for spreading the good word about milk and other dairy products.
Finding Opportunities to Promote Dairy
In an era when the dairy industry is being challenged by low milk prices and a blossoming array of milk substitute choices, Susquehanna County — along with many other regions — has seen a decline in its number of dairy farms.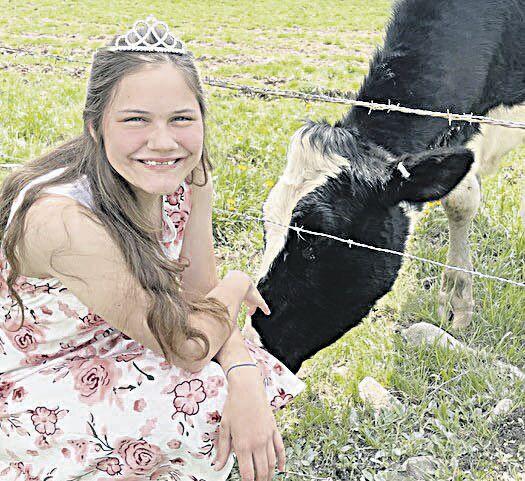 "We don't have many dairy farmers left," Goff says with regret.
But to her that just provides more reason to share the dairy story enthusiastically.
Goff's expertise comes from her experience dairying on her family's 200-acre farm, which once held up to 160 head of Holsteins, including many Red and Whites. In addition, prior to retiring, she also had a 31-year career as office manager for her county's Cooperative Extension office and served as a leader for the community 4-H club with plenty of dairy project animals. Those connections make Goff the kind of dairy industry cheerleader who attracts others to do likewise, and she is motivating to the young women who want to join Susquehanna County's dairy princess team to highlight the milk industry.
Goff leads the five active members of the dairy promotion committee, as well as the mothers of the girls participating as each year's dairy royalty, with a passion that's contagious. Her goal is to have the committee's members find opportunities for presenting dairy promotions, while keeping the princess team girls engaged and having a fun experience.
Goff holds the dairy team together using a monthly newsletter that includes information about upcoming promotion appearances, appropriate attire for such events, etc. One of the simple, yet effective, ways that she communicates the importance of dairy is to capitalize the word "MILK" in all her written communications with the team and others. It's eye-catching and emphasizes the importance of their mission.
Even though the COVID-19 pandemic limited or changed the nature of their dairy outreach, in the year between June 1, 2020, and the end of May 2021, Susquehanna County's dairy princess team racked up 652 dairy promotion activities. This included an impressive 396 news releases issued regularly to the area's three local newspapers, as well as several agricultural publications.
Members of the Susquehanna dairy princess team are encouraged to write essays about dairy-related topics, which are then used for release to the news media. The girls let Goff know their chosen topics beforehand, so she can avoid duplicate efforts. She said that considerable research goes into preparing these writings before they're submitted back to her for proofreading and maybe a tweak or two prior to dissemination to the media. The girls are also encouraged to provide a photo to accompany these releases.
Between these regular news releases and some pieces used as radio ads, Susquehanna's dairy industry is constantly being put in the public's eyes and ears. As a result, the community often approaches the Dairy Promotion Committee to request outreach activities.
Goff said that working with the Montrose School District's extended school year camps has been a particularly successful experience. The Dairy Promotion Committee organizes an afternoon of activities for about 75 students, with groups rotating through five princess-manned stations that have activities like meeting a calf or goat, doing a craft, participating in an energy-burning activity or enjoying a dairy snack. Goff said this event is especially satisfying because "the kids just don't know about ag."
Sometimes, the dairy team partners with local 4-H clubs to do activities. Other times, they've been invited to provide activity stations at Vacation Bible schools. During Ag Literacy Week, the dairy royalty coordinates with local schools to provide books and book readers in classrooms. Most recently, team members handed out individually wrapped cheese samples at an apple cider festival held at nearby Salt Springs State Park.
Other forms of outreach include billboards, a Facebook page and a booth at Susquehanna County's Harford Fair, where dairy samples are distributed and games help reinforce dairy facts. The dairy team's appearances in holiday parades and local firemen's parades also keeps dairy in the public eye.
Since ice cream is a great way to win new friends, dairy royalty members also enjoy scooping a variety of hand-dipped ice cream flavors provided by the Manning Dairy Farm in North Abington Township. For example, Goff recalls a pre-COVID-19 Susquehanna County Extension Ag Day event at which 125 gallons of ice cream were served.
The dairy princess team itself has benefited from fundraising efforts by the local Kiwanis Club, which sponsored a chicken and biscuit dinner that included a pie auction. The 10 members of the dairy promotion team baked and/or rounded up 42 pies, which sold for an average of $100 each. One peanut butter pie, along with its recipe, brought a record $300 from one of the Susquehanna County commissioners.
When it comes to being publicity agents for the dairy industry, Susquehanna County's Dairy Promotion Committee and its dairy princess team clearly have hit the mark by making milk messaging its number one job.