VALLEY FALLS, N.Y. — Beef producers earn a living by providing customers with the best possible, high-quality cuts of meat.
But they're really, or at least should be, in the customer service business because that's what it takes to succeed in this highly competitive industry.
That's what Steve Hadcock, a Cornell Cooperative Extension livestock educator, told three dozen people gathered for a Spring Turn Out Grazier Meeting held at veteran beef producer John Moore's St. Croix Farm, in Valley Falls, Rensselaer County, on May 1. The event attracted farmers with many years of experience, plus several who are just getting started.
"Consumers today are some of the best educated consumers we've ever had," Hadcock said.
In addition to quality, many people are also concerned about food safety and how it was raised, such as whether or not animals were treated with antibiotics and the type of feed they eat.
"Some people want to know the story behind the food," Hadcock said. "It's easier to connect with them if we can identify with them about shared values. If you tell a good story you're going to attract customers because you're sharing your values."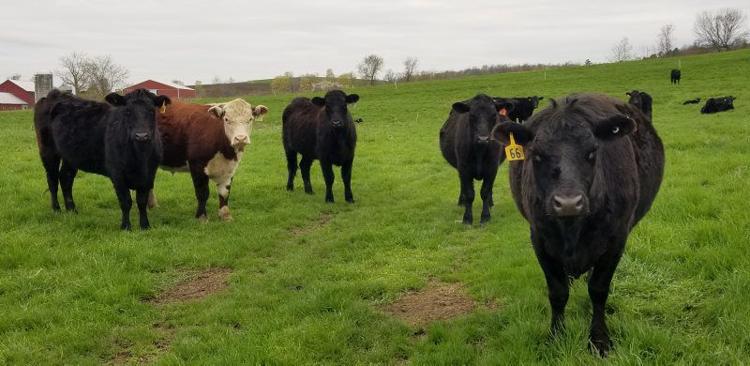 At farmers markets, this can be done through one-on-one conversations or by offering printed materials.
However, Hadcock also encouraged people to share information on social media platforms such as Twitter, Facebook and MailChimp, a newsletter service that sends out 2,000 emails per month.
These can be used to promote the farm's online business. Or, a producer can let customers know what they'll be bringing to the next farmers market, or which local restaurants are buying their food.
Hadcock said farmers can also try to catch people's interest by writing blogs, found on farm websites. Blogs may cover a wide variety of topics, from tales about certain animals to the farm's history and its owners' goals and vision for running it.
"Keep people informed," he said. "Keep information current, don't let it lapse. There's all different ways we can do marketing."
Moore's St. Croix Farm is a former dairy, whose homestead dates to 1864, set on rolling hill country not far from the border of southwest Vermont. Moore has been raising beef since 1985. His grass-fed herd of mostly Black Angus numbers about 60 animals.
With his rotational grazing system, the pasture's perimeter is surrounded by high tensile fencing. Inside, white posts with poly-wire or poly-tape are moved daily, so cows always have fresh grass to eat.
"Move the cows every day," he said. "That's the most important thing for anybody. Fresh grass every day, leave the manure behind, it will spread the manure over your entire plot. That's how you get the best grass and the cow can select the best for her needs from what's out there."
Moore's farm has 300 acres of pasture, but he's working on a long-term expansion plan.
"We're going into the woods and cutting all the woods and creating silvopasture," he said. Silvopasture is the combination of trees, forage plants and livestock together as an integrated, intensively-managed system. "That's going to be a big word that you're going to hear a lot," he said.
"If we get all of our woods cut, then we're going to have about 650 green acres. Then I think we can go out to 250 animal units — a unit is 1,000 pounds — over the next 10 years," Moore said.
The meeting covered a variety of topics including prevention and control of internal parasites in cattle and small ruminants, and pasture fly control strategies for all livestock.
Cooperative Extension agronomy specialist Aaron Gabriel discussed baling techniques and how to obtain optimum fermentation, which preserves forage.
"For good quality forage, it's best to harvest in the vegetative stage," he said. "You don't want to let it get rained on after cutting, and don't let soil get raked up into it. Pack bales tight to exclude as much air as possible and wrap within a couple to few hours after cutting, especially in hot weather, with six layers of plastic."
"The anaerobic bacteria feed on sugars and mostly produce lactic acid, which reduces the pH to 5.0 or less," Gabriel said. "Acetic and propionic acid are also produced in lesser quantities. These are good. Butyric acid is bad. This acidity is what preserves the forage so that no mold or other microbes grow. It is the same principles as making sauerkraut from cabbage."
He also offered the following tips:
• Mow forage into a wide windrow to wilt evenly or into a windrow the width of the baler pick-up head.
• Wilt to 50-60% moisture.
• Any additional raking or merging of forage must form nice uniform windrows.
• Bale into tight, well-shaped bales by driving slowly to get a tight bale, and picking up the forage evenly across the pick-up head to get well-shaped bales.
• Wrap bales with net wrap, plastic or untreated sisal twine. Treated sisal twine will deteriorate the plastic.
• Wrap bales with six layers of plastic within a couple to few hours of baling, the sooner the better.
• You do not want to see the bales gas, or inflate, very much or at all.
• Wrap bales near the storage area so they are not moved while they are fermenting over the next month.
• Store in a place with little sun or temperature fluctuation, such as in the shade or on the north side of a hedgerow.
• A fermentation analysis will help you determine how well bales have fermented.
For more information, go to https://dairyone.com/wp-content/uploads/2014/01/Fermentation-Analysis-Evaluation.pdf.
Kevin Jablonski, a regional director of the New York Beef Producer's Association, said he was encouraged to see so many new and beginning farmers at the meeting. Jablonski co-owns Mack Brook Farm in Argyle, Washington County.
Like Moore, he's among the many former dairy farmers across New York that have turned to beef because they love agriculture and want to keep their farmland in active production.
"The business is a little easier with beef than dairy, but it's still a struggle and you've got to figure out a plan of attack," Jablonski said.
The most important thing is simply delivering what people want and expect, he said.
"Quality pays, it doesn't cost," Jablonski said. "If you have a quality product people will come back. It's cheaper to keep customers than it is to create new ones."