Broc Sandelin is a "beef guy." He got his first Angus heifer calf when he was 5 years old. These days, his taste in beef runs to a nice, juicy Porterhouse steak done medium-rare, and he still leans toward the Angus breed.
Sandelin has covered a lot of territory since being raised on a cattle farm in the tiny, southwestern Kansas town of Lewis, where his high school had only 15 students in his graduating class and lacked enough students to form an FFA chapter.
Today, this small-town Midwesterner is surrounded by a student body of 2,000 at Delaware Valley University in Doylestown, Pennsylvania. Sandelin, who has served as the school's dean of agriculture for the past two years, oversees the School of Agriculture and Environmental Sciences' 650 students.
Sandelin is a 1999 graduate of Oklahoma Panhandle State University in Goodwell, Oklahoma, where he was an animal science major. Among his memorable experiences at his alma mater was the time he spent working in the Estes E. Firestone Meats Laboratory. After years of raising beef cattle on his family's farm and showing them as a 4-H'er, the lab is where he got to learn about beef from the inside out. The meat lab gave Sandelin the opportunity to learn all aspects of the meat processing industry; the lab also sponsored interscholastic meat evaluation contests and provided practice for local meat judging teams.
It was at OPSU where Sandelin's career path pointed him toward academia, thanks to Peter Camfield. Camfield not only encouraged Sandelin to use his animal science knowledge base as a springboard to further studies, but also set up Sandelin's interview at the University of Arkansas, Camfield's own alma mater. Sandelin went on to obtain both his master's and doctorate degrees at that university's Dale Bumpers College of Agricultural, Food and Life Sciences.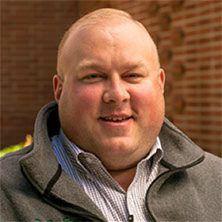 Not surprising for a beef man, Sandelin focused his studies there on beef-related topics. His master's degree research involved estimation of the growth curve and rate of maturing in Angus, Brahman and reciprocal cross cattle, grazing either Bermuda grass or endophyte-infected tall fescue, a cool season grass. As part of his doctoral studies, he then investigated ways to improve feed efficiency in cattle using mitochondria as a potential biological marker for selection. Later, he researched innovative organic methods for fly control in cattle.
After leaving the University of Arkansas, Sandelin's professional life took him westward to California Polytechnic University (CalPoly) Pomona in 2005, where he rose from an assistant professor to chair the Department of Animal and Veterinary Science in 2010. Among his duties were overseeing the department's 330 acres of rangeland and 100 acres of irrigated pasture, complete with a breeding herd of Angus and Angus crossbreed cattle. He also partnered with the Los Angeles County Fair Association, at which CalPoly Pomona exhibits 175 or more animals each year.
While Southern California's arid climate isn't conducive to beef operations, Sandelin finds himself enjoying Pennsylvania's generous rainfall that produces the type of pastures on which beef cattle thrive, including DelVal's herd of 35 Angus and Hereford cows. As DelVal's representative to the Pennsylvania Cattlemen's Association, Sandelin has had the opportunity to take a good look at Pennsylvania's beef industry. He is impressed and has declared the region's beef cattle quality, "As good as anywhere else I've been!"
Even before COVID-19 came on the scene, Sandelin was keeping a close eye on the beef industry. He feels that the lack of public knowledge about raising beef or knowing where their food comes from has affected the beef industry. But Sandelin believes the beef market will rebound.
One of the drawbacks Sandelin has found to be handicapping beef farmers is the impact of a handful of processors controlling around 75% of the beef industry's output into the marketplace. In recent years, companies like Tyson, Cargill, JBS and National Beef have seen their profits multiply, while beef producers are suffering instead of sharing in the industry's economic success.
As with many other enterprises, meat processing and the supply chain for beef have taken a hit from the COVID-19 pandemic. Not only has beef processing been slowed by worker illnesses and plant shutdowns, but the related fear of product contamination with the coronavirus has also created a climate of consumer concern. Sandelin points to reports about the Wendy's fast food chain no longer serving fresh all-beef burgers in some of its restaurants, due in part to supply issues, but perhaps also in part due to customer fears.
Sandelin is a big proponent of households buying their beef from a local producer. He sees this option as a remedy, both to a breakdown in the beef supply chain of the mega-processors, as well as to consumer reticence to purchase meat without knowing where it came from. Buying direct from a farm also gives consumers confidence about who has had contact with the beef from farm to purchase location. However, Sandelin said, although dealing directly with a local beef operation can be a substantial boon to beef producers and families hungry for quality beef, especially in southeast Pennsylvania, there is a lack of small, custom meat-processing businesses.
He thinks that the coronavirus pandemic might effectively create a preference for locally produced meats over national brands, so long as the price remains competitive. That being said, he also believes that the nation's meat supply, including beef, is safe from COVID-related contamination.
But without a crystal ball, Sandelin admits that it's hard for anyone to forecast when the meat industry in general — and the beef industry in particular — will return to some semblance of normalcy in processing and distribution operations. He estimates this might take three to six months, but said it will depend primarily on factors from the pandemic's own timeline.
Regarding the far-reaching effects of the pandemic on agricultural education at Delaware Valley University, Sandelin predicts that DelVal and other institutions of higher learning will be looking to offer more online classes on a permanent basis. But, he said, especially in the field of animal science, it is very difficult online to teach the hands-on learning that takes place in agricultural laboratories. Nevertheless, Sandelin said, his faculty has been "doing a great job" of making sure students are still learning in a time of physical distancing.
He's optimistic that his school and staff will be able to meet future challenges through diligence and innovation.
Sue Bowman is a freelance writer in southeastern Pennsylvania.