There's an art to being a matchmaker, and for cattle breeders Dan and Seth Snyder, the father-son duo of Stone Ridge Manor, the focus is on creating Herefords — cows and bulls — that excel on the pasture and the dinner table.
"Everybody likes a pretty calf, but they are a lot easier to sell if they are made right," Seth said.
The seedstock farm sells herd bulls and embryos, and also does some direct marketing of homegrown beef.
For 30 years, the Snyders have built a reputation for making them right by concentrating on bulls and cows that exceed average American Hereford Association expected progeny differences.
Most of the Stone Ridge bulls and cows carry traits such as low birth weight, calm temperament, high-quality carcass, and the traditional red-and-white patched phenotype.
But the Snyders also care about the structure of the animal. Any bull, cow or calf needs to have an excellent set of feet and legs if it's going to last on a pasture or feedlot.
"It's no different than building a house. If things aren't level then it will go to bust as time goes by," Dan said.
Keeping track of the herd's genetic influence is key. The Snyders closely monitor calf weight at birth and weaning, and do annual ultrasounds for the animal's ribeye and intramuscular fat.
Making the Perfect Bull
One of the biggest decisions for cow-calf farmers is selecting the best bull for the herd.
Stone Ridge bulls need to show that they are hearty. Each year the farm sells 20 to 30 herd bulls that mostly go to Angus herds in Virginia.
Southern operations often have cows out in the elements year-round, just like ranches in the West, Dan said. And the bulls also need to adapt to living off pastures with endophyte-infected fescue.
To prep the bulls for the life in the Appalachian Mountains, the Snyders keep their bulls and cows on a forage-based diet.
"They spend their life out in the field. They are not show bulls," Seth said.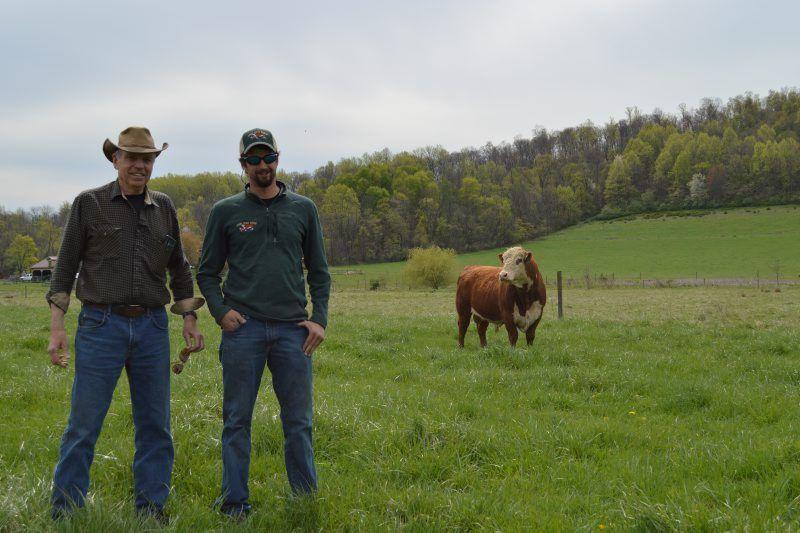 From spring to early fall, the animals are rotated weekly on 350 acres of pasture. In the winter, the Snyders graze the herd on fields of cornstalks with hay bales.
This winter was the first that Dan has supplemented the diet with corn silage. Drought in southcentral Pennsylvania limited 2020's hay yields, he said.
The cost of a Stone Ridge bull depends on its pedigree, with cost increasing as the animal matures. A 2-year-old bull runs $1,750 to $3,800. But farms can expect strong production from such an animal.
"A good 2-year-old to 3-year-old bull can handle 40 to 50 cows," Dan said.
Embryonic Futures
Cow-calf operations looking to improve their herds can incorporate donor cows and embryos, which allow them to transfer the best characteristics from the Snyders' herd to their own.
"Embryo transfer calves should be the top of your herd," Dan said.
Though they produce lower conception rates than flushed eggs, frozen eggs are the Snyders' preference when doing IVF. Frozen eggs afford a more stable environment and a higher quantity of eggs to work with, Seth said.
Eleven-year-old donor cow Gerber Holly produces over 60 eggs per flush.
Embryos can improve a herd's genetics quickly, but the process isn't cheap. Producers can spend about $4,500 per embryo, Seth said.
Stone Ridge also can provide genomic testing on its animals, which can help breeders select the genetics they want.
The testing shows whether the animal carries the polled trait, its genetic ability for dry matter intake, and any genetic abnormalities.
"It gives an inkling on what genetics are going to save you money in the long run and give you a decent progeny profile," Dan said.
And there's no reason Stone Ridge's cattle have to be bred with other Herefords. Seth sees particular opportunities mating them with Angus.
"They make a great cross," Seth said. "About 50% of black cows are crazy."
Hybrid vigor — the tendency for crossbred offspring to perform better than their parents — shows up in easier keeping, increased longevity and improved yield grade.
A recent Oklahoma State University study found that Black Baldy cows, a Hereford-Angus cross, can maintain higher body condition scoring while consuming fewer nutrients than purebred Angus cows.
From Pasture to Plate
When Stone Ridge finishes its spring and fall calving seasons, about 40% of the herd's bull calves become steers for its farm-to-table business. The Snyders also buy back some calves that are offspring of their bulls.
The Snyders wean their calves at 650 to 700 pounds. The fall calves' weaning weight depends on how rough the winter was, Seth said.
After weaning, the Snyders feed out their steers on either corn in a feedlot or grass on pasture. The cattle are butchered at Shriver Meats in Emmitsburg, Maryland, and Smucker's Meats in Mount Joy, Pennsylvania.
Seth oversees supplying Stone Ridge beef to businesses in Adams County, including Gettysburg College, Fourscore Beer Co. and Mason Dixon Distillery.
Besides providing steaks for restaurants or customers at the on-farm store, Stone Ridge Manor also fills a niche market by selling cuts like tail, heart and tongue, which are traditional fare in some cultures. Variety-meat customers travel to the farm from as far as northern Virginia.
"People like it, so why not?" Seth said.
How often do you eat beef?