Could hemp-fed beef be the next niche market for beef farmers?
Bill Roberts of Perry County Land & Cattle sure hope so. But quite a lot needs to happen in the meantime — including approval from the federal government.
With his wife, Marti, Roberts raises about 500 cattle, a mix of Red Angus and black Angus, on two farms in Pennsylvania. They have 500 acres in Perry County and 1,000 acres in Mercer County.
The cattle are grass fed and grass finished, on grass all year and supplemented with locally sourced hay in the winter.
The Robertses market beef through distributors in Philadelphia and New York that serve high-end restaurants.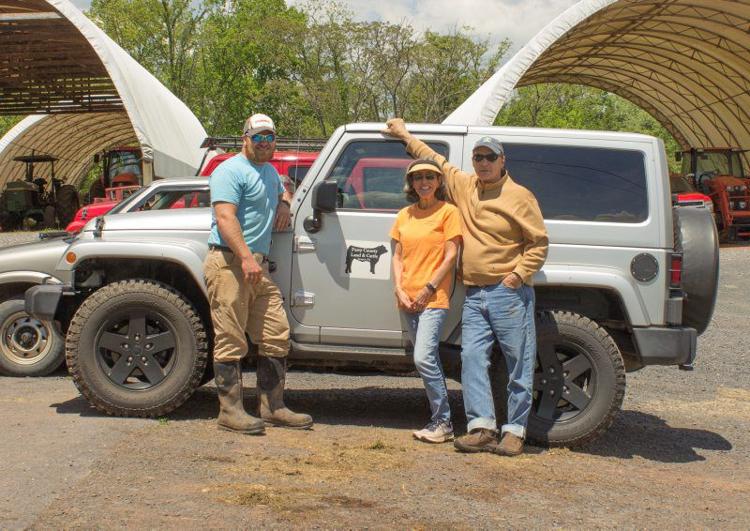 After the 2014 Farm Bill brought hemp into the general ag consciousness, Bill Roberts' gears started turning. And when Pennsylvania began its hemp pilot program in 2017, Perry County Land & Cattle was among the first permit holders.
Roberts grew 5 acres that first year, growing a seed variety that would be pressed for oil. Not because he wanted the oil — Roberts wanted the byproduct of pressing, the seed cake.
Roberts' cake measured around 24% protein.
"If you think about corn, which is about 3% protein, (hemp) is very high," he said.
Roberts fed one group of heifers a standard feed with free-choice hay, while others got just hemp cake and the hay.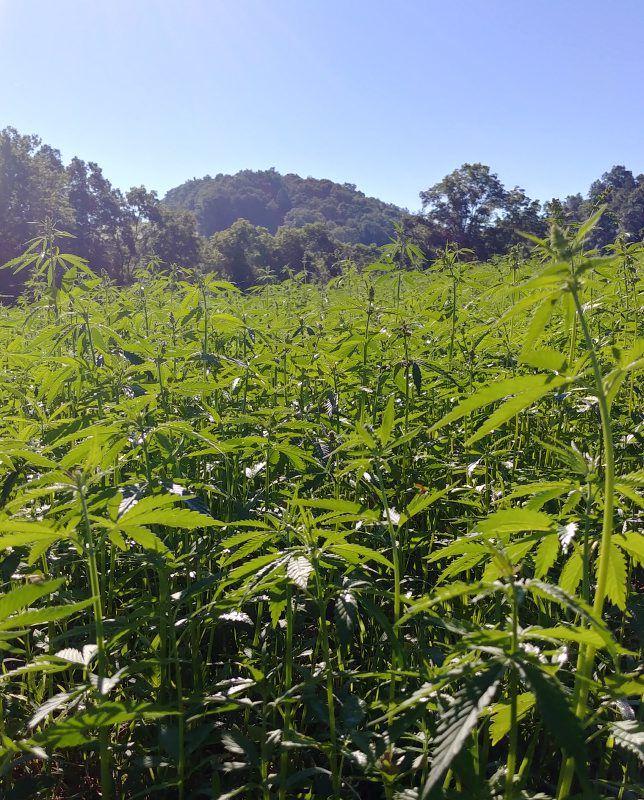 For the first six or eight weeks of the test, the heifer groups performed about the same. But around 10 weeks, the heifers on hemp began to gain substantially more than the grain-supplemented heifers, he said.
While these early tests were very promising, there was still one problem: It's illegal to sell meat from animals raised on hemp.
The Food and Drug Administration hasn't issued any guidance or regulations on hemp as a livestock feed, which is why Roberts conducted the test on heifers instead of steers.
The heifers went back into the herd rather than to the slaughterhouse.
After some more years of studying the economics and feeding strategy, Roberts thinks hemp-fed beef could eventually become a niche market.
"Like a lot of things in hemp, this is the very beginning of a long process," he said.
Marti Roberts is cautiously optimistic that hemp could play a big role in the revitalization of rural and agricultural communities.
She is the chairwoman of the Perry County Economic Development Authority and spends a lot of time thinking about how to help energize the rural economy.
"That really leads us back to 'What opportunities are there? How can farmers diversify? How can you get the next generation to get interested in farming?'" she said.
Marti Roberts is intrigued by the seemingly endless list of products that can be made from all parts of the hemp plant, and by the possibility that hemp nutrients are in a form that can be readily absorbed in a cow's rumen.
"If that's true, then an animal who can be finished on some kind of a hemp byproduct might actually be less susceptible to diseases that happen when you start to feed animals the usual rationing," she said.
Jay Elsessor, the herd manager at Perry County Land & Cattle, has been heavily involved in the hemp project at the farm — from prepping and planting, to harvesting and drying down the grain.
All of those tasks were a bit challenging that first year because no one know quite what to do.
"We harvested it green, like they told us we had to, to get oil out of it," Elsessor said. "And then it was like three or four hours we had in the bed of the truck with the aerator in it and we could tell it was starting to heat."
So they dumped all the seed on the concrete shop floor and set three big chicken house fans blowing on it. Elsessor spent the weekend raking the pile and moving it around.
It was "a layer of maybe 3 inches thick and it was like 1,600 pounds of seed, so you can imagine how big of an area that was," he said.
All that work paid off. The seed dried down from 28% moisture to 11%, and it didn't mold.
The seed was stored in a gravity wagon until Susquehanna Mills in Pennsdale was ready to press it.
While the learning curve is steep and the immediate payoff questionable, hemp production still holds promise, Bill Roberts said.
"I think if you want to stay in business, you are always looking to improve, to change, to meet the new markets," he said. "And we think that hemp-fed beef will be a real opportunity."