When Cliff Orley moved to Pennsylvania in 1977, he and his wife, Lynn, started Keystone Cattle Service, a custom fitting business.
Now, 44 years later, Orley fits, shows, judges and raises beef cattle.
Currently, Orley raises Simmental cattle, but over the years he's handled a number of beef breeds.
At the very beginning, he raised Charolais.
But for his fitting business, he worked with Simmentals, Herefords, Angus and Shorthorns. He eventually made his way back to Simmentals, and the breed stuck with him.
"I'm really into Simmentals now," Orley said.
To start his Simmental herd, he purchased frozen embryos. He later bought one Simmental from an estate sale, a purchase that ended up really kick-starting his herd.
"There's no cow in the Simmental breed — in the 52 years of history of that breed in this country — that ever produced more than one national champion," Orley said — until the cow he bought from the estate sale came along and produced four national champions.
Though this specific cow is no longer in the herd, Orley still has daughters, granddaughters and great-granddaughters from this cow.
Orley raises 30 to 35 cows and has 135 acres. Part of that acreage is woodland, and part of it is used for hay.
The herd never has a bull in it, and hasn't for many years, Orley said.
"I breed all cows and all heifers artificially," he said. "And knock on wood, at this point this year, it's looking really, really, really good."
The herd's conception rate for the year is at 80%.
"I'm very happy with that," Orley said. "That's well above national averages."
Getting Back to Custom Fitting Business
Orley does still raise some cattle to show himself, but over the years he's cut down on the number of shows where he competes. He attends a large number of shows to fit as well as to judge.
"I've custom fitted most the major breeds of beef cattle for shows and sales," Orley said. "I've judged all over the country and several shows in Canada as well."
But, like many other industries, livestock shows were affected by the pandemic.
"Of course 2020 put the brakes on the whole deal," he said. "There was no custom fitting business. There were a very limited number of shows."
But this year, the show season seems to be getting back to normal, and in the fall, Orley will be judging the open Charolais show at the North American International Livestock Exposition in Louisville, Kentucky.
And with the show schedule full again this year, his fitting services will be in demand once more.
"I'm optimistic that the custom fitting business will be more active in 2021 and going forward," Orley said.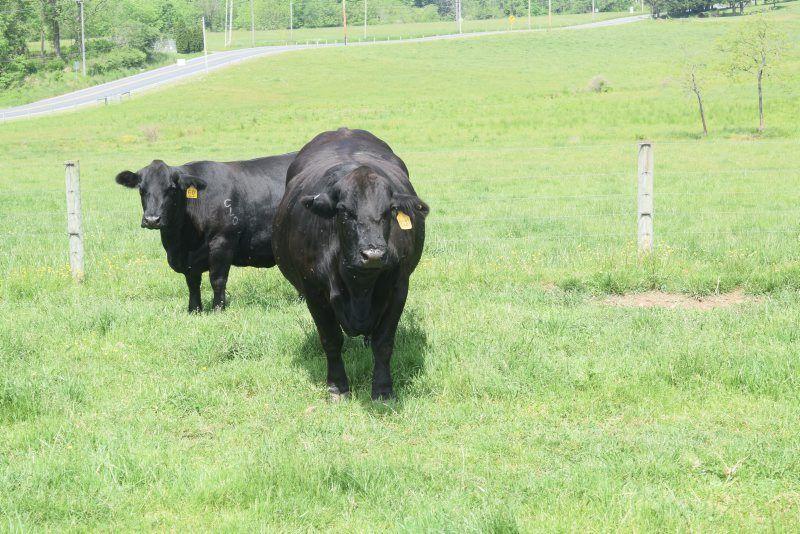 However, custom fitting has changed over the years, Orley said, with more families learning how to fit for themselves and no longer needing to rely on a hired pro.
As a result, Orley has turned a lot of his focus to his own herd.
"All marketing avenues are open," Orley said, adding that sale day is every day.
He sells a lot of his stock privately, but also takes part in public sales, such as the Stars and Stripes Sale, a Simmental event in Hummelstown, and the Pennsylvania Fall Classic, a sale hosted by the Pennsylvania Simmental Association in Waynesburg.
Orley has a lot of pride in the cattle he sells, saying that he tries to go by the principle of "sell the top, keep the middle and cull the bottom," though he does keep some of the best for his own herd.
"Anything that we sell is guaranteed to be what we say it is. Period," Orley said. "I'm a very firm believer that I would not sell anything that wouldn't have a place in our herd here."
The Next Generation
Though the majority of Orley's cattle end up on the show circuit, he still breeds and raises his cattle the same way he would for production.
"They can't just be cattle that can go out and win a banner," Orley said. "They've got to be able to transition into being productive cows, productive bulls."
Orley credits a lot his cattle philosophies to mentors he has had along the way. And now he likes mentoring the next generation of cattle farmers.
For most of the year, Orley has part-time help on his farm, and he tries to always hire high school students.
Along with mentoring the youths who work for him, he also volunteers to help the Lebanon County 4-H Senior Livestock Judging Team.
Orley, who has been a judging coach at the University of Kentucky and an assistant judging coach at both Penn State and Ohio State, said he likes seeing the progress judging teams make throughout the year.
He likes to host the team twice a year, and he can often see growth in the judges between the first and second visit.
Students who were mentored by Orley have gone on to win Herdsman of the Year, an award which Orley himself has received. It's a high honor because it is recognition from one's peers in the industry, he said.
Orley is heavily involved in that industry. He is a board member of the Pennsylvania Simmental Association and the state Cattlemen's Association, a member of the beef committee at the Keystone International Livestock Exposition, and a trustee of the American Simmental Association.
Orley doesn't plan to stop any time soon.
"If you don't have passion for what you're doing, you're dead in the water," Orley said.