The waiting game is one of the most difficult parts when Oren Smith weans beef calves on his Oak Hill Farm in Avella, Pennsylvania.
Smith raises registered Angus and weans about 70 calves annually. To do so, he takes a conventional approach by simply separating cows and calves, knowing that the next few days will be filled with nonstop bawling.
"It's not pleasant, but you have to give them time because weaning is just something that has to be done," he said. "It's a lot of bawling, but you just wait for it to stop. The mothers are due for a break, and some of them are instinctively ready to move on."
While noise is unavoidable when it comes to weaning calves, animal health should always be the priority, and there are numerous factors to consider. Preparation is paramount.
"The more we can acclimate that calf to the upcoming changes, the better it will be. The more prepared a calf is by the time it's weaned, it won't be as stressful," said Dr. Jody Kull, owner of Valley Mobile Veterinary Services in Danville.
Preparation begins with conditioning a calf to be less dependent on cow's milk. Give the calf time to eat grass and forages on its own, Kull said, and start it on creep feed well in advance of weaning.
"How they will eat after weaning, you want to see them eating like that prior to weaning," she said.
Location is important when it comes to both feeding and weaning. Having to search for the feed bunk or water can add anxiety for calves in an already stressful situation.
Brian Boyer, a technician supervisor for Premier Select Sires in Tunkhannock, said calves typically circle the perimeter of pens or pastures when weaned, trying to stay close to the cows. They won't be thinking about feed and water during those first few days, he said, so placing those items where the calves will be spending most of their time can improve the weaning process.
This encourages the calves to eat and drink, reducing stress and speeding up the transition.
"Every time we change location it will put calves through another stress challenge. So consider how many times you expect these calves to adjust to change with feed," Boyer said. "This affects their potential to gain and grow. Less stress with any type of change will help with total performance and profit."
Taking Steps to Reduce Calf Stress
There are other steps to consider, in addition to feed, when it comes to preparing calves for weaning.
The more work done with a calf prior to weaning or the same day it's separated from the cow, the better the calf will fare.
Bobbi Dunn of Dunn Herefords in Cochranton said her family maintains a herd of 165 cows, and the majority of the calves — 100 — are born in the spring. They're weaned at 5 months, and all of the calves receive their first vaccine at that time.
"Some producers like to wait two weeks after weaning to vaccinate, and then follow up with a booster," she said. "With vaccinating on the day of weaning, we're stressing them once and then not again until three weeks later with the booster, and that's it."
Dunn Herefords recently changed its weaning method to further reduce stress. Cow-calf pairs are brought in from the pastures in groups of 40 and separated at the home farm. The cows are moved to a lot and the calves are sorted into a barn. The cows and calves can see each other, Dunn said, but there's no contact.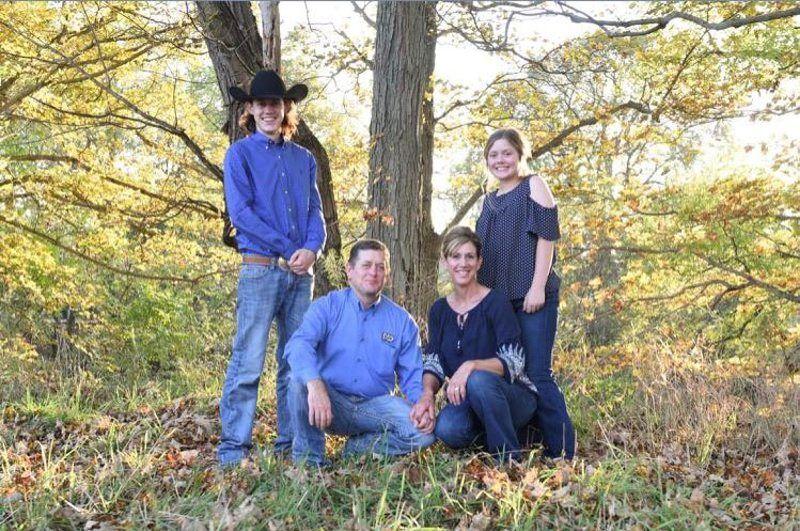 After two or three days, the cows quiet down and are returned to the pasture, while the calves eventually turn their attention to the bunks filled with feed.
The animals that will be marketed as show calves undergo a different process called day-weaning.
Cows and calves are separated into adjoining pens, and the calves are allowed out to nurse twice a day for 15 minutes.
The routine continues for up to 10 days, and by that time the calves are established on feed while still nursing off their mothers on a limited basis. After that, the calves are allowed out of their pens to nurse just once a day for six days.
"You get a little bit of bawling, but it's not bad," Dunn said. "After six days, we turn the cows out and the calves never bawl.
"Unfortunately, time and space don't allow us to do day-weaning with 100-plus calves, but if I had a small cow-calf herd, I would absolutely wean them like this."
While the health of the calf is a priority, Kull said it's also important to consider the cow's well-being when deciding on the right time for separation.
Fall is a popular time to wean calves, so it's important to monitor the availability of grass in pastures during the summer and early fall, Kull said. The peak energy demand on a cow is when she's nursing her calf, and producers should pay attention to body condition, and availability of quality pasture, in determining the right time to wean.
"That mother cow is utilizing the grass in pastures to maintain her body condition while feeding that calf. If there's a drought and the pastures dry up, you want to consider weaning calves earlier to keep the body condition on the cows," Kull said. "The quality of the forage, or supplemental feed, has to match that energy demand on the mother."