HARRISBURG, Pa. — Having the right kind of cattle on pasture can do wonders for your operation.
"Cattle bred for the show ring are bred different than cattle for production," said Jeremy Engh of Lakota Ranch in Remington, Virginia.
Engh spoke during an Oct. 4 educational program at the Red Devon national show, held in conjunction with the Keystone International Livestock Exposition.
Many Red Devon producers use a grass-fed system. The breed finishes well without grain.
To succeed in this system, farmers need the right forages and genetics.
Pastures need quality grasses that give cattle variety and can last throughout the seasons. Cattle must be stocked at the appropriate density.
Cattle need to have the right frame size, and while appearance can give some indication of an animal's quality, performance is the ultimate metric of success, Engh said.
He evaluates his animals' efficiency on grass, fertility, longevity, ability to wean a calf, and be a self-manager within the herd.
He also looks at carcass quality and expected progeny differences, but he sets them at a lower priority.
In the 1970s, Red Devons were tested in a feedlot setting and graded well for quality — but not yield.
"We never qualified for the premium because our carcass were between 1,100 and 1,200 pounds, not 1,400 pounds," Engh said.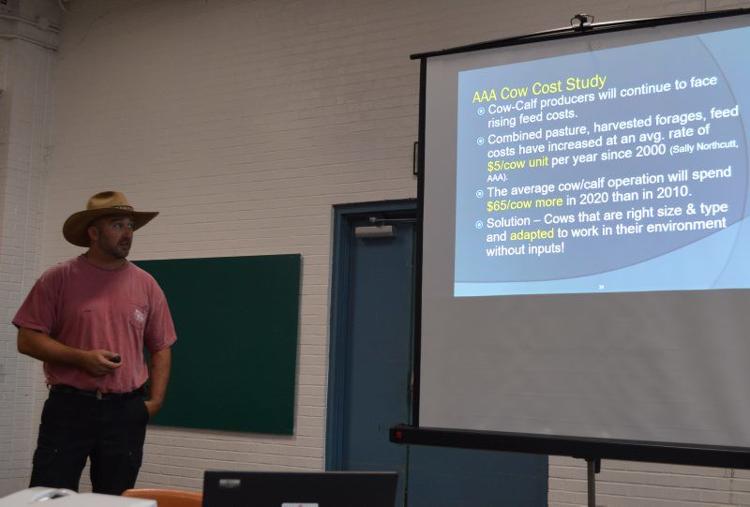 Engh wants cows of a moderate frame; clean in the neck, showing femininity; and deep and wide in their spring of rib. Cattle should also be hearty, he said.
The hide is a good health indicator. A sleek hide suggests normal hormone function and proper nutrition. Wiry and coarse hides may raise concerns.
"It certainly is a looking glass to the animal," Engh said.
A good bull can also optimize a herd for grass-fed production.
Engh wants longevity, fertility, masculinity, docility and soundness of feet and legs — not to mention the proper scrotal circumference.
"Don't underestimate the value of good testicles," he told producers.
Bull test or performance records can give producers insight into how efficient they are on forages.
Engh tests bulls in his operation and from others to see how well they adapt to a forage-only diet that includes endophyte-infected fescue.
In his area of Virginia, producers want bulls with a moderate hair coat to avoid overheating.
Young bulls should show signs of sniffing cows who are open for breeding and display dominance through pawing at the earth could be worth their weight in gold to a producer.
"We want our bulls to act like bulls," Engh said.
Engh also believes that looking at a bull's mother's milk production and body condition score can give a producers an idea of what that bull could look like when it reaches 2 years old.