HARRISBURG, Pa. — Carrying bottles of milk and pictures of happy children, dairy farmers and lawmakers packed Pennsylvania's Capitol on Tuesday to demand that schools be allowed to serve whole milk.
"It is unfathomable to me that in a nation known for choices and founded on freedom that my grandchild could enter school and not have the option and choice of whole milk in lunches," said David Smith, executive director of the Pennsylvania Dairymen's Association.
The rally participants, who filled the rotunda's iconic main staircase, are as close as they have ever been to getting their wish thanks to bills introduced in Congress by Rep. Glenn Thompson and Sen. Pat Toomey, both Pennsylvania Republicans.
A 2010 federal law limits School Lunch Program participants — i.e., most schools — to serving low-fat milk.
That policy was based on medical professionals' view that limiting fat intake could combat childhood obesity.
But scientific research has since undercut that idea, and dairy advocates worry that children just don't like the taste of skim and 1% milk.
"Let's give our kids the option of consuming the type of milk they love and the type of milk that they need," said Thompson, who during the rally took off his sport jacket and dress shirt to reveal an "I Drink Whole Milk" T-shirt.
Earlier that morning, the House Agriculture and Rural Affairs Committee unanimously approved a resolution supporting Thompson's bill.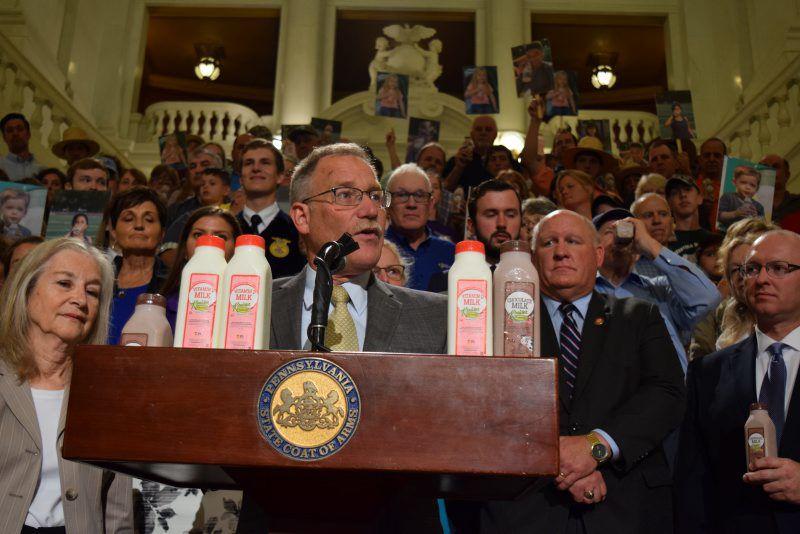 "It's just unconscionable to think that that healthy product has been denied our schoolchildren," said Rep. Martin Causer, the committee chairman.
While all milk provides important nutrients, whole milk helps children feel full, which could prevent unhealthy snacking, said Althea Zanecosky, a nutrition professor at Montgomery County Community College.
Perhaps more striking are the recent studies questioning the low-fat mantra.
The studies Zanecosky cited suggest that whole milk doesn't contribute to obesity, and that low-fat milk might actually be the worse choice.
But the studies weren't all designed to establish causal links between milk fat and obesity.
And researchers speculated that parents might simply be giving low-fat milk to children who are already overweight in hopes of preventing further weight gain.
Still, whole milk, with its 3.25% fat content, might be the best shot at getting children to drink school milk at all.
Adults may eat a food because they know it's good for them or because they've paid for it, but all that matters to children is that they're hungry and the food tastes good.
"No food is nutritious if it's not eaten," Zanecosky said.
And many students are indeed ditching milk for less healthful drinks, one high school student told the Ag Committee.
"At my school there is teas and Gatorade and juices available, and kids are choosing that over getting their milk because they are not liking the way this milk tastes," said Kaylee Knapp, a Clarion Venango County dairy maid.
Milk's fat content certainly does seem to drive consumers' preference.
Whole milk is the most popular type of conventional, unflavored milk, and it's the only one that saw an increase in sales last year, USDA data shows.
But whole milk is also more expensive than lower-fat milk.
Even if schools are allowed to buy full-fat fluid, administrators might have a hard time justifying the increased expense, Rob Barley, the chairman of the state Milk Marketing Board, said at a December listening session.
While getting whole milk in schools will take a federal law, the Trump administration has managed to relax the rules a little, making 1% chocolate an option for schools.
But that regulatory change could easily be revoked by a new administration, so Thompson and Rep. Joe Courtney, D-Conn., have introduced a bill to codify the relaxed regulation.
"We want to get any victories we can anywhere," Thompson said after the committee hearing.
In a news release, Courtney attributed a 10% drop in school milk consumption in recent years to the elimination of low-fat chocolate milk.
While lawmakers continue to sign on to the milk-in-schools bills, Thompson's biggest concern is that some Democrats who pushed the milk fat out of school in 2010 are still on the Education and Labor Committee, which controls the bill's fate.
Of course as Knapp, the dairy maid, acknowledged, dairy farmers are losing ground not just because students' milk options are limited, but because consumers' beverage choices are seemingly endless.
For dairy farmers, the most infuriating competition comes from plant-based drinks that marketers have dared to describe as milk.
"All beverages labeled milk are not created equal," declared Stacey Copenhaver, a Lebanon County dairy farmer.
Copenhaver argued that plant milks are "impostors" with hard-to-pronounce ingredients and added sugars.
Cow's milk does have naturally occurring sugars, but no added sugar. However, chocolate cow's milk can have a lot more sugar than Silk's soy-based drinks.
Several Pennsylvania congressmen are co-sponsors on a bill that would require the Food and Drug Administration to enforce its existing definition of milk as coming only from mammals.
The state House committee also approved a resolution in favor of that idea.
For all the calls for truth in labeling and posters of healthy children, though, an awareness of dairy farmers' economic peril hung over Tuesday's rally.
Hundreds of dairy farms have folded in the past few years because of low milk prices — a result of oversupply, trade disruptions and changing consumer tastes.
A big part of the solution, at least for those at the rally, is to revive flagging milk consumption. And that starts in schools, where children are not just young scholars needing brain food, but a key market demographic to capture.
"We have lost a generation of milk drinkers because the tasty, fresh milk they get in their homes tastes better than the milk they are being served at school," Smith said.
"The true market is to get a new generation of milk drinkers," Thompson agreed.