SHIPPENSBURG, Pa. — Facebook postings like: "Make sure you get your three of dairy every day," "Remember to choose PA dairy — it's goodness that matters" and "Today is National Kids Fitness Day ... Refuel with chocolate milk," are just a few examples of what Pennsylvania county dairy princesses and promotion committees across the state have been doing in the past two months.
Despite a coronavirus pandemic and states' stay-at-home emergency orders since March 13 to help stop the spread of infections, the dairy promoters continue to tout the goodness and positivity of milk and dairy products. And, they are doing it amid bans on group gatherings and physical distancing efforts, all while wearing safety masks accessorized to match with dairy-promoting banners and crowns.
With the approach of June Dairy Month, usually filled with widely scheduled pageants and the crowning of new dairy royalty, county promotion groups are coming up with creative and innovative ways to keep getting the milk message out to consumers.
Inspired virtual farm tours, recipe ideas, fitness tips and nutrition messages are just some of the angles. Frequent, often daily social media messages put out by county princesses and their court members spread the good news of milk and dairy to consumers. "Milk drop" dairy giveaways and food bank donations by farmers to the public are growing in popularity and provide communities during the pandemic with needed food while also sharing the good-milk message.
Milk promotion postings have been a daily event in Huntingdon County. There, dairy princess Cassidy Brumbaugh and her dairy court come up with creative ideas to keep their cyber-readers coming back to see what's next. Like many Pennsylvania countiy teams, they are also planning a virtual pageant via Facebook.
"We've been pulling from the Center for Dairy Excellence lessons about dairy farms and we have Work Your Brain Wednesdays. On Thursdays, parents of our junior court members have been posting recipes," Brumbaugh said. Other daily postings may feature dairy questions and answers.
Brumbaugh credits their county dairy coordinator and a former dairy princess, Rebecca Couch, as being "very good at pulling us all together" to keep regular postings going. Their virtual pageant is planned in increments over a four-week period, with every-Saturday postings of speeches and skits and junior presentations until the final segment, the crowning of incoming princess Katarina Kauffman. The group received assistance in pulling together the virtual pageant components from an information technology contact of a schoolteacher member of the committee.
A "milk drop" organized by the promotion group was held May 16 at the Huntingdon County fairgrounds, with a few promotion court members and local dairy farmers at a time working with Allied Milk Cooperative and local businesses to give away half gallons of milk to those in need.
According to Linda Gilbert, the Pennsylvania Dairy Princess and Promotion Services program director, maximizing the strength of social media to keep dairy in the forefront has been the key game plan for county promotion groups.
"We did a virtual training for them with the Center for Dairy Excellence to share ideas and help them with questions they might get, like why farmers were dumping milk," said Gilbert. "People are going through almost a sort of grieving process and we need to let dairy farmers know that we are still promoting."
"It's a difficult time, with our princesses ready to give up their crowns and not being able to finish out their reigns," added Gilbert. "After the crowd-gathering bans are lifted, we hope to have celebrations for the 2019-2020 princesses and the passing of their crowns on to the next young women."
Fulton County's dairy princess, Kassandra Stermer, said that they have selected a new princess for 2021 — Hailie Ruppenthal, of Warfordsburg — and "hope to have some sort of celebration" at some time in the future. In the meantime, their team has also been plugging dairy regularly on social media, with posts on Facebook, Instagram and a blog.
"Each week there's something different," said Stermer. "We use educational things and have a video on why teens should have milk. We're also using the Discover Dairy lessons from the Center for Dairy Excellence."
"We have a milk drop planned for June 6 with Harrisburg Dairies at the Fulton County fairgrounds. And on May 16, we did one with Clevenger's Beverage, giving out half gallons of white and chocolate milk on a first-come, first-serve basis," Stermer said.
Fundraising for Fulton County's milk drops started with a $500 donation from the county promotion group's treasury, with additional contributions generated through personal contacts and a social media donation page.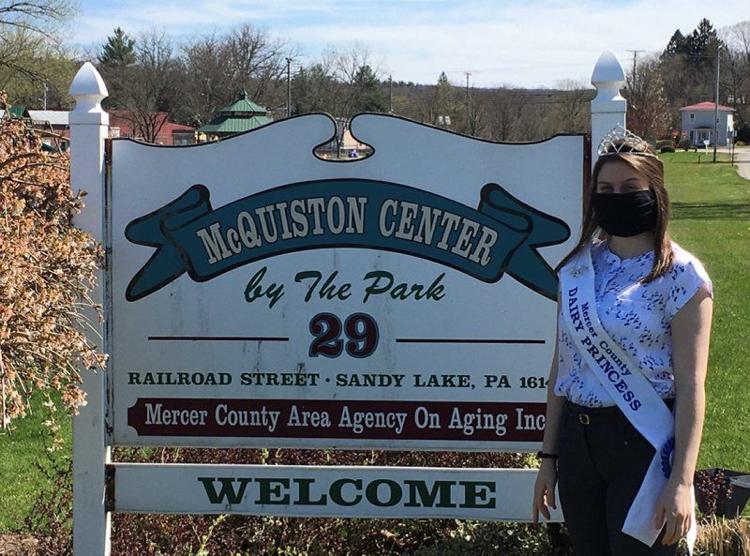 Stermer, a Penn State senior majoring in mechanical engineering with a goal to design agricultural equipment, is using her technology expertise in assisting with the planned virtual pageant, which will include videotaped speeches by both her and Ruppenthal.
For folks into solving puzzles, Mercer County's princess, Rebekah Leise, is posting dairy-related brain challenges on their Facebook page. Along with using the online video platform, Zoom, to study at home as a senior at Reynolds High School and a joint enrollee at Penn State Shenango campus, Leise has been busy with a variety of promotion activities.
Like many of the county teams, the Mercer County group meets virtually at least once each month with the committee to stay informed, share ideas and activities, and plan promotions.
"We organized a bingo card, with prizes, to distribute to senior centers where they come for meals; they checked off what dairy products they had in their homes," Leise said about one promotion. Dairy recipes were also shared with attendees.
"I've also been doing virtual classroom visits," Leise said, "I read a story and had the kids do a scavenger hunt around their house." She did this activity with third-graders at the Grove City Elementary School. Some students, she noted with a chuckle, brought milk and dairy products from their refrigerators to show her online. She reminded them to quickly return those products to their refrigerators to keep them cold and fresh.
"We sent pizzas to UMPC's Farrell and Greenville hospitals and made sure everyone there got some. They loved it," Leise said about another promotion event she assisted with. It was an idea spurred by a committee member who works at a hospital.
Even after serving as Susquehanna County's dairy promotion team coordinator for 20 years, Evie Goff has never before dealt with the challenges from the pandemic this year.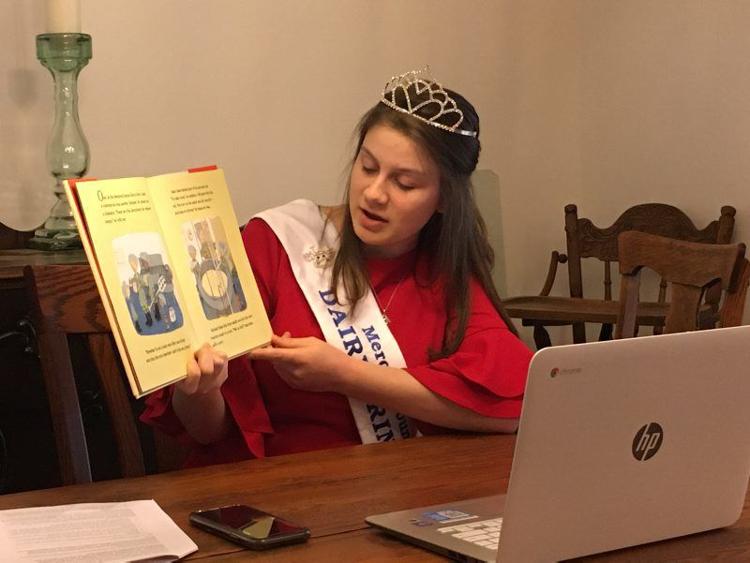 "We're working at it, but the social distancing is extremely limiting," Goff acknowledges, adding that their court had planned extensive promotion visits to schools.
"We had some funds left from our county Ag Day event and have been helping to supply some milk to food banks. We've supplied over 1,200 half gallons to area food banks and food pantries," Goff said.
"Our girls have tagged milk containers with notes with a dairy fact on each; they made up the tags," Goff added. "Only one promotion team member goes to a location, to help limit exposure."
County princess Kyleigh Jones and her team members have also distributed crates of chocolate milk around their neighborhoods and in areas where they are familiar with residents.
Susquehanna County's dairy maid, Ava Hughes, had a unique opportunity to promote dairy when an area school district had its bus drivers return supplies and property to each student after classes were shut down. She traveled along on her grandfather's bus route and delivered milk to each student, along with the personal items that school staff had bagged up for each individual.
"Milk drops" began early on in Franklin County, and dairy princess Shelby Shields has been assisting with distributing white and chocolate dairy products to recipients in long lines of vehicles.
"It's amazing to see all the smiles and the outpouring of people that stop by for milk. Many people have been giving us donations and one gentlemen left $40 for a half gallon of milk," Shields said, expressing appreciation for contributors' generosity.
Milk giveaways at Farmers Union and Franklin Hardware and Feed Center have brought in thousands of area residents for milk and dairy information. At one of the locations, 900 gallons were distributed in an hour and a half.
Shields, too, is posting dairy messages regularly on Facebook, including a video of her enjoying a big glass of chocolate milk, while wearing her princess sash and crown.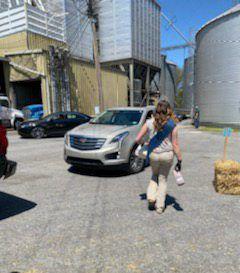 Sara Lang, the Butler County dairy princess, graduated from Penn State last year with an ag education degree. She's put her teaching degree and knowledge to use with a variety of continuing postings for followers of the county's Facebook page. Activity sheets for elementary age students and pamphlets promoting dairy are also being distributed via a local ice cream shop.
"I have an easy way to promote; I work at Tractor Supply," said Lang, of the advantage of employment where she is be able to connect with both farm and non-farm customers.
Although Michaela Freeney is Delaware County's first dairy princess in 10 years, she and her three team members are reaching out regularly with dairy messages on social media.
"We've been posting fun facts about dairy," said Freeney, who became interested in dairy promotion through leasing a 4-H show heifer. Although she didn't grow up on a farm, the Rustin school senior plans to study agriculture at Penn State.
"We develop ideas as a group and brainstorm together," she said, noting the helpfulness of the social media training webinar given to the dairy promotion groups by the state dairy promotion committee.
Like many of the state's 28 county dairy promotion organizations, the Delaware County team plans a virtual pageant via Facebook videos and speeches.
An extensive variety of dairy promotion activities, messages, videos and related presentations can be found via an online search for individual county promotion sites or on the Pennsylvania Dairy Promotion Program's home page.
Joyce Bupp is a freelance writer in York County, Pennsylvania.