Despite being away from farms for a decade, Gabrielle Swavely's early roots in agriculture never withered.
"I grew up surrounded by my mom's family farm," recalls Swavely, Pennsylvania's reigning state dairy princess. She is referring to the 40-cow dairy near Rebersburg, Centre County, Pennsylvania, where she made so many childhood memories. But, after the family sold the farm, her hands-on connection to farming took a lengthy hiatus.
"I didn't set foot on a farm for 10 years," said Swavely, who found she missed the agriculture experiences in her life as she grew up.
Swavely's father, Steve, works at Penn State, and her mother, Jeanette, is a nurse at a local hospital. She has a younger brother, Marshall, 18, who is graduating from State College Area High School.
When a friend was looking for some help on their dairy farm a few years ago, Swavely expressed interest in working with the cows. After graduating from high school, she had decided to take a year's break from schooling before pursuing a college degree, and was working at a retail store.
"I was the country bumpkin," she jokes, adding that her workmates thought it was a "weird mix" as she balanced working on a dairy farm with her mall store job schedule.
With Lori and Randy Dreibelbis' dairy farm only five minutes from her Pennsylvania Furnace, Centre County, home, Swavely's commute to assist them with the milking chores is brief. The several-generations dairy operation milks 100 cows in a tie-stall barn set-up. Swavely's job is primarily assisting with the milking as well as feeding calves.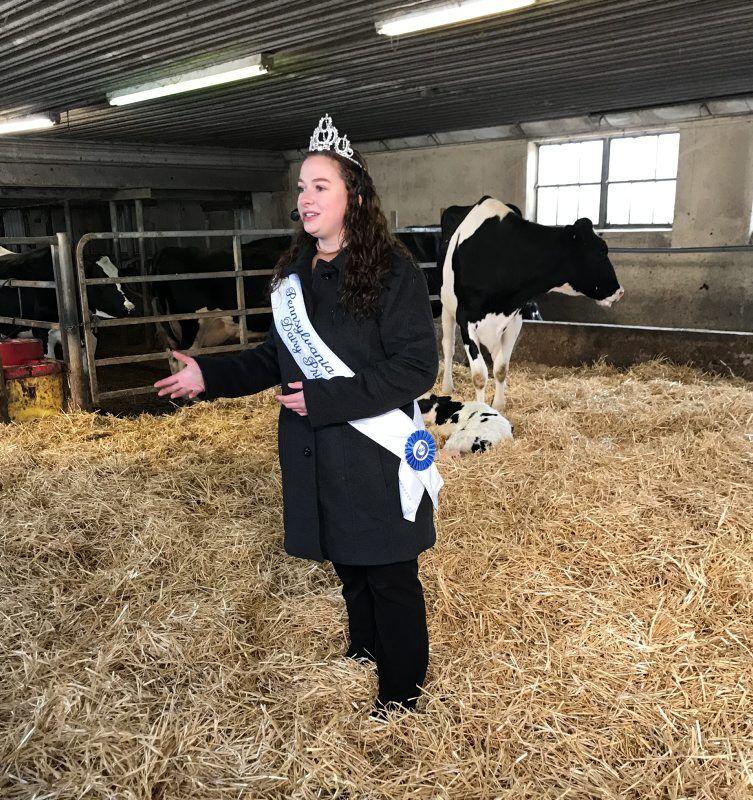 Taking a break from studies between high school and college also gave Swavely time to think about her long-term plans and what direction she wanted to go with her life. At the urging of friend in that year off, she also got involved in the local dairy princess program, and was selected as the 2018-2019 Centre County dairy princess. During the state competition that September, she placed among the seven finalists.
Then, after deciding to pursue a degree in an ag-related field, Swavely enrolled at Penn State's main campus, where she is currently a sophomore with an agricultural science major. She is focused on completing her degree and — despite having to spend her first year in virtual studies due to the COVID-19 pandemic — hopes to finish in three or three-and-one-half years by continuing year-round with summer classes. She also continues to work with the cattle at the Dreibelbis farm.
Ruling and Educating
Last spring, she was encouraged to run again for the county dairy princess crown.
"It was a hard decision, but I felt there was so much unfinished work I could do," Swavely said about her decision to make a second run in the county's dairy princess program. After winning the 2020-2021 Centre County crown, she was selected as the state princess during last September's annual pageant in Harrisburg.
With the COVID-19 pandemic raging since March 2020 and in-person activities around the state mostly halted, carrying out the usual schedule of state dairy education and promotion activities has been exceptionally challenging for the state promotion team.
The inability to promote dairy products in-person at the annual Pennsylvania Farm Show, canceled like so many events, has been somewhat disappointing for Swavely and her two alternate state dairy princesses. Still, the missed opportunities spurred the team to become creative and "think out of the box" for ways in which they could continue fulfilling their responsibilities of promoting and educating the public about dairy.
"We've done a lot of Zoom farm tours, and had good reception of them," Swavely said, noting that many more people can actually be reached virtually than during an in-person tour.
"It's very efficient, and we reach a different audience," Swavely said about the unique value of virtual online promotions. Online, the team also gets considerable feedback from many of its social media followers, especially from teachers who post comments of appreciation for the educational videos available for use with their own students.
"I do miss the interaction with people, though," Swavely said of the lessened ability to connect in-person.
Having to do so many video/virtual presentations has definitely been a learning experience for Swavely. In mid-May, she was preparing a Zoom presentation on making ice cream, the kind of promotion she'd never expected to carry out in a virtual format.
"I have to think about the background in the video, and how I'm going to go through making it," she said, of the pre-planning needed to set up and complete a successful virtual presentation..
One of the more unusual in-person events, of the few Swavely has been able to attend during her reign, was the opportunity to help serve ice cream at a farm event attended by then-Vice President Mike Pence. She's also done promotions at county events in outdoors settings, such as handing out promotional materials from the trunk of her car.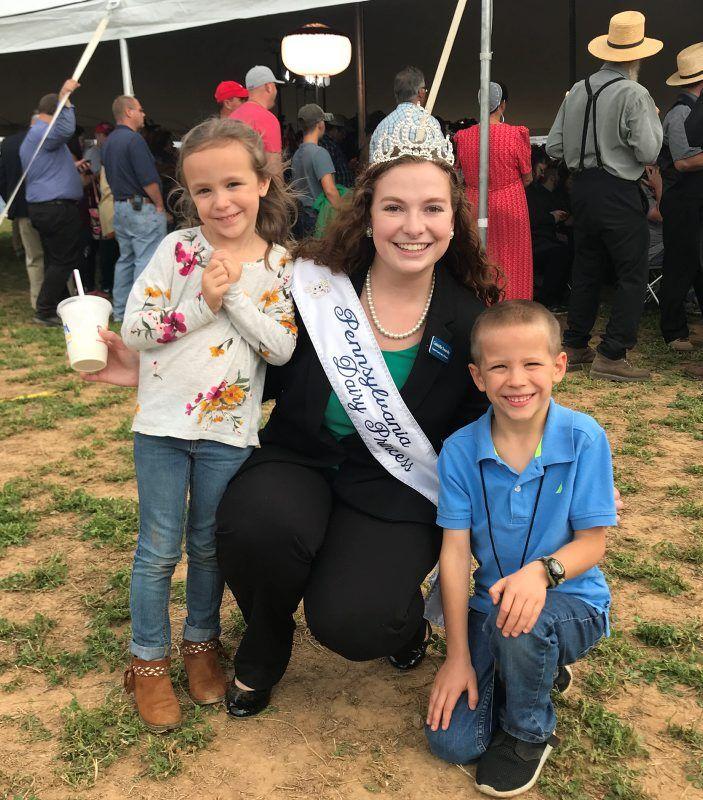 An effort to hold a national milk toast became a multi-state activity, with dairy royalty from various parts of the country, including as far away as California and Oregon, participating via video and virtual presentations.
"That was an opportunity I'd never thought of and probably one we wouldn't have done in other years," Swavely said of the ability to participate in a nationwide promotional event.
"She's been super-creative and tried to promote on social media," said Laura Daubert, administrative director of Pennsylvania Dairy Princess and Promotion Services Inc.
"(She) has worked to incorporate the county princesses in our activities. She's done a really great job," Daubert added.
Swavely and her state dairy promotion team are looking forward to being able to do more in-person events as COVID-19 restrictions loosen with the availability of vaccines that prevent the illness. The three will participate in the National Holstein Convention being hosted in Lancaster, Pennsylvania, by the Pennsylvania Holstein Association.
The annual PDPPS state dairy princess seminar is being planned as an in-person event during July, so Swavely and her alternates will be attending. And the team will be on hand to assist with the organization's booth at Penn State's Ag Progress Days in mid-August.
With her year as the state princess quickly passing, Swavely is looking ahead to a full schedule of in-person classes at Penn State's main campus, along with the opportunity to participate in some of the college's ag-related clubs and activities. Her studies and extracurricular interests continue to be focused on her long-term objective: owning her own farm one day.
"My dream goal is to have a small farm of my own and be able to lease animals to kids that otherwise won't have that opportunity," Swavely said. "If there is land with it, I'd rent it to another farmer."
While pursuing a farm lifestyle, she feels that she would also like to work on the staff of a dairy cooperative, ideally in a position of helping to facilitate constant, positive communication and working relationships between the farmer-owner/members and the administrative staff.
To other young women who might be considering deeper involvement with dairy promotion and the princess program, she emphasized that growing up on a farm is definitely not an absolute prerequisite.
"They must have the passion in them for it," Swavely said about the need to be dedicated to dairy farming. "You don't have to have all the answers. We can teach facts. We can't teach the inner passion and the heart for working with farmers and consumers. That's what's helped me."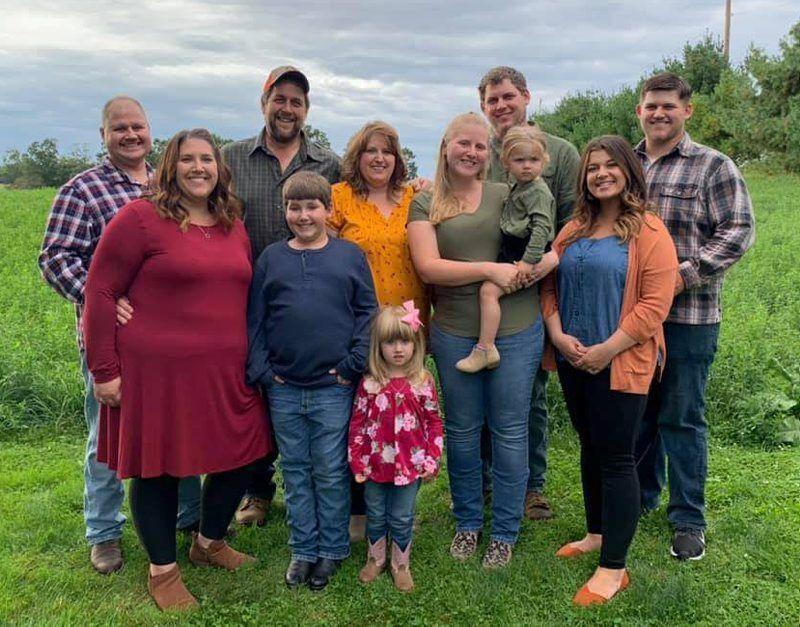 What dairy product do you consume most often?